10 Spectacular Gardens Around The World (PHOTOS)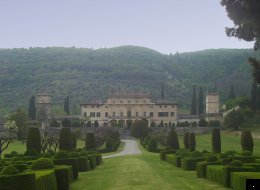 From unassuming fields covered in wildflowers to majestic palaces' elaborate landscaping designs, gardens serve as a constant reminder of nature's beauty. These stunning flora collections feature a vast array of diverse plant species from dozens of countries across the globe.
With spring in full bloom, what are you waiting for? Grab your camera and take a trip to one of these spectacular gardens to witness what nature truly has to offer.
10 Spectacular Gardens Around the World
Created for Germany's horticultural show in 1985, this garden features a large collection of vibrant flowers, including daffodils and roses. However, the Britzer Garden's real highlight is its tulip festival - held from late April to early May - which showcases hundreds of thousands of these flowers in every color imaginable. Photo credit: Onnola, via Creative Commons License

The gardens surrounding the Diagoji temple in Kyoto are famous for their lucious cherry blossoms, which bloom from late March through April. The temple, which was built in Japan's Heian period as a tribute to Emperor Daigo, features a five-story pagoda and is considered an UNESCO World Heritage site as part of the historic monuments of Ancient Kyoto. Photo via Wikimedia Commons License

An urban setting like Brooklyn, N.Y., may be the last place you'd expect to see spectacular gardens, but the Brooklyn Botanical Garden has some of the most gorgeous flora not only in New York City, but the entire world. Among the gardens' dozens of features are a stunning cherry esplanade, rose garden and Japanese garden. Photo credit: Tyler Karaszewski, via Creative Commons License

Built in the 13th century as a retreat for the kings of Granada, the Generalife garden is a part of the massive La Alhambra fortress. Since that time, the gardens were likely altered, but today, they feature some of the most photographed fountains and greenery in Europe. Photo credit: Peter Lorber, via Creative Commons License

Featuring a diverse range of plants from 80 countries, this tropical garden is hardly typical of the U.K. That's because it's located on Tresco Island, about 30 miles from the Cornish coast. Even in the winter months, exotic flowers are in full bloom at Tresco Abbey Gardens. Photo via Wikimedia Commons License

The centerpiece of this German palace's inner courtyard is its rose garden, which features a vibrant collection of 4,500 flowers. Bordered by lime trees, the garden also showcases a fountain pool in its center. Photo credit: Ethan Mauldin via Creative Commons License

Situated atop a hill in northeastern Italy, these gardens surround the extravagant 17th century Villa Arvedo, making it a truly majestic site. Photo via Wikimedia Commons License

At the time when they were first designed in the 17th century, the gardens at France's iconic Château de Versailles were considered nearly as important as the palace itself. Designer André Le Nôtre was appointed by King Louis XIV to lead the project, but the extravagant undertaking ultimately took thousands of men nearly 40 years to complete. Photo via Creative Commons License

Spread across 37 acres, these gardens are arranged by the 15 different geographic regions they represent, including Australia, Hawaii, the Mediterranean and Madagascar, just to name a few. The San Diego Botanic Garden emphasizes conservation and sustainability, and the staff works to restore many threatened and endangered plant species, such as bamboo, aloes and agaves. Photo credit: A. Dombrowski, via Creative Commons License

Set in the international terminal of Madrid's Atocha rail station, this indoor tropical garden is the perfect oasis for travelers en route to their foreign destinations. The garden features over 500 plant species from around the world. Photo credit: Georg Himmrich, via Creative Commons license
Follow Laura DiMugno on Twitter: www.twitter.com/KeepItGreenLD