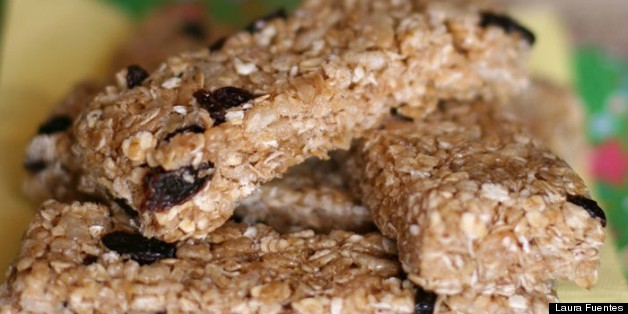 Let's face it. Kids love chewy granola bars. Parents continue to buy them and little by little they've become a staple in many lunch bags as a little added treat.
My daughter, used to ask for them too -- all.the.time. She knew better than to say "my friends at school are eating them" and "I saw a yummy snack on TV" because that would generate an immediate NO on my end. Instead, she would point them out at the grocery store and say... "those look fun!" Unfortunately for her, fun, boxed food is not what I was shopping for.
A quick trip to the grocery showed me just how much variety of flavors, textures, ingredients and quality there are available for this beloved granola bar.
Some advertise "No High Fructose Corn Syrup" while others say "Whole Grain" as If I was the type of person to purchase based on the hype. When it comes to snacks, I make my purchases based on the ingredients list, quality and price.
A couple of years ago, I discovered a lesser evil chewy granola bar that in a pinch I'd buy. The only problem is that this box of five granola bars costs $4.29! Thankfully, a box would last us a month, since these are truly an occasional treat.
Why not make your own? You might ask. Well, the thing is... that I'm a cook. Baking is a science and therefore I'm still getting comfortable with the task. But then again, some really delicious treats are "no-bake"! Yes, that's it. I will tackle that option, I told myself -one day.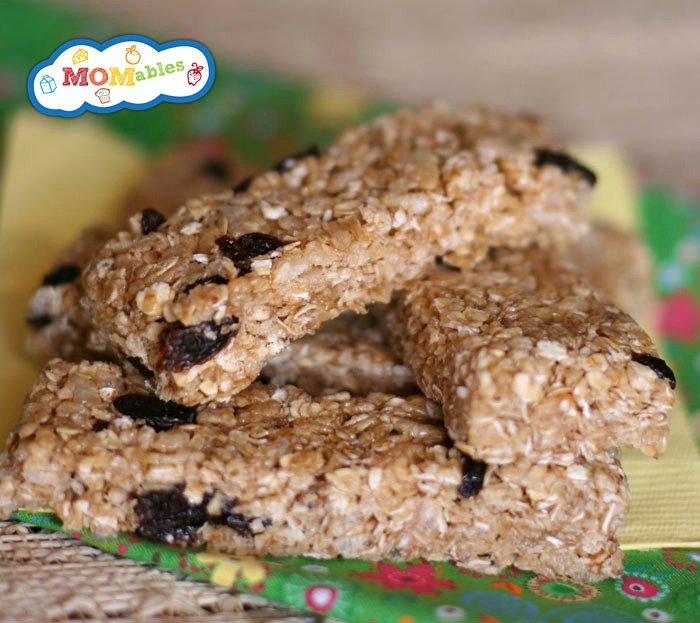 Then, I decided to ask this question on the MOMables Facebook wall: Name one "boxed" food item you would like a homemade recipe that is easy to make. Out of 120+ comments, there was over a dozen requests for chewy granola bars! Go figure. The challenge was on!
I seriously tried over a dozen pinterest recipes that were "no-bake" and then modified them here and there. Again, the thing about re-doing a recipe at home of something that "comes out of the box" is that much of the texture and consistency is achieved by the use of industrial machinery and unidentifiable ingredients.
Just when I was going to give up, I decided to start from scratch and play around with the basics. Honey, sugar, butter or coconut oil... and brown rice syrup! How did I not think of this ingredient before?
From now on, consider this recipe your new secret weapon. These chewy oatmeal raisin granola bars are an incredibly easy recipe that even the "kitchen challenged" can make. At my house, we prefer the classic oatmeal raisin combination, but you can substitute the raisins for the dried fruit of your choice.
Feel free to add a bar to the lunch box for a delicious homemade treat. Note: in this picture below we added chocolate chips to the oatmeal raisin recipe; sadly, they melted.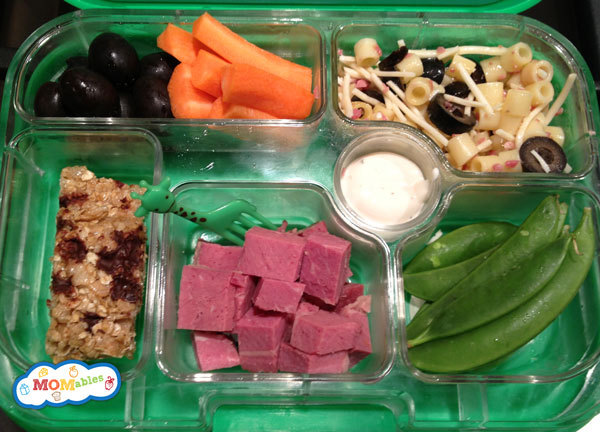 Chewy Oatmeal Raisin Granola Bars
Recipe Courtesy MOMables menus
Yields: 12 bars
Ingredients:
• ¼ cup butter or coconut oil
• ¼ cup brown rice syrup
• ¼ cup honey or brown sugar
• 2 cups quick oats
• 1 cup crispy rice cereal
• 1 teaspoon vanilla
• 1/8 teaspoon salt
• 2-3 heaping Tablespoons California Raisins
Directions:
1. Line an 8x8 or 9x9 square baking pan or glass baking dish with parchment paper.
2. In a small pot, melt butter, brown rice syrup, honey or brown sugar. When it starts to boil, reduce heat and cook for 4 minutes on medium-low heat but make sure the mixture continues to minimally bubble. Stir often.
3. In a large bowl, mix oats, rice cereal, salt and raisins. Set aside.
4. After 4 minutes, turn off heat and add vanilla. Stir to combine.
5. Pour liquid mixture into dry bowl. Mix well to combine all ingredients.
6. Dump evenly coated mixture into lined baking dish. Cover with parchment paper and press down with your hands until cereal mix is well packed. Just when you think you've pressed down enough... press again.
7. Allow the pan to cool at room temperature for at least 2 hours.
8. Lift parchment paper out onto a cutting board and slice into 12 bars.
SUBSCRIBE TO & FOLLOW LIFESTYLE
All the meal hacks and indulgent snacks. You're welcome. Learn more