Last year, it seemed the obituary for Atlantic City couldn't be written fast enough. The beach town of 39,000 people lost a higher percentage of jobs than any other city in the country. Four casinos closed. Three of the remaining eight casinos are mired in bankruptcy. 8,000 casino workers were laid off. The municipal government was forced to make deep cuts in personnel.
Then something unexpected happened. Atlantic City began to show signs of life. A Republican gay man, Don Guardian, was elected mayor of Atlantic City after years of corrupt politicians in city hall. The sale of the Revel Casino to developer Glenn Straub was finally completed after several delays. Real estate developer Bart Blatstein with partner Paul Steelman, a noted casino architect, snapped up the lease for the half occupied Caesar's Pier for $2.7 million.
Econsult's Steve Mullin, a former City of Philadelphia Commerce Director, is hopeful about a second act for Atlantic City. He insists that the city worked for a long time. He argues that billions of dollars of revenue was taken out of the city while very little was reinvested back.
Blatstein's investment in Atlantic City has attracted the most buzz. He achieved mythological status in Philadelphia after transforming the northeast corner of Center City from a blighted industrial wasteland into Northern Liberties, a hipster heaven which attracted millennials to the city. The development was anchored by a modern day piazza, which was an unprecedented look in a city steeped in colonial architecture and cobblestone streets. Econsult, an economic consulting firm hired by Blatstein, estimated that real estate values in the area have increased by $1.5 billion dollars since his initial $200 million investment. The area's population increased by one-third; average salaries in the area doubled.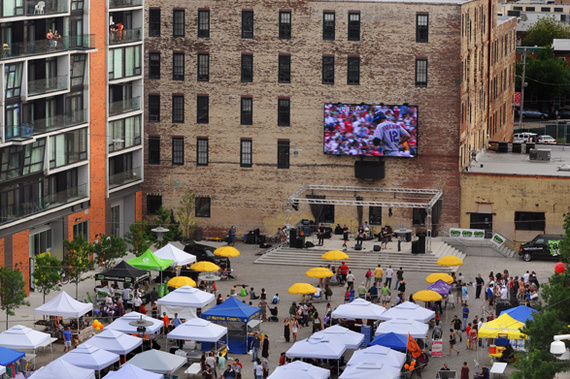 Blatstein, who owns a home in nearby Margate, hopes to do the same thing in Atlantic City. He sees it as his "last hurrah," his last chance to make a mark in an urban area.
"The great thing about Atlantic City is that it is an easy ride to get to from New York or Philadelphia or anywhere else," explained Blatstein." It is within a couple of hours of 30 million people. It's got a beach and a boardwalk. It's got remarkable natural resources. It has incredible infrastructure. We have an airport! We have an airport, bus and train. We have accessibility here. It's that you need to give people a reason to come here."
The natural beauty of Atlantic City is well documented. Both the Travel Channel and National Geographic have recently chosen Atlantic City's boardwalk as the best in the world. Nearby South Jersey beaches regularly beat out more exotic locales to show up on lists of the best beaches in the world.
The developer cites Atlantic City's failure to innovate as the reason that the city has fallen into an economic abyss.
Blatstein said, "Atlantic City never kept up with the changes over the decades. Vegas reinvents itself every 10 years, demolishing buildings and building new ones. Atlantic City stayed stagnant. The failure of Atlantic City was not all the convenient gambling around the country and region. It was that it failed to innovate. If you don't innovate, you get pushed by the wayside."
The developer would like to Atlantic City follow the Las Vegas economic model.
"The problem with Atlantic City is the revenue is juxtaposed with Las Vegas," he argued. "Where as in Vegas, it is 70 percent non-gaming revenue vs 30 percent gaming. Here it is 70 percent gaming, 30 percent non-gaming."
In Blatstein's analysis, non-gaming, music-centric entertainment for millenials is missing from Atlantic City. He is spending $50 million to transform the half occupied retail mall Pier Shops at Caesar's into the upmarket Playground, which will feature multiple live music venues. Blatstein boasts, with his usual modesty, that Atlantic City will become the East Coast's entertainment capital.
There are some that are skeptical that Atlantic City can be resuscitated at all or Blatstein's focus on entertainment will work. The developer counters he has completed every project he has started. He points out the South is dotted with live music entertainment districts such as Memphis' Beale Street and Austin's Sixth Street while there is nothing comparable in the Northeast.
"There is nowhere to go in the summer," he said, "No one goes to South Beach because it is too hot. Las Vegas is unbearably hot," he said. "I believe will get a New York crowd by next summer because it is easy to get here as it is to the Hamptons. Besides, the Hamptons are boring,"
T Street, located on the first floor, will open June 26. It will have 7 distinct venues that will feature country, jazz, retro rock and comedy acts. Drawing its inspiration from Nashville's Music Row and Ibiza, Spain, it will feature a sports fantasy bar and dueling pianos bar. The Playground, which is over 290,000 square feet plus adjacent outside areas, an outdoor concert venue with capacity for 50,000 people, a bowling alley modeled after Brooklyn Bowl in Williamsburg, a 2000 seat indoor concert hall, and restaurants operated by Iron Chef Jose Garces and Stephen Starr. It will have the only beach club on the beach in the Northeast by next summer.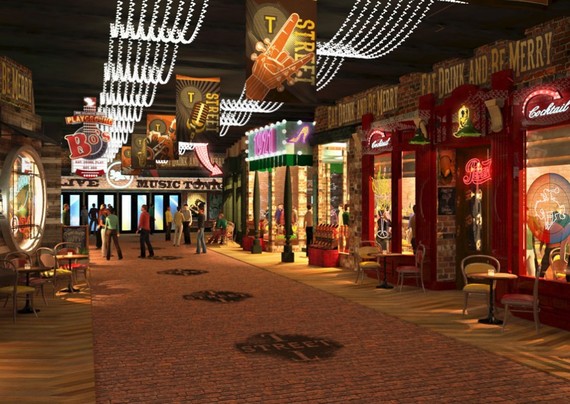 Blatstein believes in making money as well as doing good. The project, which should be 100 percent occupied by the end of the year, saved 512 permanent jobs and 120 temporary jobs as well as creating 550 new jobs. With typical developer's bravado, Blatstein hopes the Playground will be a "symbol of yes it is safe to go into the water" and will prompt 20 or 30 other developers to invest in the shore town. As Nucky Thompson can tell you, stranger things have happened in Atlantic City.
SUBSCRIBE TO & FOLLOW TRUMP'S FIRST 100 DAYS
How will Donald Trump's first 100 days impact YOU? Subscribe, choose the community that you most identify with or want to learn more about and we'll send you the news that matters most once a week throughout Trump's first 100 days in office. Learn more