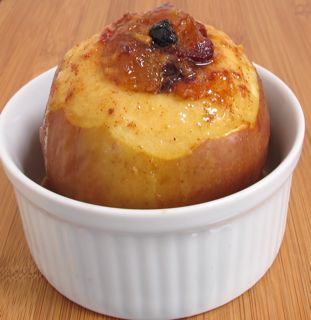 A friend called me on Sunday to ask for apple recipes. She and her boyfriend had picked 20 pounds of apples at a local orchard and she needed to figure out what to do with them. We brainstormed and after a few minutes put together a nice list of recipes for her to use.
We started with the obligatory apple pie and soon agreed that apple sauce is a great way to use lots of apples. I began naming other pastry and cake possibilities, but she stopped me. She wanted my recipe for baked apples first. And it is one of my personal favorites too, among the legion of apple recipes.
You'll get the recipe too. But first, I can't resist a bit of apple trivia and a few tips:
Of course, apples are central to the first story of humans in the Bible (think Adam, Eve and that apple of note), but did you know that apples were cultivated as early as 8,000 B.C. and were found in the ruins of Jericho dating to 6,500 B.C.?
In 79 B.C., Pliny the Elder described 20 varieties of apples.
Annually, Americans eat about 120 apples apiece. Apples are among the top 3 most popular fruits in the U.S. -- along with grapes and oranges.
For storage, experts recommend refrigerating apples in a plastic bag with holes. Gala apples will last for at least a month if properly stored and many varieties will last longer.
To keep fresh apple slices or cut apples from turning brown, sprinkle them with lemon juice or a mixture of lemon juice and water.
There's nothing better than a simple and inexpensive dish that works equally well for one or a crowd. If you like apples and have an oven, then baked apples fit the bill. They are an excellent dessert, served with whipped cream, ice cream, or slightly sweetened Greek-style yogurt. With this recipe, they aren't too sweet, so they also make good snacks or brunch food, served with wedges of cheddar or other hard cheese. You can make your friends or co-workers jealous by packing a baked apple (wrapped in foil or plastic) for lunch. Just add a yogurt or cheese and a few carrot and celery sticks and you're set.
This recipe is calculated for one apple/one serving. If you want to serve to make more servings, just do the math; multiply each quantity by the number of servings you want to make. It doesn't get any easier.
Baked apple(s) - 1 serving
Estimated cost - $1.25 per serving
Ingredients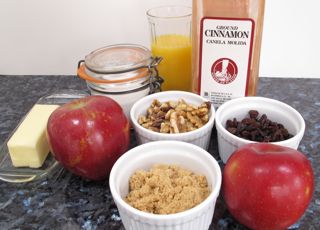 1 apple (Rome, Braeburn, and Golden Delicious all work well. Here is a good guide to various types of apples and whether they work well in baking.)
¼ teaspoon cinnamon
1 teaspoon white sugar
1 teaspoon light brown sugar
1 tablespoon chopped walnuts or pecans
1 tablespoon dried fruit, cut into small pieces; I like raisins, cranberries and apricots.
Small pat of butter or margarine (about ½ tablespoon if measured by the markings on the side of a bar of butter/margarine)
¼ cup juice for pouring into the prepared apples and in the bottom of the pan. I like orange juice. Apple cider or juice works well too
Equipment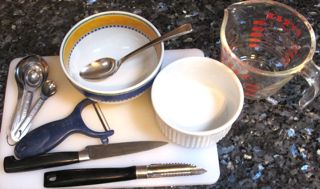 Apple corer or small knife to hollow out the core of the apple
Cutting board
Measuring spoons
Measuring cup
Knife to chop nuts and fruit (if they need to be choppped)
Peeler or small knife to take off skin on top of the apple
Small mixing bowl
Spoon for mixing stuffing and putting it into the apple
Oven-proof ramekin or pan for baking the apple(s)
Preparation -- For step-by-step instructions, including pictures, click here.