Next Sunday is Cinco de Mayo. Best known in the U.S. as a time to eat Mexican food and drink plenty of margaritas or Mexican beer, the festival actually began as a celebration of the May 5, 1862 victory of a small Mexican army in the state of Puebla against a larger French force. I gather (from noted Mexican food authority Pati Jinich) that Cinco de Mayo is not much celebrated in Mexico, even in the state of Puebla where the famous battle occurred. Still, in late April, as the food and beverage-related ads for Cinco de Mayo start appearing in the U.S., I get a Pavlovian reaction -- and gather the ingredients to make chicken mole.
When I was growing up in the 1950s and 1960s, the only chocolate we got was for dessert or a snack. Often creamy (milk chocolate) and always overly sweet, that chocolate was nowhere close to the true taste of the cacao bean from which it came. Whether it came in a candy bar, a cookie with chips, a brownie, or in a slice of cake, I loved that sugary taste.
Fast forward a few decades to law school. My California-bred roommate knew all sorts of exotic dishes, including chicken with chocolate sauce. Of course, she didn't call it that and truthfully, I had no idea what was in the sauce. I watched as she took a hard, brown substance from a jar and mixed it with chicken broth. After dinner, as we were cleaning up, I read the label on the jar. Cacao? But isn't that chocolate? And why didn't it taste sweet?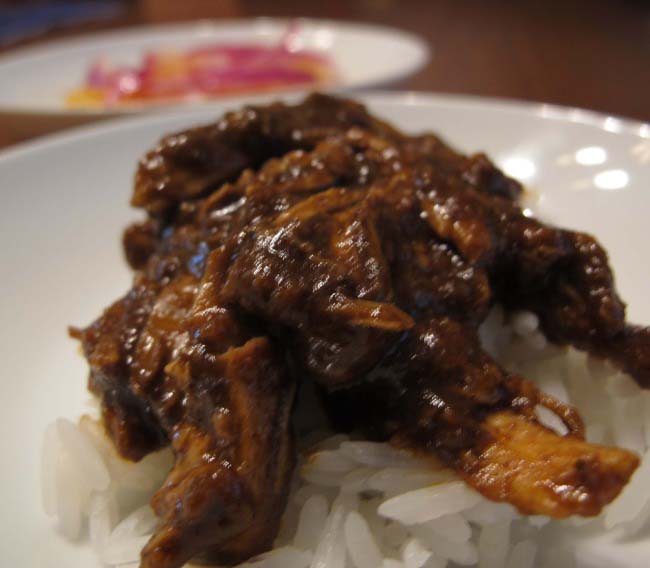 Chicken with chocolate sounded weird to me then, and still does to me now. But if the chocolate is the primary ingredient in a spicy sauce, it is a revelation to those of us who grew up with Hershey's kisses. The cacao bean from which chocolate comes is not inherently sweet. And when you take chocolate in a spicy, instead of a sweet, direction, the result is delicious.
As a sauce that envelopes shredded chicken, served in an enchilada or on its own, with rice and a salad of oranges and red onions, this chocolate bears no relation to the Toll House cookies or devils food cake of my childhood. Maybe you've had mole in a Mexican or Tex-Mex restaurant and didn't even realize there was chocolate in the sauce. This quick-and-easy version uses prepared mole in a jar, but it's still good enough to serve company.
I do plan to make mole from scratch someday, using Pati Jinich's recipe for mole poblano, However, that recipe calls for many ingredients, and it requires time and lots of patience. By contrast, this chicken mole has only four to five ingredients (salt is optional) if you don't count water. I checked the ingredients in the two brands of mole in a jar that I have recently used (Goya and Dona Maria); both brands contains many of the ingredients in Pati's recipe and no preservatives or other additives.
By the way, don't be fooled by the recent popularity of "sweet" chocolate with chili, sold in bar or truffle form. While it is spicy, it isn't mole by a long stretch.
Chicken Mole
Serves 5-6 (with beans and rice) Cost - $11.50 (less than $2.50 per serving)
Ingredients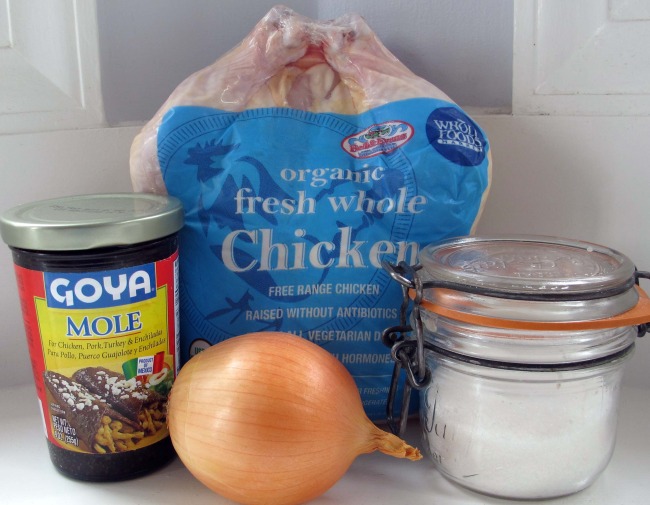 3-4 pound whole chicken
9 oz. jar of Mole sauce
1 medium-large onion
2-3 tablespoons of sugar
few pinches of salt (optional and not pictured)
Equipment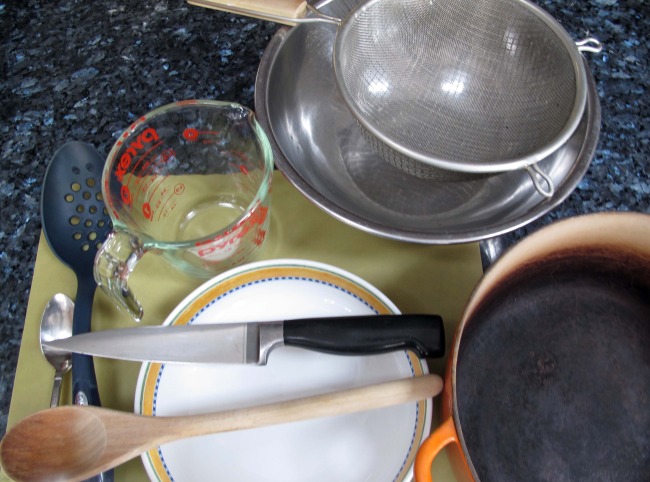 Large pot
Small and large spoons, preferably including a wooden spoon for stirring
Cutting board
Knife
Bowls
Strainer
Liquid measuring cup, preferably a 2-cup measure
Preparation
For step-by-step directions, including photographs, click here.
SUBSCRIBE AND FOLLOW
Get top stories and blog posts emailed to me each day. Newsletters may offer personalized content or advertisements.
Learn more