Open houses, dinner, brunches and all other kinds of celebrations. When you're a guest instead of a host/hostess, you don't have to plan the menu. But that doesn't mean you should just put the date on your calendar, figure out what to wear and show up. After all, good guests never arrive empty-handed. At holiday time, I'm always looking for new homemade presents to bring instead of wine or flowers. This year I discovered a fabulous host/hostess gift -- homemade chocolate bark candy with dried fruit and nuts.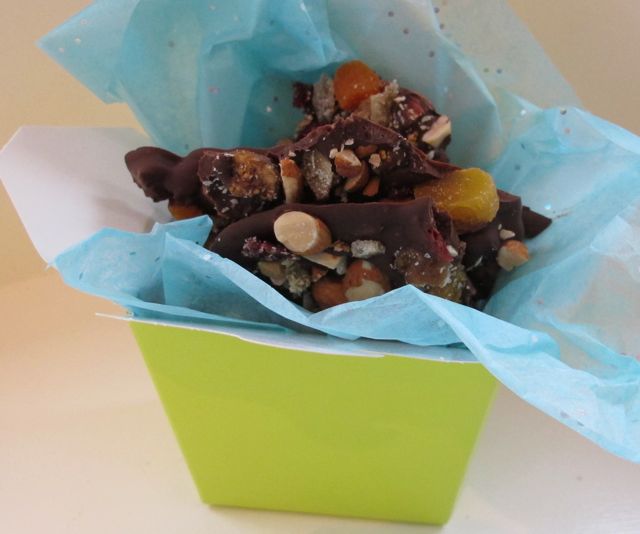 There's a lot to love about this chocolate bark. It's super easy to make, no-bake and quick, too. It's not messy to clean up afterwards, there are endless variations, and it looks fabulous presented in a gift box or bag, surrounded by nice tissue paper. It's addictive, too -- sweet, but not cloying; unusual, but appealing to the less adventuresome eaters, too. And at less than $5 for an 8 ounce gift box or bag ($6 or $6.50 if you count the fancy box or bag) it's an inexpensive present.
The secret ingredient in this chocolate bark is ground anise seed. In large quantities or alone, anise seed tastes and smells like licorice. But added to a sweet in small quantities, it balances other flavors rather than overwhelming them. Mixing chocolate with figs and ginger may be unusual, but trust me, it's a marvelous combination.
This recipe is my take on the Toque Girls' dark chocolate bark, which is, in turn, an adaptation of an Epicurious recipe. You can take the bark in lots of new directions, too. Let us know how you adapt it when you do. Although I do like dark chocolate better than other types, I'm not a dark chocolate snob; I tried milk chocolate after I got a special request and found it was delicious, too. (Note: milk chocolate makes the bark a bit softer than dark chocolate. It still breaks, but the consistency is notably different.) Semi-sweet would work too if that's your preference. Which nuts you use is a matter of personal preference. I think any "hard" nut would work well and I'm planning to try the recipe with roasted pistachios or hazelnuts soon. (I prefer only one type of nut in a batch, so the flavor stands out.) In terms of changing out the dried fruits, raisins and dried cherries would make good substitutes for the cranberries and/or apricots.
Here is the recipe using a small bar (3.5 ounces) of fine quality dark chocolate. In a note following the recipe, I've also provided the quantities of other ingredients to use for a large bar of chocolate -- approximately 1 pound (16 ounces) if you want to make a big batch for more than one gift. I promise not to tell if you eat a few pieces as you pack the rest!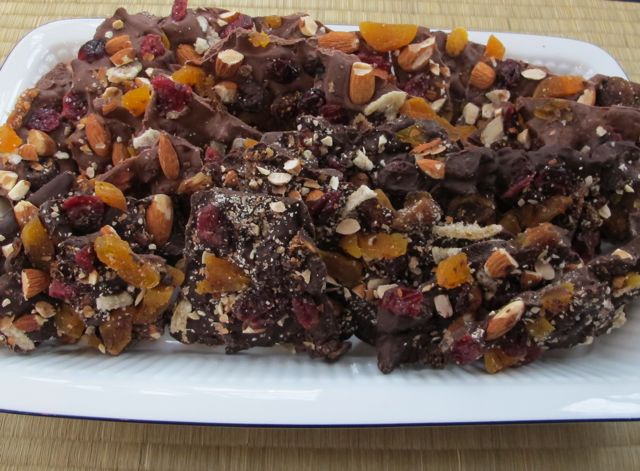 Fabulous Chocolate Bark
Serving -- Approximately 8 oz, Cost -- $4.30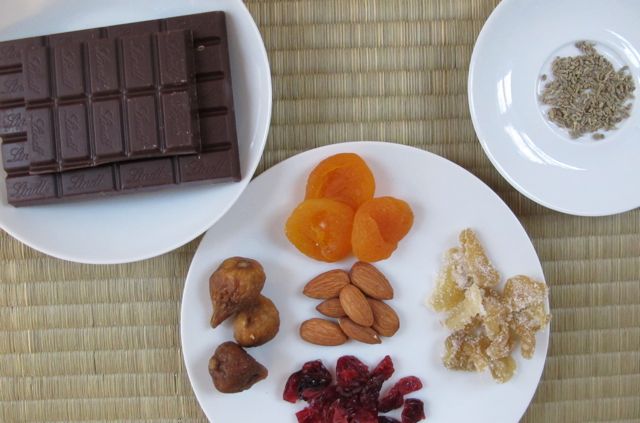 3.5-4 ounce bar of good quality dark chocolate
Heaping ¼ teaspoon of anise seeds, finely ground
2 heaping tablespoons of chopped roasted almonds (I buy Trader Joe's roasted, unsalted)
2 heaping tablespoons of chopped dried apricots and/or cranberries
1-2 heaping teaspoons of chopped crystallized (candied) ginger. I made my own using David Lebovitz's recipe, but you can buy it at a grocery or specialty food store.
2 heaping teaspoons of chopped figs
Equipment -- besides microwave to melt chocolate (or pans if melting on stove)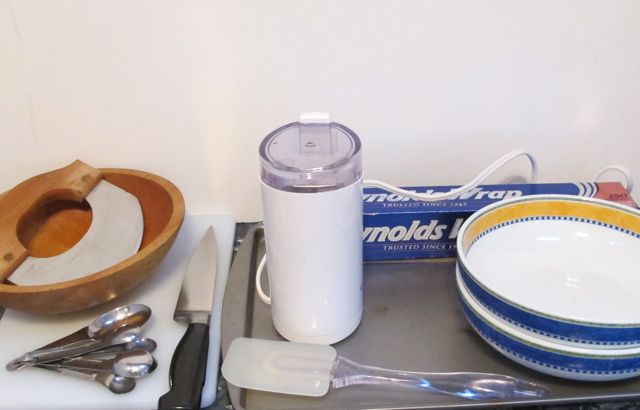 Wooden bowl & knife to chop nuts (or use cutting board & knife used for dried fruit)
Cutting board
Knife for cutting dried fruit
2 medium sized bowls, at least 1 should be microwave safe
Coffee grinder (or mortar & pestle) for grinding anise seed
Spatula
Measuring spoons
Small cookie sheet
Tin foil
For 1 pound of chocolate (Trader Joe's sells blocks that are 17.5 ounces. These proportions work for those blocks too):
2 teaspoons anise seeds, 1 cup chopped nuts, 1 cup chopped apricots & cranberries, ¼ cup chopped ginger, ⅓ cup chopped figs.
For step-by-step directions (incuding pictures), click here.
SUBSCRIBE TO & FOLLOW THE MORNING EMAIL
The Morning Email helps you start your workday with everything you need to know: breaking news, entertainment and a dash of fun. Learn more