I can't remember how I initially found Grace Young, Matt Lardie (co-founder of the group), and the Wok Wednesdays crowd, but however it happened, it surely was a stroke of luck for me.  From the moment that I ditched my non-stick wok in favor of a carbon steel one, I knew that stir-frying was going to be fun.  
After learning how to season and care for my wok, I began to stir-fry with gusto. I've made vegetables, shrimp (to die for)...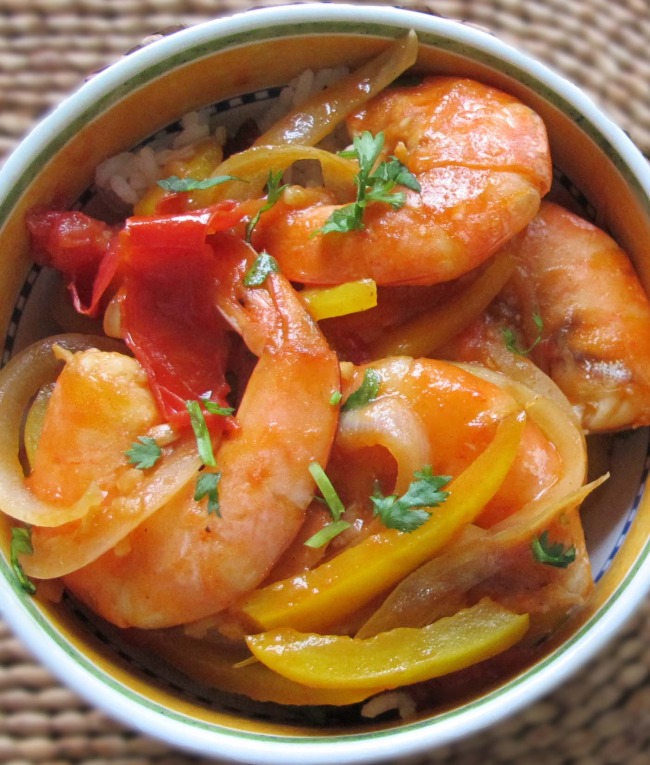 ... several chicken dishes and I'm contemplating tofu. Although I've looked at stir-fry recipes by other chefs and cookbook authors, my mentor is Grace and my bible is her book, Stir-Frying to the Sky's Edge. 
After making many of Grace's recipes, I was ready to spread my stir-frying wings (so to speak) and figure out a few of my own stir-fry recipes. I began with this simple, vegetarian fried rice because it brings back nice memories of family dinners and how this classic appealed to my daughter, Eleanor.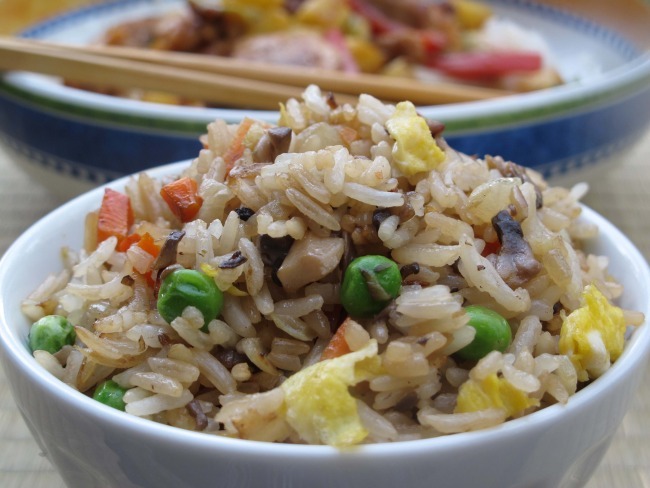 When our kids were young and we "ate Chinese," Eleanor would always order fried rice.  Although she usually didn't eat a lot, if dinner included fried rice, she ate like a champ.  Remembering how she concentrated on finishing a huge bowl while the rest of us grazed off of many other dishes brings a smile to my face even now.
Fried rice is simple to cook yourself and you can make it in a large pan if you don't own a wok.  (Though I hope you'll consider getting a wok -- it's infinitely better and not expensive.)
In this recipe, the garlic and ginger shine through, but the overall taste is not spicy.  This is really more of a template than a true recipe.  You could substitute vegetables; just keep in mind, that all vegetables should be chopped into small pieces of similar size and that "hard" vegetables (such as carrots, celery and onion) that take longer to cook should go in before those "softer" vegetables (such as mushrooms) that take less time.  
If you've never made fried rice before, check out my 5 Tips for Great Stir-Fried Rice. Even if this isn't your maiden fried rice "voyage," keep these points in mind:
Use cold, fully cooked rice.
Cut the "add-ins" into small pieces.
Mise en place (s the French would say) - or organizing your ingredients and utensils - is key. Everything should be within reach of the wok.
Garlic and fresh ginger typically need to stir fry for about 30 seconds before anything else goes in with them.
Easy Vegetarian Fried Rice
2 servings  Cost - $2
Ingredients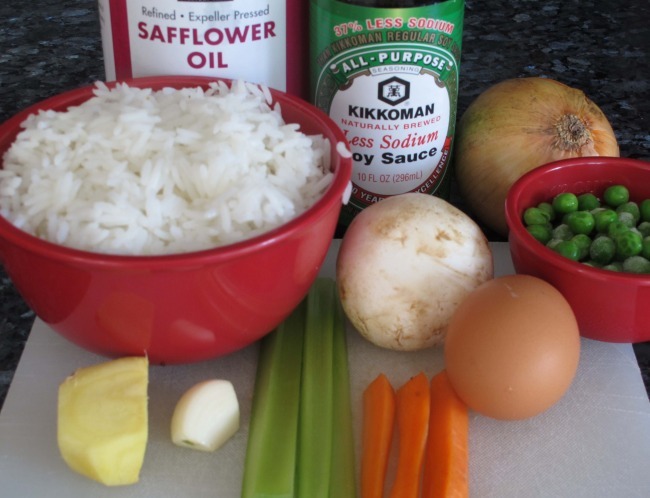 1 egg, beaten lightly
1 medium-large clove garlic, minced
1 teaspoon of fresh ginger, minced
¾ cup of diced carrots, celery and onions 
¾ cup of diced mushrooms
2 cups of cold, cooked rice, broken up so there are no major clumps of rice stuck together
⅓ cup frozen peas (If you have fresh peas, see note under step # below.)
2 tablespoons plus 1 teaspoon of peanut or other high-smoking point oil (I used safflower)
1 tablespoon soy sauce
Equipment
Small bowl
Vegetable peeler
Knife (sharp)
Cutting board
Spoon (to peel ginger)
Measuring spoons 
Four tiny bowls for the tablespoons and teaspoon of oil and for the soy sauce
Measuring cups for solids
Wok (preferably carbon steel or cast iron)
Flat metal spatula
Small plate
Fork and knife 
Preparation 
For step-by-step directions, including photographs, click here.