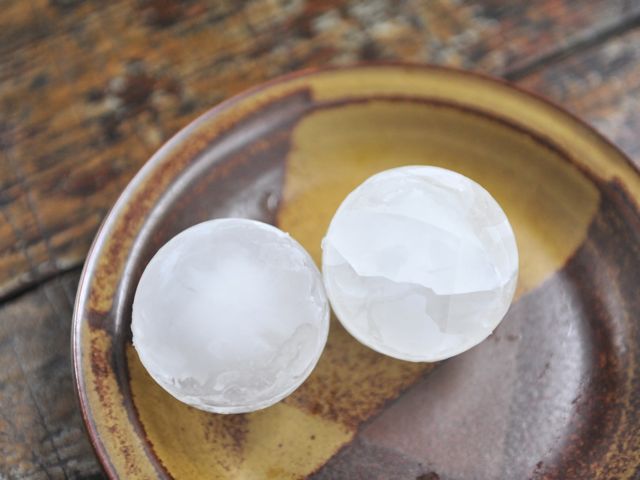 If you're not already familiar with the craze for super-large cubes of ice in cocktails, let this be your introduction. I guess you can't call them ice cubes if they're round, huh? Although I'm no expert in the matter, I believe this concept originated with the Japanese. Let's face it, from tea to little girls' undies, no one takes a fetish further. For them, it was all about the ultimate glass of whiskey. The way to drink it cold but undiluted was poured over a large, perfectly spherical and very-slow-melting ice ball. In an aggressive but skilled fashion, Japanese bartenders--and some local copycats--actually carve them out of solid blocks of ice. (If you doubt me, see here.) For a much less dangerous approach, with strikingly similar results, simply use Muji's spherical silicone mold. The countless "Penicillin" cocktails I've enjoyed at Manhattan's Momofuku Ssam Bar finally convinced me to try the big ice thing at home. They use blocks there, but these round ones work just fine. They're about 3 inches in diameter.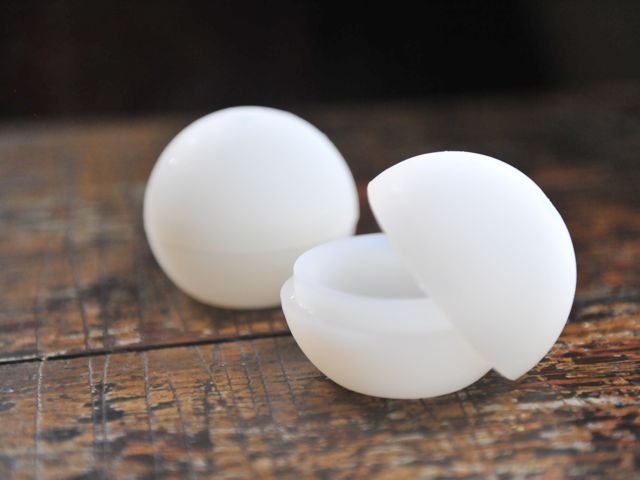 The molds, made of thick, pliable white silicone, come in two pieces. They're not the easiest things in the world to maneuver, so be sure to run them under hot water to loosen them before you start prying the two sides apart. The spheres actually look really beautiful in a glass. Try them in this delicious seasonal cocktail, which I've dubbed Apple of Your Eye. Or just try the cocktail. Gigantic ice may not be your particular fetish.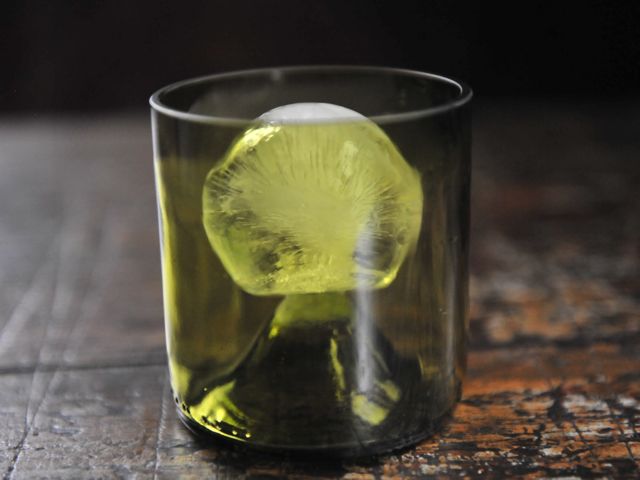 APPLE OF YOUR EYE
makes 1 cocktail
1 ounce cider syrup (recipe below)
1 ounce fresh lemon juice
2 ounces Calvados
Pour into shaker with ice and shake vigorously. Strain into a chilled rocks glass, preferably (but not necessarily) over a large ice sphere. Garnish with a twist of orange peel.
CIDER SYRUP
makes about 1 cup
2 cups organic apple cider
1 tablespoon dark muscovado sugar
1 tablespoon grade B maple syrup
3 star anise
Stir ingredients together in a small saucepan and bring to a strong simmer. Reduce by half. Strain out star anise and cool before using.