When your kids are young, it's pretty easy to "show the love" to them at the holidays. Christmas, Hanukkah, Kwanzaa, and all other celebrations notwithstanding become central to a matching game we parents get thrust into playing annually at this time of year. We spend our days matching wish lists to retailers so that we may fill our little tykes hearts' desires to the sweet, show-stopping brims they so crave. And then we wrap everything in gorgeous paper and top with an array of colorful bows to add glitter to the suspense that is currently keeping them breathing!
Yes, "It's The Most Wonderful Time Of The Year!" of which it has been made easier for parents by retailers who continue to strive to take the guessing out of what would bring Johnny or Susie the biggest smile. That said, there are moments in all parents' lives when they just can't figure out what to get their children and leaning on a big name retailer to pull a rabbit from a hat for them only adds to the frustration despite the helpful lists these retailers strive to provide.
The moment in time I am speaking of struck me last year. With five kids in which to shop for -- four of which are all teenagers -- I found myself stumped and then mentally exhausted by the unyielding search for the perfect gift in which to give each one of them. My 3-year-old was easy. I just went online with Walmart and in a matter of seconds, his stocking was filled. But my teenagers... holy smokes. I was working harder than an elf to come up with presents for each of them and finding myself left "cold" by every tangible option that was presenting itself.
Then it hit me. After much deliberating and further wracking of my brain, I decided to try something rather new in our family... something my older children would truly be AMAZED by. And that something was an "EXPERIENCE." I would give each of my children an experience versus a tangible present per se, in hopes that each of these experiences would provide wonderful times and memories in which each of my children would reflect upon for the rest of their lives. It was a plan I became incredibly excited about -- one that culminated into a fun, earth-shattering holiday for all who anxiously sat in my family room that day.
Taking advantage of a variety of offers extended to me by a few travel and entertainment websites, I came up with three fantastic experiences based upon personal knowledge of my kids that, ultimately, blew my children's minds but not my wallet. I then designed a clever card for each child bound by clues to help him or her "figure out" what his or her "experience" actually was. It became quite the fact-finding game, resulting in responses that clearly packed a wallop followed by screeches of joy. For instance, knowing that my oldest son truly needed a vacation after a grueling semester at college, I booked an inexpensive, all-inclusive trip to Jamaica for him and his girlfriend. To that end, the front of his card portrayed photos of Bob Marley alongside one of my son and his girlfriend underscored by the question, "What do both these photos have in common?" When my son opened his card to reveal the answer hidden inside, he learned that he and his girlfriend were off to Jamaica for a short vacation.
My teenage daughters' experiences followed suit. My oldest daughter received two tickets to Phantom Of The Opera and dinner with mom at Sardi's located directly across the street. It was a time to remember. She had always wanted to see this show, especially having sung so many of its songs while involved in the choir during her high school years. My two younger teenage girls enjoyed an evening at Mohegan Sun Arena, whereby, they chowed down on wonderful seafood off paper plates in a mall-like eatery then spent the rest of the night waving their phones in the air while watching Maroon 5 perform.
Truthfully, as extravagant as these experiences might sound, I guarantee you that I spent less on them combined then most families spent in time and money on stuff they can barely remember getting or giving last holiday season. And on top of it, I relinquished from my life the stress of having to figure out where I was going to put all of the new stuff once the tree was gone -- a job I absolutely despise.
Needless-to-say, this year, I am following my family's new-found tradition all the way to London where my kids and I will be celebrating Christmas with a quick trip -- compliments of the many points I built up on my American Express card over the years, those very same travel and entertainment websites I mentioned earlier, and the money I saved during last year's holiday season. We've been looking forward to commencing on this adventure together all year long. It's a present that will never find itself under the tree, but it's one that has already filled our hearts with much excitement for days on end -- one that will, indubitably, fill our minds with fond memories for years to come.
It's something to think about as you stroll past the scarf aisle for the millionth time with the vision of your teenager lodged squarely in your head and nothing else but the growing desire to strangle yourself with one of those scarves for lack of an outstanding gift to give him on Christmas morning.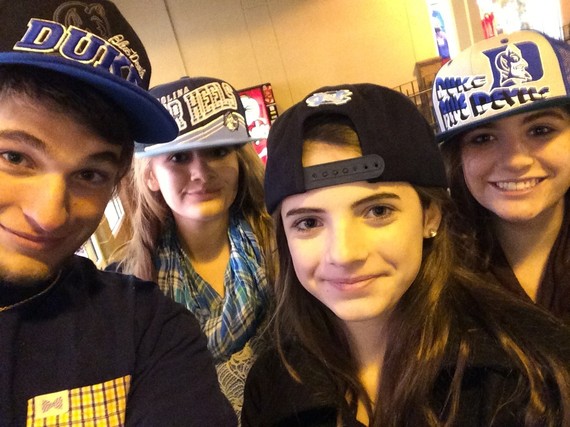 This Blogger's Books and Other Items from...
SUBSCRIBE AND FOLLOW
Get top stories and blog posts emailed to me each day. Newsletters may offer personalized content or advertisements.
Learn more