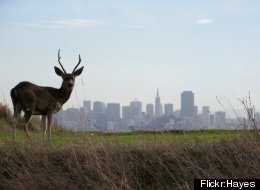 From an island hike to a cantilevered café, these 10 spots around the San Francisco Bay all offer a little adventure and a lot of skyline.
For more great getaway ideas from the city, visit offMetro SF, a new travel site launching this month.
10 Best Views of the San Francisco Skyline
Just north of San Francisco, the largest natural island in the Bay beckons. At various points in history, it's been an artillery post and quarantine center, but Angel Island is perhaps most known for its stint as an immigration center, the "Ellis Island of the West." Today, at the state park, visitors can explore the island's somewhat sordid past before taking to its hiking and biking trails. And from its beaches, trails, summits and campsites, Angel Island affords thrilling views of the Bay, Golden Gate Bridge and our fair city. Perhaps just as rewarding, though, is the ferry ride over.

Tucked between hills and Bay, this quiet port town would feel worlds away from the city if it weren't for that spectacular skyline staring you in the face. Famous Sam's Cafe, with its lively patio and postcard-perfect views, is always a happening spot, but we also love taking in the scene (and a tipple or two) from the deck of the Caprice. Either way, Tiburon is just a quick and breezy ferry ride to paradise, or better yet, bust out the bike and cruise over the Golden Gate Bridge and through the Marin Headlands.

Yes, it's an attraction in its own right -- one a surprising number of Bay Area residents have never experienced. But beyond the undisputed fact that its fascinating past makes for ideal Hollywood fodder, Alcatraz provides some truly incredible views of San Francisco. Looking back from here at the city -- its hills stretching upwards, pretty Victorians in neat little rows, Coit Tower gleaming from its perch -- you can almost hear the Cable Car bells, and you can certainly imagine how the scene may have tortured a prisoner or two. Don't miss the Rock's gardens, and for an extra treat, take the night trip, which includes a guided tour and the possibility of catching the sunset.

There is no shortage of wonder in Berkeley, from its deliciously thriving foodie scene to the freewheeling eccentricities of downtown. But another incredible asset to this happening town is the vantage point it affords for taking in the city. Whether you're catching a concert at the Greek, dining on top of the world at the elegant Claremont or getting back to nature at Tilden Park and UC Berkeley's Botanical Garden, there is the Bay, and the "city by it" gleams.

That lighthouse that hangs out off of Pier 39 may not look like much from where we sit in the city, but what awaits on Forbes Island is a truly special experience. The brainchild of eccentric millionaire Forbes Kidoo, the world's only floating island (formerly Kidoo's residence) is a one-of-a-kind restaurant with a Tiki hut and underground chambers. And, of course, there are those views, best scene from the top of the lighthouse. Peering back at the city from here will make you fall in love with San Francisco all over again. For a really fun "day away" (without every leaving the Bay), island hop from Alcatraz to Forbes.

The island city is known for its outdoor enthusiasts, making the area perfect for catching skyline views after a day of catching waves.

Whether reflecting back on the city from a wooden boat tour or ferry, this neighboring community offers its share of panoramic skylines. Take the Golden Gate Ferry and head to Horizons, serving up casual California cuisine and holy mackerel views.

Mount Tamalpais is the answer to a long workweek, with its redwood forests, waterfalls, pea green meadows, glassy lakes and sprawling views of the Bay Area. After hiking to the 2,571-foot peak, no matter which direction you look, there's breathtaking California beauty all around.

Sneak away for the weekend without ever losing sight of home at this 133-year-old active lighthouse and bed and breakfast on Point Richmond. Hop aboard a boat, climb a ladder and begin a romantic respite that includes a sustainable four-course meal with wine and champagne, plus a gourmet homemade breakfast. Book the San Francisco Room ($415/night) and enjoy views of two bridges and the City by the Bay.

There is no better spot in the bay for catching fish and views of the skyline than at the Middle Harbor Shoreline Park in Oakland. Bring a picnic blanket and use the BBQ pit at lunchtime, then go for a bike ride on the three-mile pathway along the shore.
Additional reporting by Suzanne Russo and Devon Antonetti
Photos: Angel Island, Caprice, Hayes, Nick Sarebi, pepperlime, Project JM, Miguel, Will Banks
Follow Lauren Elyse Matison on Twitter: www.twitter.com/LaurenMati