I just saw California Shakespeare's Macbeth directed by Joel Sass last Thursday night in their newly renovated, and glorious outdoor theatre. The lights went down (including the sun) and the first eerie strains of music and witches' words seeped into the space like a slow ghost. The witches appeared in white nun's habits with black faceless masks and green surgical gloves. When they spoke all three turned their heads in unison. I love Macbeth, and I knew these creepy witches were coming, but the only thing I thought as a legitimate thrill spangled my stomach was: "Holy sh*t."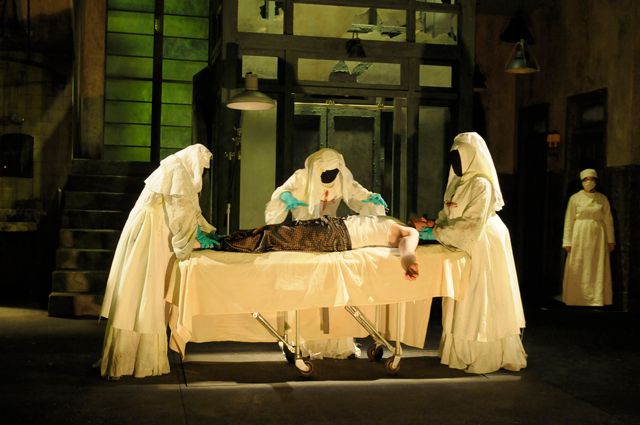 Photo by Kevin Berne
The feeling continued through the whole show with exciting and truly freaky interpretations of The Scottish Play in a eerily modern world that looked that an abandon mental hospital. Then a pack of live coyotes howled from the hills all through scene 3. Holy SH*T!
I know most theatres can't take advantage of wild animals like CalShakes can. But when was the last time you had a theatrical "holy sh*t" moment in a theater?
With YouTube giving us whatever ridiculous or freaky desire we want, and movies giving us bigger and more 3D shock and adventure - American Theatre needs to proclaim an age of Holy Sh*t Theatre. Not to compete with Hollywood, but to recognize global tastes and re-purpose them for the live experience. In the vein of "funny or die": give me badass or give me bored.
What is Holy Sh*t Theatre? At the risk of sounding like a 1920's carnival, Holy Sh*t Theatre is a live thrill that might be racy, terrifying, shocking, surprising, bizarre but is definitely riveting, engaging, and high quality. You will feel this theatre. You will sense the performance. It might make you laugh or gasp, but it will make you do it. You'll see something unusual, risky, bold, wild. The boldness will be in the acting, directing, design, music as well as the text. Holy Sh*t Theatre is an electric collaboration of quality, artistry, and intelligence. It needn't be expensive or highly technical. It is no place for irony or nonchalance. It must make you say, think, or yawp: "Holy sh*t, that was awesome."
My Holy Sh*t Theatrical experiences include SoHo Rep's Blasted, the first time I saw Tracy Lett's Killer Joe, Zimmerman's Metamorphosis, Sarah Ruhl's Eurydice at Second Stage, Thomas Bradshaw's The Bereaved, August: Osage County or Fela! on Broadway, original cast The Lion King (I was like 15, but whatever), Broadway's recent All My Sons with John Lithgow actually, and Chuck Mee's Iphigenia 2.0 at Signature. I felt that way watching the workshop of Greg Moss's House Of Gold at The O'Neill National Playwrights Conference last summer - get ready for the production at Woolly Mammoth Theater this season. Then there's the ensemble created work of Elevator Repair Service in New York or Out Of Hand Theatre in Atlanta to name a pair.
Holy Sh*t Theatre does not want you to just remember the show - it wants to re-feel it. Every time you think of the production of Blasted your stomach will clench and you will take a fresh breath in honor of what you experienced. That. Is badass, charged-up, Holy Sh*t Theatre.
In contrast, I might borrow Peter Brook's term "Holy Theatre" to categorize our theatre classics classically done - our tamer R+J's, our seasonal Christmas Carol's, our beloved musicals and tasteful comedies. They are staples, and taste good, and audiences will come to see them. And I love Holy Theatre as much as I feel Holy Sh*t Theatre. And I understand why programming recognizable favorites helps fund the rest of a theater's season. Holy Theatre might just bankroll Holy Sh*t Theatre. We don't want to scare regular patrons away with something so punchy that they renounce their season tickets. But this new theatre, re-imagined theatre, bright just-born screaming theatre will define our age. We need Holy Sh*t Theatre to become our Holy Theatre.
As the witches in CalShakes's Holy Sh*t Theatre Macbeth proclaimed, "Come, sisters, cheer we up his sprites, and show the best of our delights."
Yes, theatregoers and theatre-makers. The age of Holy Sh*t is upon us. Get ready for bewitching. Get ready for badass. Get ready to say...
SUBSCRIBE TO & FOLLOW CULTURE SHIFT
Level up. Read THIS and be the most interesting person at your dinner party. Learn more