My previous theatre essay on "Holy Sh*t Theatre" generated a lot of conversation in the theatre twitterverse and blogospohere. A lot of the dialogue focused on labeling theatre. There was a dissatisfaction (or outright confusion) with what I meant by badass theatre, and why it is/is not different from "good" or even "great" theatre. And my definition was inadequate. There was a specific element that was missing: newness.
But that word doesn't quite work either. Theatre is always new. Every night is a new combustion of audience, actor, space, time, temperature, global events, personal baggage (we've all been there when an actor gets dumped and some of that ends up in the middle of the Nunnery scene? Yeah. Thought so.). And newness isn't about style or attitude. Style without substance has never impressed that deeply. New, confidant, purposeful, profound theatre sounds great to me, but is that badass?
What differentiates Holy Sh*t Theatre is a wholly fresh interpretation or perspective that is avant-garde, actively engaging, and profoundly impactful. Something elemental or total that you've never felt and never seen onstage. It does something new while it means something true. Something that doesn't just suggest what you should feel ("Oh, the creepy atonal music is playing, I'm supposed to be scared now"), but something you actually and actively feel. Something that surprises while it satisfies. Shock and awe and catharsis. Theatrical vangaurd.
In my profile of CalShakes's fabulous Macbeth I explained that though it was exact same play I've always known, it surprised me in that it was actually scary. Every other performance of The Scottish Play I've seen was aiming at scary (and the audiences understood that it was supposed to be scary), but it didn't really frighten or provoke authentic dread. CalShakes managed to surprise, freak out, and inspire actual dread in a text 400 years old. Their joyful Midsummer from last season did the same thing for Shakespeare's bizarre romantic comedy. Surprising and satisfying. That would make William proud.
The other plays I referenced as worthy of bonafide "Holy Sh*t Theatre" gave me that surprised/satisfied balance in varied ways. Somewhere were revelations in design, performance, story, and some had all three. Some impressed loudly and violently, some were sleek and silent. But common among them all was a balance of classic and cutting edge. The feeling of theatre's ancient wisdom on display with the shattered expectations of a new vision. A newness worthy of exclamation, not just of note. A freshness that truly gives us a new feeling in a theatre, not just another experience in a theatre. Can you really say "I have never seen that before in my life" that often? Or would you more likely say, "That was really good! It reminds me of that show I saw last season."
Good and badass are not mutually exclusive, but sometimes they are. There is a different feeling to a show that was well produced, well performed, funny, beautiful, tragic, but one that did not surprise you. Perhaps there were some new elements, perhaps they modernized it, perhaps they cast blind. But it still felt like a play you've come to know and trust and even love. I have seen amazing shows like that that I still treasure. They were not revelations -- they were good experiences. They gave me what I wanted, the filled me up with emotion, they taught me something. I might have left saying, "That was great" or "Wow. Nice." -- but they did not prompt me to say, "holy sh*t".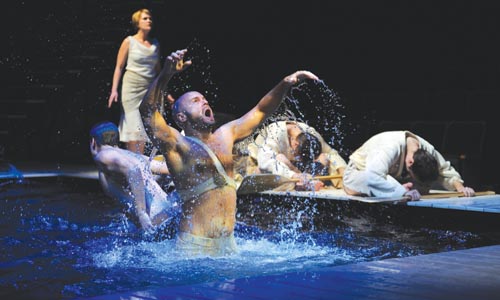 Photo courtesy of Ric Evans of the Public's production.
Mary Zimmerman's Metamorphosis did (I saw it at Georgia Shakespeare in Atlanta). I had never seen that kind of production -- one that blended a uniquely watery world so well with the content of those myths. August: Osage County did. I had never seen a play that elicited such visceral and immediate reactions (violent laughter, oozing discomfort, wild applause) in the audience. The Wooster Group's Hamlet did. Their integration of Richard Burton's filmed production with a live production provoked a brand new metaphysical experiences of the play's themes of mortality and legacy. These plays felt "classic," but all had a brand new electric vision crackling throughout. The seasoned power of old school theatre with the crisp energy and perspective of new school. August's structure would make O'Neill proud, the fighting family dynamic is ancient, but the production and performances were so freshly forceful and authentic that it became a revelatory theatrical experience.
The definition of Holy Sh*t Theatre was unclear because it wasn't specific... and it might never be. Is it a genre? Does it describe moments in a play or the whole play? Does it just mean "I Liked It Alot"?
It's certainly not a genre in the academic sense (my Aesthetics and History of Drama teachers would audibly cringe). And I suppose a play could have a few moments of badassery, but one or two moments might not impress overall. But that's semantics, and semantics do not theatre make.
If anything Holy Sh*t Theatre is a collection of profoundly impactful theatre that, when collected, gave me a chance to understand their impact. Puppets were around for a long time -- why did The Lion King feel so fresh? O'Neill perfected the family drama a hundred years ago -- why did August feel so exciting? If we come into the theatre knowing the classic story, how do we ignite the experience into a blaze of real-time emotional thrill and engagement?
Everyone's experience is inherently (and by definition) individual. It is impossible to singularly categorize a play's impression on every member of an audience. And every opinion is just one opinion. And artists hate labels. Of all this I am quite aware.
All I know is that when I leave the theatre saying, "Holy sh*t, that blew my mind!" it's worthy of its own discussion.
So. The real definition of Holy Sh*t Theatre combines all the elements of "good" theatre with an innovative, progressive, powerfully impactful, unique vision. A fresh theatrical attempt that provokes/evokes a visceral reaction for some or all of the audience. Words for the actual production might include: re-imagined, uncommon, fresh, unparalleled, innovative, awe-inspiring, and ( how-have-I-never-heard-this-word-before) neoteric. Words for the elicited reaction to the production might include: inspirit, overwhelm, amaze, surprise, impress, enrapture, stimulate, exhilarate, authentic, cathartic.
All in all, Holy Sh*t Theatre is like a lot of art: you know it when you see/feel it. I for one never want to "sit back and relax" in the theatre; I want to lean forward and drop my jaw. I want my theatre smart, gutsy, and bold (which I stole from Atlanta's Synchronicity Theatre). That's what I wanted to discuss in verbalizing the experience of Holy Sh*t Theatre. So if anything this is a love letter to (and a happy plea for more) surprising, innovative, riveting, old/new theatre that makes us all exclaim in expletive.
SUBSCRIBE TO & FOLLOW CULTURE SHIFT
Level up. Read THIS and be the most interesting person at your dinner party. Learn more