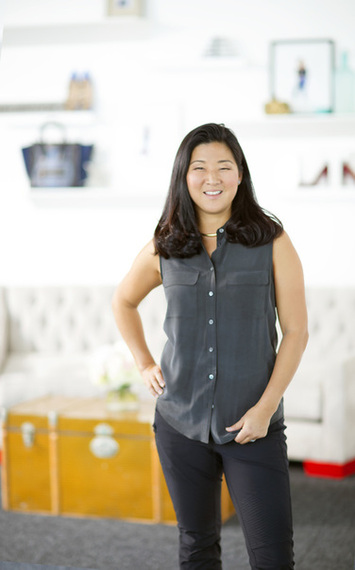 Carol Koh Evans is the Chief Operating Officer and Chief Financial Officer of Tradesy, Inc., the leading online marketplace for pre-owned women's designer fashion, handbags and accessories. Prior to Tradesy, Evans was the Chief Operating Officer of XO Group, Inc., parent company of The Knot, and she also spent seven years at Microsoft in a variety of roles in corporate development and corporate strategy focused on consumer initiatives, gaming and online media. Carol received her MBA from Columbia Business School and her B.S. in Business Administration from the Haas School of Business at UC Berkeley.
What inspires you?
I am inspired by chasing mini-adventures and traveling to different parts of the world for both work and on vacations with my family. I enjoy exploring new cities, trying new restaurants, and meeting people from around the globe. On vacation, I also enjoy taking long runs admiring beautiful ocean views or city landscapes. On weekends, I often go hiking with my family and we enjoy the bird's-eye view from the top of the mountain. As I watch my kids grow up, I am also inspired by their sense of wonder and accomplishment when they try something new, whether it is learning how to play a new sport, racing down a new ski mountain, or completing a new Lego set.
Who has had the most impact in your life?
Like many others, my parents were strong influences, and I am so grateful for all of the sacrifices they made for my brother and me. Shortly after my parents were married in Seoul, Korea, they moved to America to start a new life in a new country. My parents were extremely hard workers, and they sacrificed so much to invest in my education and my future. From my parents, I learned about hard work, perseverance and delayed gratification - work hard now so you can enjoy more later.
In addition to my parents, my coaches certainly shaped who I am today. From playing basketball and volleyball, I learned many life lessons on the court that have applied to my career, including the importance of teamwork, setting high goals, and bouncing back after a disappointing loss. From playing team sports, I also learned the importance of being coachable and open to feedback in order to continuously improve. In our post-game discussions whether we won or lost, we always shared what went well, what went not so well, and how we could play better next time. Off the court, having this honest dialog with myself has helped me navigate and overcome tough situations in fast-paced, dynamic workplaces.
What is the hardest lesson you've had to learn?
One of the hardest lessons is juggling the crazy demands and joys of work, family, and friends. For me, it is work-family integration, not exactly work-life balance. I truly value the flexibility and autonomy earned over the years so that I can watch my kids perform at school or volunteer in science lab and will also find the time to update our financials, prepare for a Board meeting, or coach a new manager through a difficult situation. Once in a while, I have missed a school event due to a last-minute schedule change or a calendar mix-up, and I have learned just to be honest and share my disappointment with my daughter and then move on. It helps that my daughter has visited my office a few times, and she understands that I am part of a team at work that needs me too.
What causes(s) or nonprofit(s) do you support?
While I am still looking for more ways I can give back, there are several organizations that I support that align with my priorities, which include encouraging more women in technology, kids' fitness and education. I have been an active supporter of organizations including Girl Develop It and Team for Kids in NYC and Independent School Alliance in LA.
To read the rest of the TuesdayNights interview with Carol Koh Evans visit Get Inspired.
SUBSCRIBE TO & FOLLOW THE MORNING EMAIL
The Morning Email helps you start your workday with everything you need to know: breaking news, entertainment and a dash of fun. Learn more