From Lemarti's, the next stop was Sirikoi, set on the now famous (thank you Prince William) Lewa Downs.
I have to write a disclaimer here because I am totally in love with Sirikoi. (yes, you can be in love with a place) and so there is no way I can write about this camp with any kind of objectivity. Since the first time I came here it has held a very special place in my heart and head and I have mentally traveled and daydreamed myself there from the subway and in tedious meetings at least once a week for the last three years of life in NYC.
I think perhaps the best way to describe Sirikoi would be to walk you through a day there so here we go.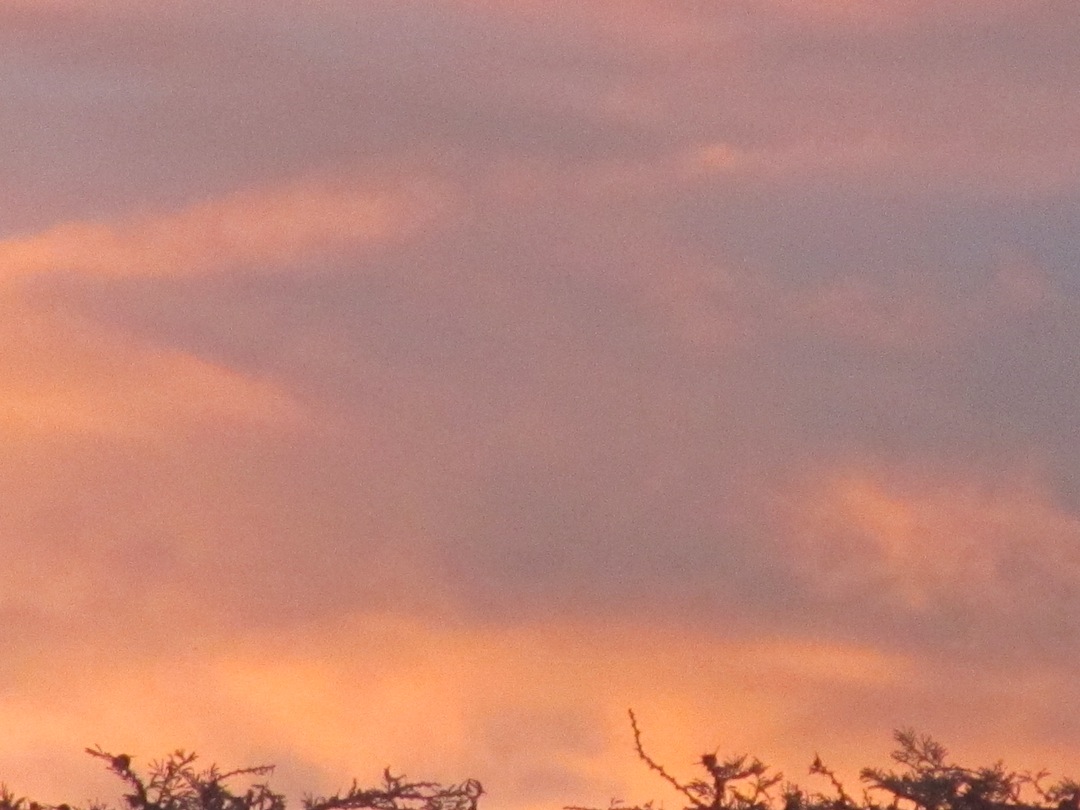 First Light
You wake up. The first thing you hear is the dawn chorus, hundreds and hundreds of birds letting you know that the sun is coming, a new day is about to begin and, as with all days here, its going to be a good one.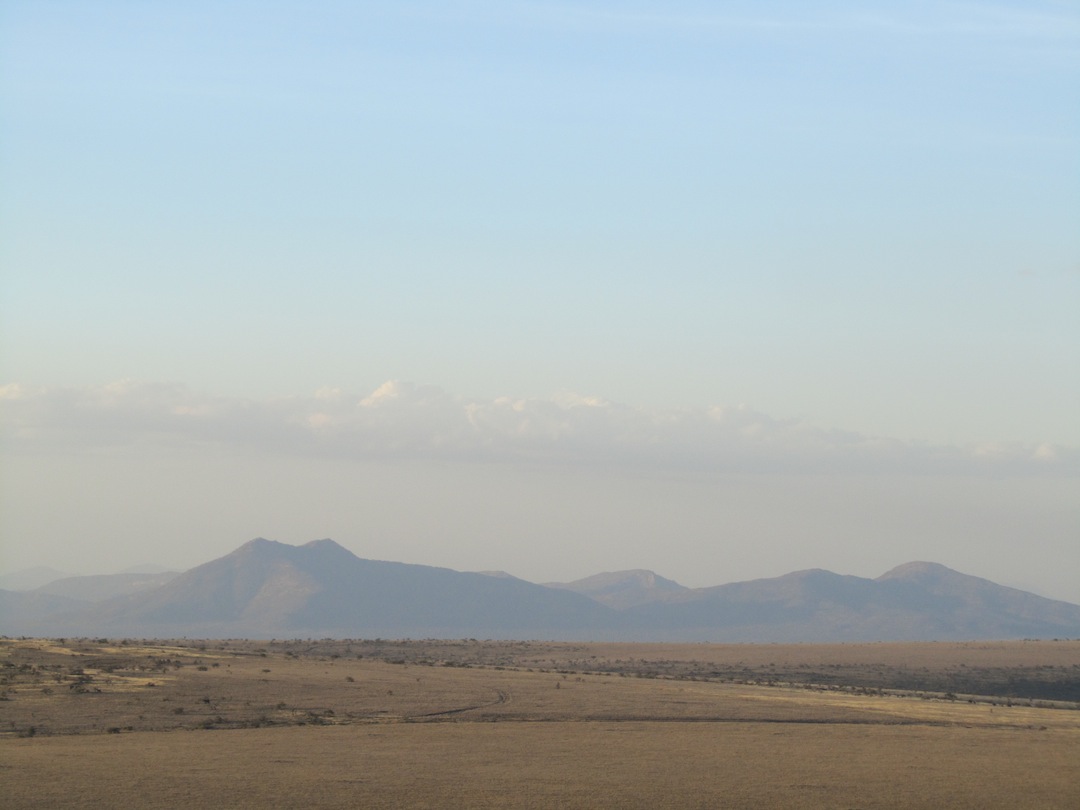 Lewa Downs

Next you notice a slight, munching noise and you realize that you have slept in the middle of a herd of impala that are gently grazing round your tent. They stop, start and scatter as something has disturbed them, there is a knock on your tent and, as if by magic, the room is now filled with the smell of Kenyan coffee. It's early, but the coffee, the animals chattering and the gradually increasing light in your tent make it impossible to stay in bed any longer and you leap out of bed to your (extremely luxurious) bathroom for a shower.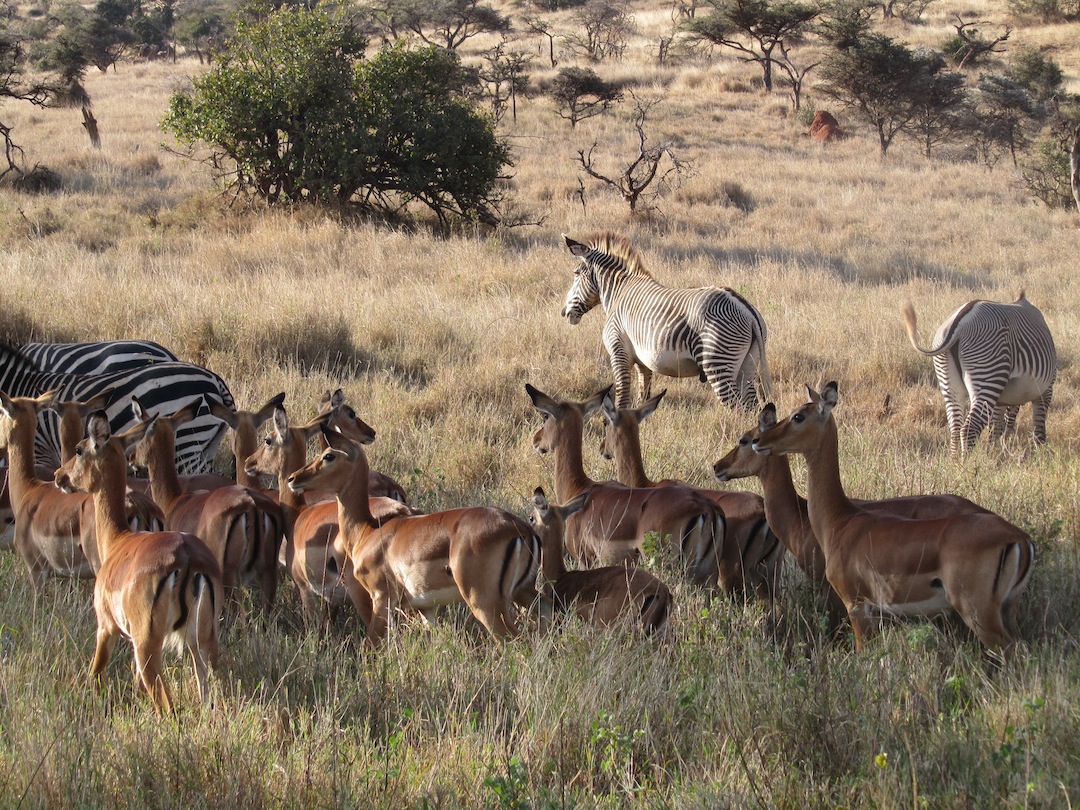 Impala and zebra grazing
You are about to get in the shower when there is the scratch of a tent zip -- your zip. Strange, its slightly early for visitors, so you go back into the bedroom just in time to see a tiny furry hand disappear outside. The vervet monkeys have come to say good morning (and inquire as to whether or not you needed the sugar that was brought in with your coffee).
Zip now firmly closed behind these little intruders you shower, change and head out of the tent. Time for the morning game drive, where you will be greeted by giraffe, zebra, impala, and very likely some rhino and elephant too. Lewa is after all, first and foremost, a rhino sanctuary with some 65 currently calling it their home.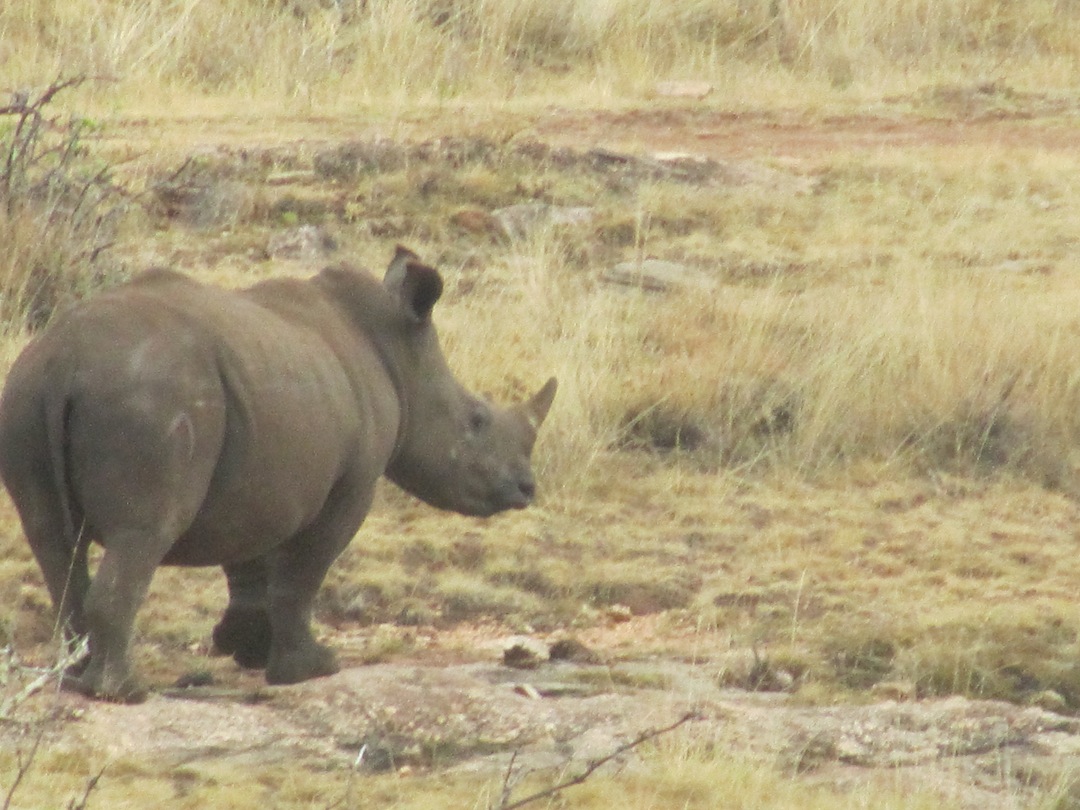 A rhino and her new calf
After the drive you will, surprisingly, given the fact that you have been sitting in a Landrover the entire time, be working up an appetite and so its time to go home for breakfast.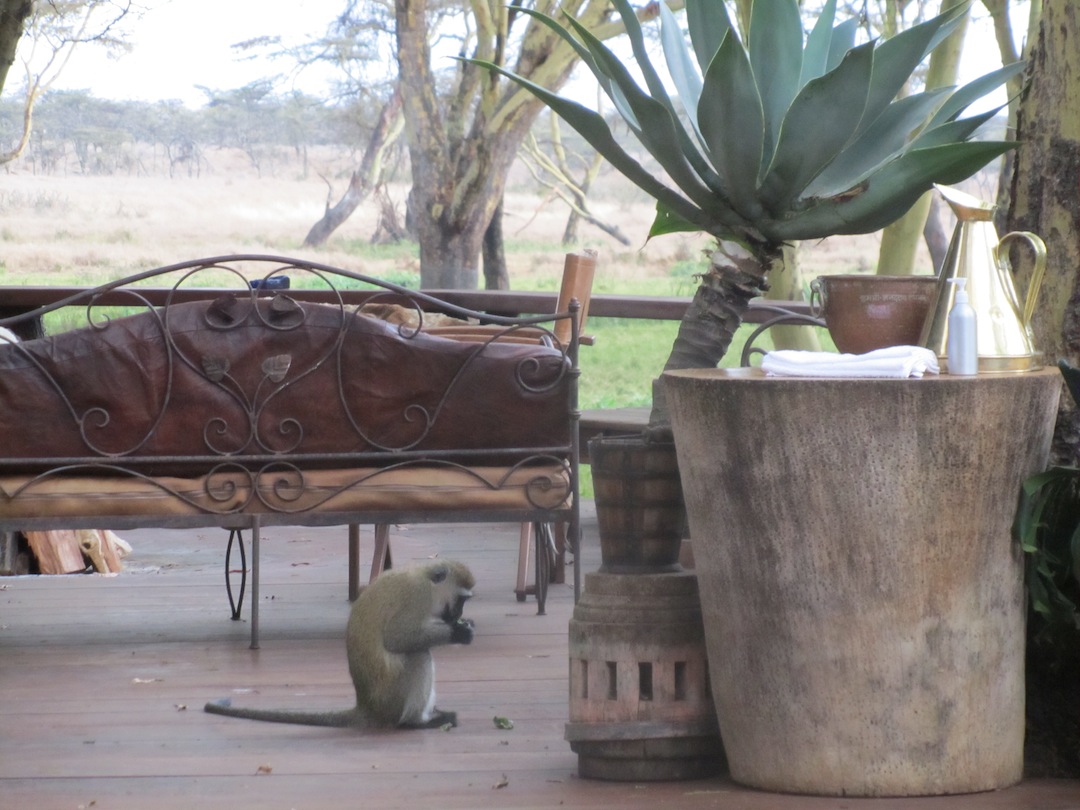 Scavengers at breakfast

Again, you might have to be prepared to share. The granola (handmade of course) is so good that starlings, hornbills and, of course, the Vervets, wait anxiously, as close to the table as they dare, for crumbs, presents and unmanned cereal bowls.

Zazu and friend arguing with their reflections
Next, time to relax. In your tent, in the mess tent, reading, sitting, watching, thinking, this is the part some New Yorkers have trouble with. You will switch off and just.....exhale....be. Go for a swim in the pool (Zoe, the resident zebra may supervise) or just watch the watering hole. If you wait a little you will see the elephant coming in.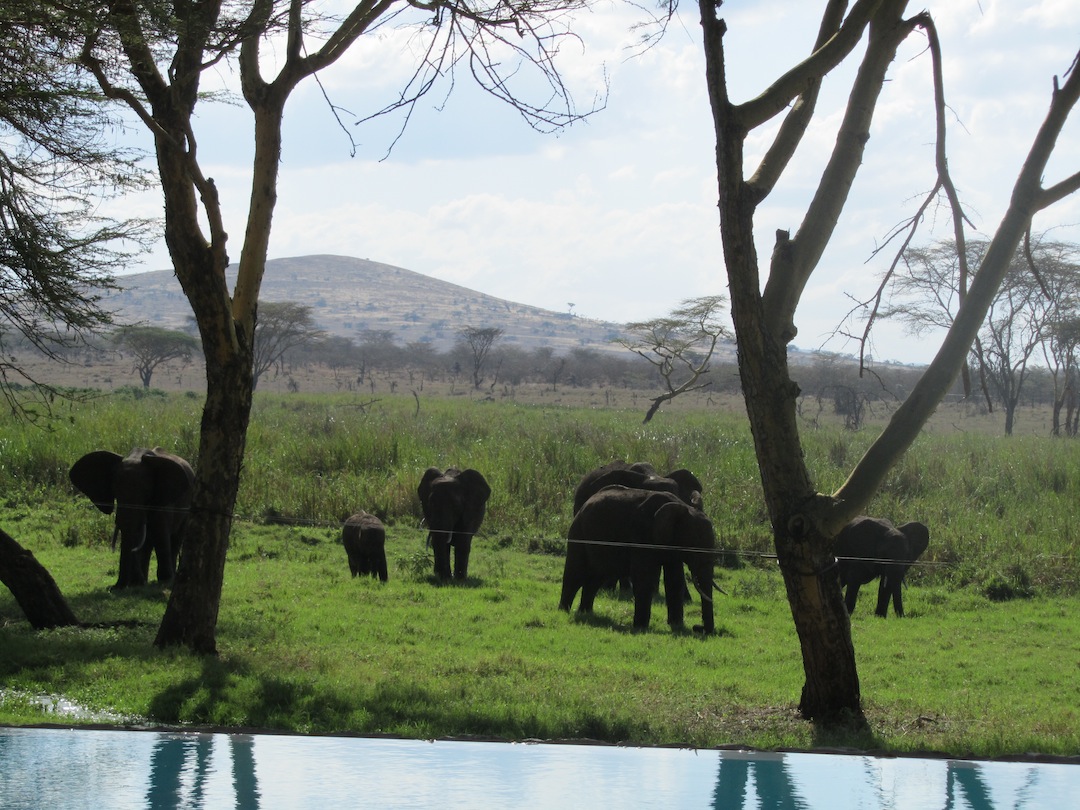 The elephant come to pay a visit
And after all that excitement you are probably hungry again so it's lucky that Sirikoi grows all of it's own fruits and vegetables in their very own Shamba. (ask to take a look, it's a sight to be seen)
A little down time after lunch, you could always play with their new orphaned baby cheetah cub, SHEBA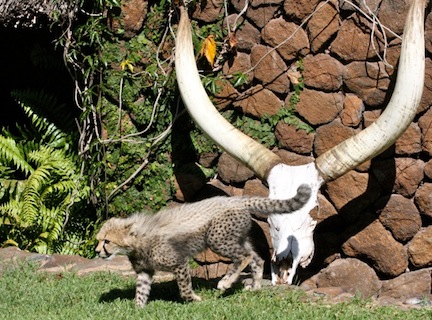 Sheba practicing stalking

and its time to head out again. This time another direction, a totally different part of the reserve and more incredible wildlife. Losing your bearings is easily done and part of the fun, you are in good hands so you will, again New Yorkers might have to try harder, totally relinquish control and allow yourself to be taught, shown, driven, fed and watered.

After more wonderful game viewing you notice it's getting colder and the light is dimming. Which can only mean one thing. Its time for a sun-downer, a drink of your choice to be sipped while watching the last of the day's light disappear. One of my favourite things in the world.

Sundown

SUBSCRIBE TO & FOLLOW LIFESTYLE
HuffPost Lifestyle is a daily newsletter that will make you happier and healthier — one email at a time. Learn more