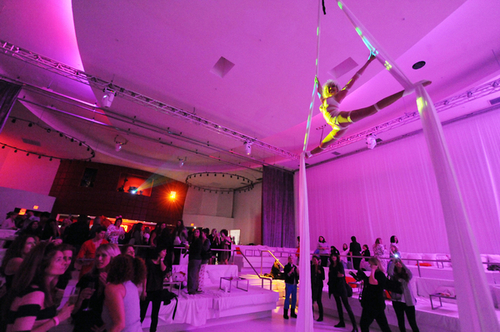 What do you get when you combine a group of powerful women, circus performers, pajamas and Heather Hope-Allison's vision? You get, The Buzz Girls 3rd Anniversary Pajama Party at the new supperclub in Hollywood!
The Buzz Girls is about women supporting each other and finding that comfortable place to let their hair down, while still actually being productive and making great contacts. So what a better way to have women be comfortable than a fun and fabulous slumber party?! Founded by Heather Hope-Allison, The Buzz Girls bring together influential women in top entertainment agencies, media, and lifestyle companies to network, sample products and discuss what's up next.
Having never been to a pajama party on Hollywood Blvd, let alone a networking event that didn't require heels, I didn't know what pajamas to sport. Torn between flannels, silks and thermals, I finally settled on the full body light blue fleece onesie (feet booties included.) It was a good choice because as I walked into the entrance of the brand new supper club los angeles, I was greeted at the PJ Bar by a friendly group of young women who were handing out Hello Kitty pajamas. (Later in the evening I saw a fellow onesie sister sporting her full pink onesie with heels!)
Clearly, this was not your traditional networking event nor was it your typical venue. The Buzz Girls partnered with the new venue, supperclub los angeles (lower case is intentional), for the Club's inaugural private event in their new space (the former Vogue Theater) on Hollywood Blvd. Together they created a lively, energetic, and festive environment. When you first walked into the venue, guests were all dressed up in their best pajamas as women performers dressed in head to toe spandex suits graced the walls like moving artwork. The space was lined in huge white beds, fluffy pillows, blankets and accented with sweet treats. The Hello Kitty pajamas were provided by one company (Sweet by Age Group) and the plushes and blankets we snuggled with were provided by FAB. Performers filled the space with their talents, directed by Philip Solomon of Way2Much Entertainment, and the little girl inside us all was free to jump on the bed, throw pillows and eat delicious cupcakes from CRUMBS Bake Shop and treats from Sweet Lips Design (guilt-free, of course). The grown up girl wasn't left out either as she was treated to cocktails by Bluecoat, Vieux Carre and Finamoré Limoncello.
Try to catch The Buzz Girls as they keep buzzing with the latest and greatest buzz out there and don't miss an opportunity to dine and be dazzled at supperclub los angeles at 6675 Hollywood Boulevard which officially opens to the public early December for dinners and events. Grab a date and a take a seat for a feast for your senses!
See photos at: www.thebuzzgirls.com
Photo credit: Katy Winn and Tonya Wise