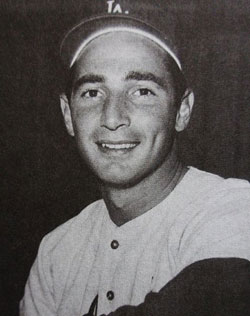 With the rollout of Jews and Baseball: An American Love Story, continuing through the end of November (click here for screening locator), a classical music sighting is made that the famous 18th century philosopher Moses Mendelssohn would have been proud of.
Heralding the Sandy Koufax segment, the perky opening bars of the "Allegro vivace" movement from Moses' grandson Felix Mendelssohn's Fifth Symphony pipe up under the opening image. Perfect, even if the Symphony is nicknamed the "Reformation."
The exclusive sit-down interview is essential for baseball nuts and casual fans. Koufax looks like Clint Eastwood and reveals a "Dirty Harry" appetite for winning and excellence.
The documentary by Peter Miller (from Ken Burns' team) begins with Dennis O'Leary calling a Red Sox game from Fenway Park reacting to the news he has just been handed that Kevin Youkilis is Jewish.
It continues with comprehensive clips and videos of stars I had never heard of, like Lipman Pike, and players I only knew vaguely about, like Al Rosen.
Ira Berkow wrote. Dustin Hoffman narrates. Bud Selig talks about what his predecessors would have thought of a Jewish commissioner. Marvin Miller talks about how the Players Association
was formed.
There are lots of great recordings of the Mendelssohn. Try this one by Boston and Charles Munch on RCA. It was recorded about the time Sandy was coming of age as a Dodger.
SUBSCRIBE TO & FOLLOW CULTURE SHIFT
Every Friday, HuffPost's Culture Shift newsletter helps you figure out which books you should read, art you should check out, movies you should watch and music should listen to. Learn more