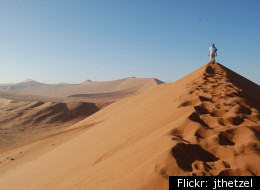 At the end of March I was shocked to learn that two gay men from an Atlantis Cruise had been arrested in the Caribbean island of Dominica. The local authorities must have known it was a "gay cruise line" before it docked, which led me to question why, having allowed several hundred gay men into their country, they then decided to arrest two of them. The answer came a few days later when photos of the couple in question emerged, showing them butt-naked, on their balcony, in plain view of everyone on and around the pier, in flagrante delicto. "Well, what did you expect?" was my response.
As someone who has travelled to more than 150 countries, I am used to treating State Department travel advisories with a pinch of salt. I've been to dozens of countries where homosexuality is illegal, and where our government warns people not to go. Through common sense, I've managed to enjoy my visits. I've only ever been arrested once, and that was for entering a country without a valid visa. It had nothing to do with being gay.
In truth, we all know of areas in the cities we live in where we can get robbed, assaulted, or arrested given the right behaviour. Cities in other countries are no different. The Dominica episode, however, sparked a debate about whether or not gay men and women should travel to countries where homosexuality is illegal. My personal view is that you do little to change LGBT rights in such countries by boycotting them. Instead, you'll deny ordinary citizens in those countries income and jobs, and you'll miss out on some of the best tourism our little planet has to offer.
Here, then, is a short list I've compiled of sights you won't see if you boycott anti-gay countries.
10 Breathtaking Sights You'll Miss If You Boycott Anti-Gay Countries (PHOTOS)
Although the Egyptian criminal code is silent on homosexuality, laws in place since 2000 place a de facto ban on such activity. Nevertheless, the Egyptian economy draws huge revenues from tourism, and not coming here would mean missing out on the Pyramids of Giza, the Egyptian Museum (home of Tutankhamen's death mask and 27 pharaonic mummies, including Ramses II), plus the Valley of The Kings, the Suez Canal, Mount Sinai, the remains of the lighthouse of Alexandria, the Aswan Dam, and the temple of Abu Simbel.

Jamaica has been described as one of the most homophobic places on Earth, and let's be honest: it deserves such a description. However, boycotting Jamaica means you won't be able to pay your respects to English dramatist, songwriter, actor, and all-round gay legend Noel Coward, because he is buried here at his former hilltop house, Firefly. Bob Marley's home and final resting place can also be found here.

One question I wanted to ask the couple arrested in Dominica is why they decided to remain onboard while all the other passengers disembarked to explore the island. Dominica is a young, rugged, and volcanic island, the highlight of which for me is Boiling Lake, a volcanic and highly sulphurous lake, so named because it appears to continuously boil. The only other one I'm aware of in the world is in New Zealand.

Victoria Falls, situated on the border of Zambia and Zimbabwe (homosexuality is illegal in both countries), are the largest waterfalls in the world. Here the Zambezi River plummets over raw rock amid lush vegetation. Absent are the tacky, built-in-the-'60s tourist traps that, for me, ruin Niagara Falls. You can view the falls from either country. Both claim to offer the best view.

Leptis Magna is probably the most complete ruin of a Roman city left on Earth, helped by the preservation afforded to it by desert sands over the millennia. When Gaddafi was still in power, you could also witness the many cult-like representations of him around Tripoli and in the city's National Museum. Back then you could also buy a "Colonel Gaddafi watch" for about $10 -- a bargain, I'm sure you'll agree. Gaddafi may now be gone, but the country's ban on homosexuality remains.

There are few feelings better than plunging down a Grade-5 rapid in a dinghy, on the White Nile, with five or six other people. Being flung from your boat by nature's awesome force, nearly drowned, and surviving thanks to the crash helmet and lifejacket you're wearing, is hard to beat. The warm water is crocodile-free thanks to a dam at Lake Victoria that keeps them all upstream. Ugandan politics is, as has been documented, virulently homophobic, a fact that is unlikely to change any time soon.

Running through the tribal areas of Pakistan, a visit to or through the Khyber Pass is not for the faint-hearted. Nevertheless, with an armed guard or two you too can tread roads previously trodden by the conquering armies of Alexander the Great and Genghis Khan on this indispensable part of the ancient Silk Road. Kipling described the pass as "a sword cut through the mountains." It might nowadays be described as bin Laden's escape route. Homosexuality is illegal in both Pakistan and Afghanistan.

If sandboarding, cuddling cheetahs, and visiting petrified forests deep in the desert aren't your ideas of fun, there's no need to come to Namibia. If it is, then you should overlook the country's ban on homosexuality and start planning your visit. The safari parks in the north of the country are worth a look, too, as is the breathtaking Fish River Canyon in the south, second only to America's Grand Canyon in size.

Bangladesh's wild tiger population won't care if you're gay or straight, but the Bangladeshi government will. Nevertheless, the Sunderbans, a giant area of mangroves on the country's southern coast, is a UNESCO World Heritage site, having one of the highest concentrations of Bengal tigers anywhere in the world. It's a bitch to get to, but well worth the journey.

Finally, there's Lalibela. You'll be aware of Jordan's Petra, doubtless, through its appearance in Indiana Jones and the Last Crusade. Well, while Petra consists of buildings carved horizontally into sheer rock faces, Lalibela consists of buildings, predominantly churches, carved vertically into the stone ground. They make for a truly remarkable sight, and it's one you won't see if you rule out visiting because of Ethiopia's ban on homosexuality.
Follow Laurence Watts on Twitter: www.twitter.com/Laurence_Watts