Wedding celebrations, like all good things, must come to an end. I always recommend that my clients end their weddings on a high note, leaving everyone wanting a little more. Lately, many couples, their families and their guests have truly been wanting more, and so they look to the after party to keep the fun going.
An after party to me is a new venue and atmosphere where guests go to continue the celebration after the reception. It's a growing trend in the wedding industry, because it's a chance to offer a more relaxed environment after the formality and tradition of a wedding reception. You may remember hearing that Prince Harry threw a raging after party for William and Kate, complete with a nightclub DJ and late-night snacks -- most definitely allowing guests to cut loose after Prince Charles's elegant black-tie dinner at Buckingham Palace.
Some good reasons to consider an after party:
Your reception venue has an early music curfew and ending time.
10PM is a typical noise curfew in residential neighborhoods and in the Napa Valley, where a lot of Bay Area brides choose to have their weddings. Nowadays, guests travel in from all over the country, and the world, for the big day; therefore they want to have a chance to mingle past the 10 o'clock hour.
Your friends are a late-night crowd.
If most of your guests are night owls, and you know they'll be looking for a place to party after the last dance, why not organize a fresh, fun venue to continue the celebration. Changing the setting for the party -- whether it's to a different ballroom in the hotel, a wine cave or a local restaurant you favor -- will re-energize the crowd.
You can save costs on your wedding reception.
If planned right, adding an after party to your wedding night could actually be a more economical option. Ending the formal reception a little early means cutting down on the time you'll need to book your band, catering staff, even your transportation. Your vendors can begin breaking down the event at a reasonable hour and you won't incur any overtime charges.
Moving to a more casual location for the next round of drinks will keep the night's overall costs down, while losing none of the fun.
If you're considering throwing an after party, there are lots of ways to make it special and memorable. Here are some options to suit your style and budget:
1. For casual fun, reserve a bar and patio within walking distance of the guests' hotel. A convenient location will allow everyone to get back safely, no matter the late-night hour. It also eliminates additional transportation costs like guest shuttles.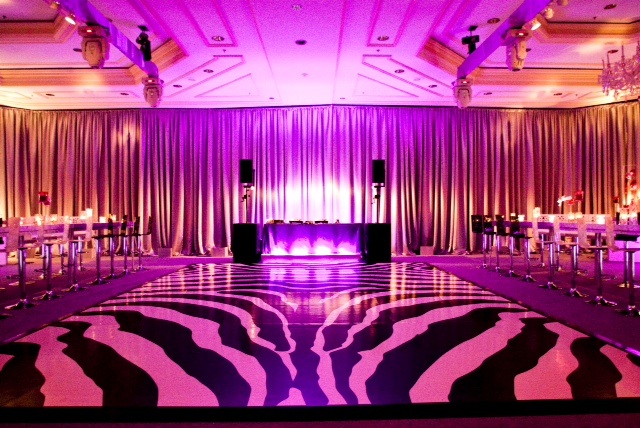 Photo by Abby Ross
2. If your wedding reception is in a hotel, take advantage of their event rooms and reveal a new space with amped-up décor and lighting (like this swanky surprise lounge in the photo above). Create a club-like environment with bars, lounge furniture and a dance floor.
3. If dancing is what you desire, find a venue that allows music until 1 or 2AM. Hire a great DJ to keep everyone on the dance floor. You can have your wedding band play tunes for all ages at the reception, and let the after party DJ go wild with current music for the younger crowd.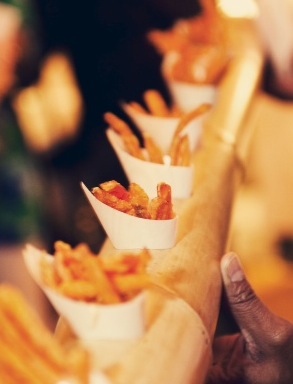 4. Select the beverages you want poured ahead of time. Removing ultra-premium liquors from guest view and having some delicious but reasonable wines on the bar will keep costs under control. Unless, of course, you want to break out the special scotch and cigars -- this would be a great time.
5. Plan for late-night snacks to help offset some of the alcohol. I recently planned an after party for a British couple and we passed around miniature fish and chips cones a couple hours into the party -- a little taste of home for all the guests who had traveled so far to celebrate. Mini grilled cheeses, flatbread pizzas, sliders and French fries are just some of the many treats guests will devour as the night creeps on.
Photos by Abby Ross
SUBSCRIBE TO & FOLLOW THE MORNING EMAIL
Start your workday the right way with the news that matters most. Learn more