Marketing your startup can be one of the most daunting tasks an entrepreneur faces on her journey to world domination. Let's face it-- between finalizing your product for launch and working with developers to get the site or app up (or maybe you are a developer yourself), a marketing strategy, big or small, can feel like a bad hangover the same morning you need to go into work. Just make it go away...
Marketing, however, is not always about what we as consumers need, but what we deeply desire. You need to be unique and compelling to be noticed. You need to be a unicorn. But how can you do that?
Play around with clean, bold design.
You don't always know what customers are going to go crazy for until you show them something new and gauge their reaction. This is the very definition of pivoting. Consider Seth Godin's 600-plus page book that weighs about the same as a small toddler, or Epic Meal Time, a cooking show dedicated to all things bacon. Both are highly impractical by traditional standards but have fanatical followings. While functionality is imperative, especially in the tech space, thoughtful design is equally as important.
Here are three high-leverage areas you can work with to bring out the "it" factor in your startup:
Product design: Play around with bold prints, bright colors, product weight/size/texture, niche focus, and design. Most people won't want to touch this, which leaves it as wide open territory for you to swoop in and dazzle.
Website design: Less is more! Find a designer or template that gives you a clean, non-pixelated look with a balanced feel. Do that and your website will look better than 99 percent of the Internet.
Pro tip: If you don't have a developer and need to hack a template, be sure that the functionality is up to par. Woothemes is a great place to start.
Images: This is one the easiest places to upgrade your look without having to start from scratch. When considering what types of pictures you can use, think about unique poses, throwing in an interesting outfit (or access piece) or using coloring. For example, take a look below at this photo shoot I did recently for an upcoming launch-- we used bright red lipstick for some pop and fun facial expressions to add some personality to the site. The best part? We took these pictures in my apartment in Brooklyn!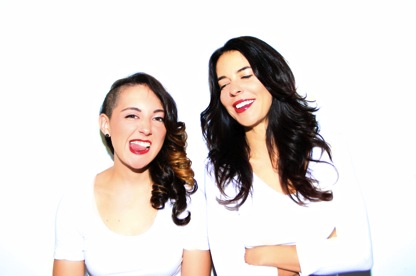 Photo taken by Tiffany Bloomfield
Pro tip: When hiring a photographer, be sure to look at their portfolio before you start working together. Most photographers have a distinct style and you want to be sure you like theirs!
Think of creating art as much as functionality and be brave enough to see what the world thinks. Go here for a free crash-course on design for non-designers.
Stand for something that matters.
Are you vegan-friendly? Do you use 100 percent recycled materials? Are you pro-gay marriage? Your work is a statement of who you are in the world, and people are willing to pay a premium price for business owners with some grit. What are the main values that drive you? What is your WHY for your business? And what makes you superbly unique? Share your answers on your website, packaging and marketing materials, such as your social media, interviews and guest posts.
The closer you get to your "why," the more distinct your position in the marketplace and the more memorable you become. Consider Public Beta, a startup that donates 51 percent of all profit to Kiva. Does that make me want to work with them? You better believe it.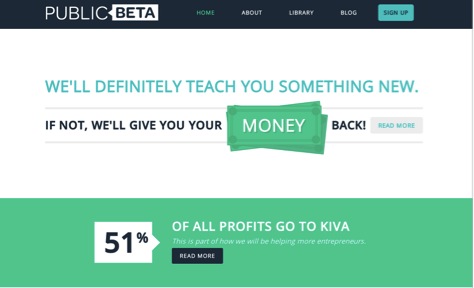 Put an end to out-dated industry standards.
Take a look at your industry, choose one commonly held assumption and decide to do the exact opposite. This scares some business owners, given that following the tried-and-true path seems to offer more security, but when you succeed, it becomes one of your biggest competitive advantages.
Look at Amazon Prime for example, where they offer free, two-day shipping (guaranteed). Or Warby Parker that will express deliver stylish, affordable glasses to your home just so you can try them on! And there's no cost to you even if you don't buy them! More and more we're seeing free shipping creeping into businesses all over the internet, when at one time, it was considered absurd and frivolous spending. Not so frivolous now -- is it?
Magic is defined as unforeseen generosity that feels delightful (Tweet that!) and magic is at the heart of the very best marketing.
There are endless ways to bring out the unicorn in your startup. What do you feel is the most unique aspect of your business? Why is the work you do important? And what is one thing you're considering to make your startup stand out even more? Post your answers in comments.