"Haste ye back!" the Scots say. I've taken advantage of that welcoming spirit over the years. I've viewed dozens of Scottish castles, golfed the world's greatest links, and ridden the rails on The Royal Scotsman.
But haste implies "hurry." And on a weekend add-on to a London meeting I sought surprises and luxury in the Scottish hills, lochs and isles around Glasgow and Edinburgh. Along with the fastest action I could find.
I kicked off in Glasgow, home of the great turn-of-the-19th-century designer-architect Charles Rennie MacIntosh, whose famed buildings and interiors are scattered throughout the area.
For a quick overview of mountains and lochs, I booked at
(Loch Lomond Seaplanes , Europe's first city-center seaplane service.

At Princes Dock on the River Clyde (in front of the Science Centre) I boarded a nine-seat Cessna. The trip reduces travel time between Glasgow and the Western Isles from hours on the road to 30 minutes -- with spectacular overviews.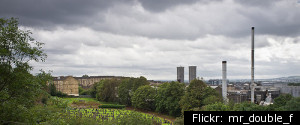 Flying in a piloted seaplane, compared to, say, a G4, is like carpooling in a VW after racing a Maybach flat-out on the autobahn. But the bonus is taking off from the water, a unique thrill as you skim along on pontoons and lift from blue to blue. For a few seconds I felt part of both sea and sky. Try that in a jet.
Sitting up front and watching the pilot fly this Cessna gave me the illusion of co-piloting, but I preferred watching the panorama unfold below: mountains to the west, and lochs and rivers contrasting with green hillsides. Eighteen lochs lie in the National Park alone, as well as some of Scotland's finest Munros, mountains that rise over 3000 feet.
We flew out to the Machrihanish peninsula over rock outcrops jutting from the ocean. Clear water lapped the coast, and clouds trailed over the landmark hills of Arra, called the Sleeping Warrior.
Our flight ended over Loch Lomond, and offered views of the Trossachs and Arrochar, and glens, gardens, stately homes, and castles, above corners of Scotland rarely seen.
After our soft harbor landing I had time to contemplate at a tea of scones, clotted cream and strawberry jam in the quaint village of Luss. A car and driver returned me to the city, and I noted the contrast of roadside scenery to the panorama of wide-open skies.
Charter the seaplane and you could choose to picnic on the best salmon in the world on the shores of an isolated loch, or maybe fly over the craggy Cuillins and the Old Man of Storr on the Isle of Skye. Or just take to the breezy Scottish skies wherever you point.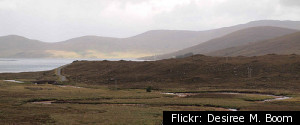 Ok. I'd flown around and hit the road. Time for a fast boat. Midday I ferried from Gourock to Dunoon to join a high speed, powerboat ride based at Holy Loch Marina, in Sandbank, near Dunoon.
Suited in rubber gear I speeded to the secluded Isle of Bute in the Firth of Clyde, banging my tailbone all the way (sit in the rear if you have a back problem). The hour of bone-crunching pain was worth it, because a short walk from the pier was the astounding Victorian- Gothic country house, Mount Stuart This estate is a refined masterpiece, just about every surface a work of art.
Stella McCartney, Sir Paul's daughter, wed in the soaring white chapel. You too can book a room and sleep over, or rent the whole place and throw the most exclusive bash imaginable. If you want to be alone, maybe just picnic by the secluded beach or in 300 acres of gardens. (But I do suggest chartering a helicopter or seaplane to get here. Leave the powerboat to the masochists.)
Next morning, a driver sped me to Edinburgh. I strolled around the narrow passageways of the old city, then hired a chauffeur-driven yellow tricycle from Trike Tours Scotland ( www.triketoursscotland.com). This is a new, unique wind-in-your face way to see the imposing castle and the Royal Mile, and to hug some scenic Scottish byroads.
I geared up in goggles, a helmet and oversuit; it can be cold year round. With headphones for music and driver commentary a companion and I tooled around Edinburgh and its nearby hills - a thrill ride leaving the responsibility for staying on the left and following road signs to the driver. The chauffer/laddie even set tea and biscuits on the sidecar when we stopped at an overlook.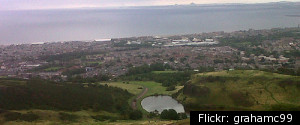 Next time I'll ask to trike back roads to St. Andrews, Gleneagles, or whichever links appeal (there's room behind the cab for clubs). The driver could stay overnight and chauffeur me back, if I choose. Or maybe I'll hire the trike one-way, then a limo back, or even a helicopter. So many choices, so little time.
Who knows? Whatever the transport I will make haste again to the lochs and lanes of Scotland. And most of all, to those skies.

Great Places to Eat in Glasgow and Edinburgh:
The Corinthian
191 Ingram Street, Glasgow
Telephone: 0141 552 1101
Voted one of the top 100 restaurants in Europe by The Observer, this former union banking hall's soaring ceilings and vast space reflect Scotland's prosperity the 19th century. I ate casually, despite the grand setting.
The Restaurant Bar and Grill
Princes Square Shopping Centre, Buchanan Street, Glasgow G1 3JX
Tel: 0141 225 5620, www.therestaurantbarandgrill.co.uk
This modern, upscale bistro in a center-city mall offers an original menu, and always fresh ingredients. I especially enjoyed the fresh grilled salmon.
The Bothy
11 Ruthven Lane
Glasgow
Tel: 0141 334 4040
In Glasgow's West End, this buzzy restaurant in an ancient house is tucked behind Byres Road. Head chef Eric Avenier presents traditional Scottish cuisine with a twist.
Cafe Gandolfi
64 Albion Street
Glasgow G1 1NY
Tel: 0141 552 6813
I casual-lunched on fresh Scottish fare at Café Gandolfi, famed for its Tim Stead furniture, and stained glass windows by John Clark. Upstairs, Bar Gandolfi has been awarded 'Best New Bar in Scotland' and I bent an elbow with some fierce-looking Scots.
Oran Mor
Top of Byres Road,
Glasgow
Tel: 0141 357 6200
Òran Mór means 'great melody of life' or 'big song', and this unusual eatery in Glasgow's West End lives up to its name. Two bars, two restaurants, a nightclub and stunning event space were morphed from this former Kelvinside Parish Church. I dug into killer Scottish lamb chops in the main dining room. The big bartender knew his stuff, and after dinner we laughed between warming, golden shots.
The Cambridge Bar
20 Young Street,
Edinburgh,
Tel: 0131 226 2120
In city center, this lively, compact bar /dining spot is totally casual. I indulged in an Angus beef burger, maybe the best I've ever wrapped my hands around. Get napkins.
Grainstore Restaurant
30 Victoria St (1st Floor)
Edinburgh
Tel: 0131 225 7635
I dined on Scottish lamb, tucked away on the upper floor beneath the stone vaulting and archways of the original storerooms used by the warren of shops below. Fun server, great surroundings, fresh food.
Great Places to Stay in Glasgow and Edinburgh
Abode Glasgow
129 Bath Street,
Glasgow G2 2SZ
Tel: 0141 572 6000
The last time I stayed here the place was called Art Hotel. But under any name, ABode remains one of the most comfortable small hotels in Glasgow, with an antique carriage elevator and a renowned restaurant.

Prestonfield.
Prestfield Road
Edinburgh
Tel: 0131 225 7800
Whether or not you stay here, I suggest having tea or a fine meal just to gasp at the over-the-top surroundings. At this sexy, lush, one-of-a kind lodging in an Edinburgh park setting I felt like the houseguest of a rich, decadent uncle.
Tiger Lily
125 George Street,
Edinburgh
Tel: 0131 225 5005
In staid George Street, this anything-but-staid bar, restaurant and boutique hotel is an award-winning converted Georgian townhouse decorated in whimsical luxury. My room was cool and comfy, high tech and hip. A Scottish version of the Delano or Royalton.
SUBSCRIBE TO & FOLLOW LIFESTYLE
HuffPost Lifestyle is a daily newsletter that will make you happier and healthier — one email at a time. Learn more