One trip to the city of canals and marijuana and it's easy to see why Amsterdam is a popular destination with its mellow but happening vibe mixed with a quaint and quirky old world charm. "Posh, yet common at the same time," as the natives like to say. Everywhere you look you see the most up-to-the-minute fashion, architecture, cafes, shops and galleries. Art lovers will revel in this city bursting with some of the greatest museums in Europe in all their Flemish/Dutch glory while the city stays apace with young, hip artists as well.
Beyond amazing art, Amsterdam also caters to other more distinctive tastes in a fun and vibrant way. From the infamous Red Light districts and legalized drugs, "Hello coffee shop capital!" -- to rock and roll, Amsterdam houses some of Europe's premiere venues. It makes sense that John and Yoko chose the Amsterdam Hilton for their "bed-in" in the sixties. This city delivers it all!
As an art junkie, I was in heaven, and spent many hours treading the hallways of the vast cornucopia of museums. It is a good idea to buy the 'I Amsterdam' card which allows you to pay one lump sum so your entry to the museums is either free or at a reduced price. Another great benefit with this card is free use of all trams (which are very easy to figure out), as well as free service on bus and metro lines. I quickly became adept at dodging the endless bicycles in this cycle-crazed city.
Amsterdam is filled with museums to satisfy any art lovers' taste. Here's my not-to-be-missed list:

The Amsterdam Historical Museum -- This is a good place to start your odyssey, because it tells the compelling story of how the exceptional city evolved, and it's also known for its cutting edge exhibits. A recent one was The Hoerengracht, a gigantic installation based on the Red Light district.
The Van Gogh Museum -- Nowhere in the world are there as many works by the great master on show simultaneously. The museum's permanent exhibition features over two hundred paintings, 500 drawings, and more than 750 letters (as well as the work of other famous 19th century painters and sculptors.) You will learn about Van Gogh's childhood, his outlook on art, and his tortured feelings on his artistic skill which all led to his eventual suicide in July 1890. Poignant and truly impressive. Being the city gal I am, I visited the gift shop and bought his famous canvas, 'The Yellow House,' which was completed in 1888.
The Rijksmuseum -- Truly a must see is this iconic museum that houses the masterpieces of the Dutch Golden Age. Treasured icons include: Vermeer, Rembrandt, Jan Steen, Frans Hals and many more. I spent hours just wandering through it's vast galleries.
Anne Frank House -- The tiny, famed annex where Anne Frank along with her family and others, went into hiding in 1942 to avoid capture by the Nazis. One of the city's most visited locations, the house, which is surprisingly small, can be found at 263 Prinesengracht. The Annex has been carefully preserved in its authentic state. When I visited on a Sunday night shortly before closing, I found myself literally all alone. A guide told me this was extremely rare, and I found the experience all the more intense in my solitude. Anne's first diary, photographs, film and original objects are all on display. I was alone in her room, staring at the postcard pictures up on the wall of Deanna Durbin, Greta Garbo and Ray Milland that her father Otto, the only one to survive, had given her. I strongly felt the presence of this young girl and it broke my heart.
The Hermitage Amsterdam -- This museum just opened in June 2009. It houses classics from the St. Petersburg Hermitage in Russia.
The Jewish Historical Museum -- This museum is located in the heart of Amsterdam's former Jewish quarter; it is housed in a complex of four beautifully restored synagogues. One of them is the Portuguese Synagogue, a 17th-century Sephardic synagogue and is fascinating.
For those who prefer hidden art treasures there is enough in Amsterdam to suit all tastes. Some of my standouts are:
The Foam Museum -- a Hip, fun and stylishly designed hall which exhibits all genres of photography: fine art, documentary, applied, historical and contemporary. I walked in to be greeted by a Vanity Fair photo of Sean Penn. Hollywood in Amsterdam!
The Van Loon Museum -- right down the block from the Foam, was the residence of the prominent Van Loon family. With its stately façade, its lush and ornate interior, it's a worthwhile stop.

The Museum of Bags and Purses -- The only museum of its kind and a veritable dream for the fashionista. It exhibits the history of the ladies bag in Western culture from the end of the Middle Ages to the present, with contemporary designers given their due. This museum curates a collection of more than 4,000 bags, pouches, suitcases, purses and other accessories. The all have a rich history and are art pieces unto themselves. There's a lovely garden and café for lunch as well.
Other honorable mentions are: the Diamond Museum, the Rembrandt House Museum and The Dutch Resistance Museum.
Do take a stroll in the infamous red light district; it's voyeuristically fun for one night. My favorite place to eat was the Brasserie Harkema, right next to the district. My new friends and I dined on homemade Dutch Shrimp croquettes in cocktail sauce as well as the requisite fries with the famous mustard-mayonnaise combo. I took a couple of cruises through the canals, which at night are theatrically illuminated and especially beautiful.
I recommend staying at the Albus, where I spent four glorious nights and thoroughly enjoyed its convenient location in the heart of the city. A perfect mixture of European charm and American modern!
There you go. You'll find that Amsterdam is well worth the trip. Have fun!
Next stop Paris. I met up with my friend Catherine Williams, CEO of The Center for Communication in NYC as well as a longtime journalist. Here is her take on some of Paris's treasure troves of museums as well as the famed Le Bristol Hotel. The Bristol has a fan in Woody Allen as he featured this glorious hotel in his latest film, Midnight In Paris.
Even for the most jaded traveler, Paris the eternal and romantic city is a source of never-ending delights and surprises. The joys of discovering and re-discovering the city's dozens of unique neighborhoods, each with its own look and ambiance, is worth the price of admission and can make each trip feel like your first.
That said, I cannot imagine how any visit could live up to my most recent sojourn, where for several glorious days and nights, I lingered at the majestic Bristol Hotel on the rue de la Faubourg St. Honore, just down the street from the Palais de la Republique and a few steps from the Champs d'Elysee. The renowned hotel is within walking distance of the Louvre and the Place de la Concord, and for those so inclined, smack in the middle of one the of the world's most rarified shopping areas.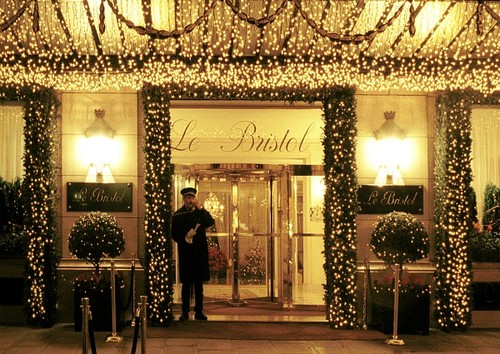 I admit you won't find this hotel listed under "best travel bargains," but if you really want to savor a taste of la bonne vie extraordinaire, while treating yourself to a blissful and sensual escape, you simply can't afford not to stay here. As soon as you step inside, you will think you have been transported to another planet, one where charm, friendliness, warmth, impeccable manners and superb taste are the order of the day. You will feel instantly welcome as you gaze around you at the subdued colors and sumptuous fabrics; 18th Century paintings and furniture, and comfortable, beckoning armchairs.

Fair warning: once you have passed a few nights at the Bristol, you will be ruined forever. I was utterly seduced by our enormous room complete with a sitting area, huge closets, beyond-comfortable beds, and a marble bathroom bigger than most hotel rooms outfitted with a collection of exquisite Hermes soaps and toiletries.
Of course this city has more than a few magnificent five-star hotels with great service and beautiful surroundings, but where else can you start the day with a few laps in the glass-enclosed pool, looking out onto the rooftops of Paris? Or languish with tea or cocktails in an idyllic jardin -- as groomed and splendid as a mini-Tuileries? You can also partake of breakfast buffet fit for the Sun King in one of two Michelin-starred restaurants, where you might encounter President Sarkozy and wife Carla nibbling a croissant, or catch the brainy and handsome philosopher Bernard-Levy sipping a café au lait.

While in Paris, be sure to include a visit to the city's smaller museums including the Musee Marmattan Monet, which is perched at the edge of the Bois de Boulogne. Housed in a lovely 19th Century townhouse, the collection contains over 70 paintings by Claude Monet, including the painting that gave the art movement its name, Impression, Soleil Levant, plus his studies of the Rouen Cathedral, the Gare St. Lazare, gardens at Giverny, the London Houses of Parliament, and his famous water lilies. The collection also contains a liberal sprinkling of works by Renoir, Degas, Gauguin, Manet and Berthe Morisot. Also recommended are the Rodin and Picasso Museums, and if you want more Impressionism, don't miss the Musee de l'Orangerie at the west end of the Tuileries, which also houses a fine collection of remarkable paintings from the Impressionist era.
When you return to the comforts of the Bristol after a long day taking in the city, I can assure you, you'll be greeted like a very dear friend.
SUBSCRIBE AND FOLLOW
Get top stories and blog posts emailed to me each day. Newsletters may offer personalized content or advertisements.
Learn more