Since it was first announced in March 2008, the Denver Biennial of the Americas has been fueled by controversy and doubt. Does the world really need another biennial? There are over 200 biennials that claim to take snapshots of what is happening in the contemporary art world. So Denver hired Bruce Mau who conceptualized an elaborate seven week "In Good We Trust" project with little financial reality or practical doability. But that's not Mau's forte. Mau is a visionary. He envisioned and now Denver has had to deal with the economic crisis and find a way to create a smaller version of the concept in a much shorter time frame. Oh, and change their name and website, because Mau is no longer involved.

Today, the Denver Biennial is a month long Hemis-fair. Part world's fair, part political and economic dialogue, and part art and culture happening, the month of July is filled with a half-dozen or more events each day. Because of the insisted use of the term biennial, one of the more controversial and talked about aspects of the event is what role the visual arts would actually play in this event and how they would be presented. The answer finally came in January 2010 when 35-year-old Paola Santoscoy was hired to be the lead curator for the McNichols Building exhibition space. This former library hasn't been open to the public for 60 years and the interior has been gutted and renovated for the Biennial.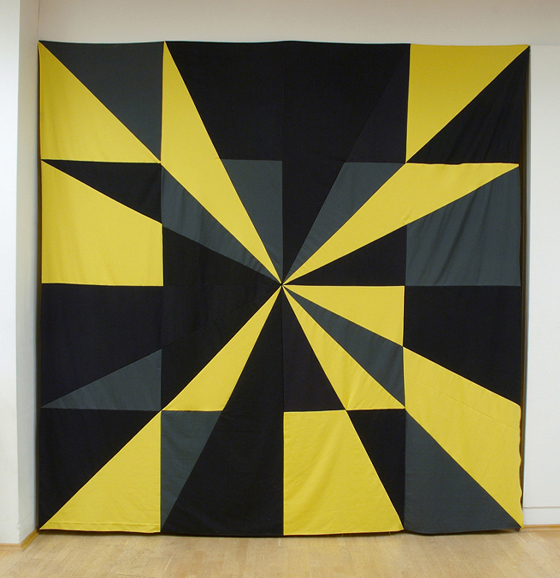 (Felip Mujica "Falling Down," 2006, fabric and threat, 10' x 10' Courtesy of the artist and Denver Biennial of the Americas.)
Santoscoy, hit the ground sprinting and quickly pulled together a team of Associate curators including Maria del Carmen Carrion, Kate Lesta, Jonathan Root, Lauren Higgs, and Alexandra Solomon. She embraced the microscopic time frame she was given and the four themes--innovation, sustainability, community and arts--to pull this together. First she came up with a theme or title: "The Nature of Things" derived from a Roman poem written by Lucretius in the first Century.
"In a very general sense, the program is about how we perceive the world and how we make sense of the world through perception," she told Kyle MacMillan at The Denver Post. "This title is a point of departure for a contemporary reading of the idea."
In the last few weeks, Santoscoy has finalized the selection of 25 artists, designers and architects who will exhibit in "The Nature of Things," some creating site specific works. Those confirmed to participate are: Felipe Mujica (Chile); Gabriel Acevedo (Peru); Sandra Nakamura (Peru); Jerónimo Hagerman (Mexico); Lucia Koch (Brazil); Brigida Baltar (Brazil); Karlo Andrei Ibarra (Puerto Rico); Santiago Cucullu (Argentina); Clark Richert (USA); Cypher13 (USA); Joseph Shaeffer (USA); Rael San Fratello (USA); Teddy Cruz (USA / Guatemala); Nicolas de Moncheaux (USA); Alexis Rochas(Argentina); Víctor Muñoz (Colombia); and Estefanía Peñafiel (Ecuador)
The convergence of differing perceptions and voices often sparks conflict. Through her title, Santoscoy suggest that a collective narrative of various artistic practices may not be neat and simple and may indeed conflict with one another as part of the dialogue created by the exhibition. She's acknowledged that given the time constraints this exhibition may not live up to others' expectations of "biennial."
"The projects that the artists participating in the exhibition are currently developing for this space have also started to determine how this space will look in July. Many of these projects establish a dialogue with the architecture and the history of this building. One good example of this is the participation of the Mexican artist Jerónimo Hagerman who has been commissioned a site-specific installation for the front exterior area of the McNichols building. His proposal conceptually intervenes the Greek revival façade of the north side, and creates an unexpected situation in the entrance that intends to prompt passersby to socialize and be drawn towards the inside," she writes in the most recent biennial newsletter.
The city wants to brand this Biennial of the Americas as a world-class event. It might be, but that will only be determined when all is said and done.

SUBSCRIBE AND FOLLOW
Get top stories and blog posts emailed to me each day. Newsletters may offer personalized content or advertisements.
Learn more