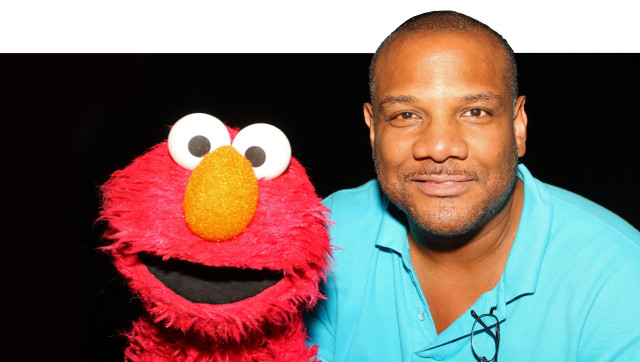 Like many, I was saddened, shocked, and conflicted by the accusations and ultimate departure of Kevin Clash from Sesame Street. I was a publicist at PBS when I first met Kevin. A producer offered me the chance to co-write a Sesame Street segment that the cast would perform live for the White House and two hundred children of U.S. soldiers stationed in Iraq.
Nervous and keyed up by my first in-person trip to Sesame Street, I flew from Boston to New York and arrived at Kaufman Astoria Studios. The cast, including Bob McGrath, Roscoe Orman, various Muppeteers and wranglers, composer Mike Renzi, and I were crammed in a small office rehearsing the script when someone new poked his head in the doorway. After a minute, he pinched his voice and tensed his cheeks in a way that resembled a smile when Elmo appeared -- bodiless -- from the mouth of Kevin Clash.
"Hi everyone!" intoned Kevin.
Seeing Kevin, a large, barrel-chested black man, and hearing the childish falsetto of Elmo's voice presented a jarring, bizarre juxtaposition. It was as though Kevin had consumed Elmo whole. Or maybe it was the other way around.
I remember Kevin being incredibly gracious with his time that day. "They shoot Law and Order in this same studio," he told me, showing me from the wardrobe room to the set.
"I'll see you next week in D.C.," I told Kevin as I was leaving, but in my mind I might as well have been addressing Elmo.
Some of the human characters on the show, at least the first iterations of them, use their real first names. Bob McGrath plays Bob. Linda Bove plays Linda. Muppets, however, have always remained independent of their operators, at least in name. No Muppeteer since Jim Henson, Frank Oz, or Caroll Spinney came closer to breaching this threshold, though, than Kevin Clash, who was synonymous with Elmo.
This phenomenon was never more apparent to me than when the cast and I met in DC one night before the show at the White House. We had dinner reservations at a swank restaurant in a private area set slightly away from the main dining room. We were a mostly anonymous group of people until, after dinner, the cast launched into an impromptu read through of my script, in full voice character. Recognizing Elmo's unmistakable intonation floating above the noisy, crowded restaurant, it wasn't long before curious eyes were peeking into the room and zeroing in on Kevin, seated next to me.
That's Elmo! It's really him!
The chef came out from the kitchen and gave the party free plates of tiramisu. When the check arrived, I noticed the restaurant had halved our bill. There was a little note from our server at the bottom. "Thank you for coming, Sesame Street!" And in parentheses, explicitly for Kevin: "I love you, Elmo!"
The next day, we put the set together in the White House Gold Room, a grand and elegantly draped space. Everyone in the cast was excited to be here. I joked with Kevin about trying to steal some official White House hand towels from the bathroom.
"When the secret service catches you, they'll put you to work handing those things out," Kevin joked.

At show time, little kids swarmed into the room and sat on the floor front and center, while their parents, White House staff, one of the president's daughters, and media filled in the chairs. President Bush and the First Lady were the last to arrive.
Like many in 2005 touched by the perils of an unpopular war, I had a negative opinion of President Bush. But I was meeting the leader of the free world. When he shook my hand I was awash with buzzing delight. No matter what your stance, you had to respect the office if not the man.
The president and first lady took to the dais and addressed the kids. Frankly, I'm not sure what the president said because within minutes of starting his remarks, Elmo popped up from behind Mike Renzi's piano. The kids started shrieking in a way that rivaled the president's welcome moments earlier. He smiled warmly, recognizing it was time to let the real star of the day do his thing.
Afterward, the crew undressed the set, and Kevin, Roscoe Orman, who plays the third iteration of Gordon on the show, and I snuck away from security detail. We somehow wound up roaming freely through a portion of the White House, admiring a giant stone bust of Abraham Lincoln and the view of the Rose Garden from a hallway window. Eventually, security caught up with us and escorted us back to the foyer. I still have a photo of Kevin and me standing in a White House corridor with goofy grins on our faces.

Anyway, I didn't see Kevin again after that. I went on to get married and now have two small children. My son, of course, loves Elmo. I haven't told him the story yet about how I once met the man behind Elmo. And, if I did, I'm not sure he'd understand.
Several years after our show at the White House, the documentary Being Elmo came out. I was happy to see Kevin again, if only on screen, but I was also a bit shocked. The documentary was the first mainstream attempt to bring the performer out in front of the character in a big way. You run the risk of destroying an illusion that marketers, Muppeteers, and writers have so carefully and thoughtfully crafted for the benefit of storytelling illusion.
When the first accusation against Kevin having engaged in an inappropriate relationship with a minor surfaced, Sesame Workshop handled the situation well, I thought. It took the allegations seriously and launched an investigation into any misconduct. It did so with the mind to protect the cherished entity of Sesame Street, which has always been so much more than the sum of its Muppets, actors, skits, and songs.
Last week, amid a second accusation, Kevin left the show. I imagine like every parent, I found myself wondering how I would -- if pressed -- explain Elmo's departure to my children. This wouldn't be the first premature reality lesson Sesame Street left parents having to explain. A whole generation first learned about the concept of death when Will Lee, who played Mr. Hooper, passed away in 1982.
So where does this new Sesame Street departure leave us? Will Elmo, andshould Elmo, survive Kevin? Surely Elmo's message and antics are tainted forever.
The survival of Elmo as a brand will endure. It will take time for people to separate the performer from the character. I suspect Sesame Workshop will phase out Elmo to protect the integrity of the brand, as it must. These personas we've grown so accustomed to transcend the threshold between real and fiction. When my kids come into the living room playing out some imaginary scene with their well-loved Elmo dolls, I won't make any heroic effort to leap over the sofa, tear them out of their hands, and toss the Muppets far away like live grenades.
At the end of the performance, I respect the office if not so much the man.
WATCH:
SUBSCRIBE AND FOLLOW
Get top stories and blog posts emailed to me each day. Newsletters may offer personalized content or advertisements.
Learn more