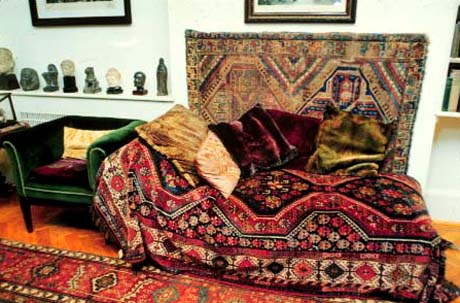 Yadda yadda. Is that what you hear when someone is speaking? Or maybe it's the trombone in those Charlie Brown specials. You know, when the parents or teachers talk: wah wah wah wah. If that's the case, you'd totally suck as a documentary director.
Listening is an art. Ask any hostage negotiator, professional mediator or marriage counselor. I've been in the offices of a few back when Bush was president - not the hostage negotiators, just the marriage counselors. Their advice mostly is to listen to your partner complain until sap runs from your ears and your head catches on fire, and then you have to put out the fire with a cup of cold coffee and listen some more. (Note to self: I remember those marriage counseling sessions did not go so well.)
Still, there is remarkable power in telling your story. Director Heather Ross demonstrates this in her excellent film Girls on the Wall, which recently screened in Hollywood and will be seen on PBS stations in the coming months. In the film, Ross interviews some really hard case inmates who happen to be girls. They talk about the robberies and murders they've committed. They tell stories of abuse and addiction. But mostly, they heal. This is the most remarkable part of the film: You become a witness to inner change, and that change is initiated by the act of storytelling. The women of the film tell their stories to the camera, and in a theater workshop they are attending in the lock up, and they are transformed into leaders, they get connected to their families, they experience emotions they've hitherto locked down tight.
Ross, like many good directors, becomes a catalyst for change, by simply holding listening space for the speaker. There's a lot that goes into documentary filmmaking: stamina, courage, an heroic, undaunted strength in the face of challenge. But the biggest production skill just might be listening: You ask the questions, but you gotta hear what people are saying.
In Jacqueline Novogratz' book "The Blue Sweater," she told the story of returning to Rwanda after the genocide and listening to survivors, sometimes for hours at a time. She witnessed how survivors were able to move beyond a terrible hurt and maybe move on with their lives. She wrote about how she empowered people just by listening to them.
On the SHELTER blog, the companion piece to a film we're making, we're started featuring interviews with people who are homeless or transitioning from homelessness. We're also meeting the game-changers who are coming up with ways to address homelessness. As we do these interviews I can endorse and echo Novogratz' experience. Simply giving people the opportunity to talk empowers them. Why is it enough, though, just to be heard and acknowledged?
Freud figured that one out. At first, hypnosis was his preferred technique, and he soon found out that prone people were liberated from linear thought. Later, he dropped hypnosis as a technique, but kept the couch. He had discovered that talking was a powerful agent of change.
There's a picture of Freud's couch at the beginning of this post, and it looks pretty comfortable and kind of bohemian. If you want to see people change, and be lucky enough to get it in your film, you want to start with a comfortable couch, at least figuratively speaking. Then all you need to do is ask good questions and listen.
SUBSCRIBE TO & FOLLOW LIFESTYLE
HuffPost Lifestyle is a daily newsletter that will make you happier and healthier — one email at a time. Learn more