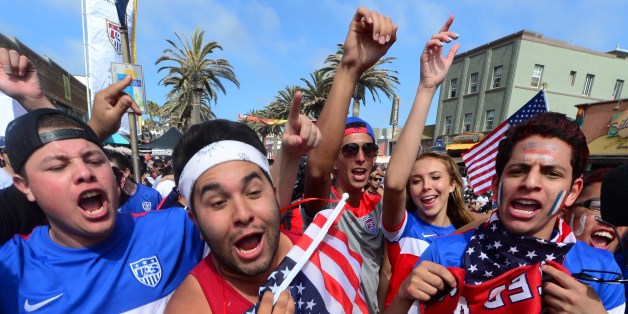 FREDERIC J. BROWN via Getty Images
It is the worlds' sport passion. It is the first team sport that most American kids play. Every Saturday morning in the fall, it is possible to drive coast to coast and see fields and fields that are crowded with youthful players and families rooting them on. Why has the MLS not been able to emerge as a widely watched and supported league like the NFL, MLB, NBA and NHL? Will the excitement over the first round victory by the U.S. and its continued success be a game-changer for the future of the MLS?
The MLS Cup in 2013 between Real Salt Lake and Sporting Kansas City set a record for the least viewed MLS final ever. Only 505,000 viewers tuned in. Salt Lake City and Kansas City are smaller markets and the University of Missouri had a bowl game scheduled, but the MLS on NBCSN only averaged 209,500 fans for this season's first four games. This is lower than WNBA Ratings. The good news is that the U.S. team's 2-1 World Cup defeat of Ghana drew a 6.3 household rating and 11 million viewers -- the highest-rated and most-viewed men's soccer match ever on ESPN or ESPN2. Including Univision's Spanish telecast, New York had a 14 percent share of television households, which is higher than the average for Giants and Jets NFL games last year.
The NFL by far is the most popular sports league in America. The Divisional-Round playoff games last season drew an average of 34.3 million viewers. The Conference Championship games drew an average of 53 million. And the Super Bowl drew 111.5 million viewers with an average 46.4 percent of television households. Why is it that a sport with amazing athletes performing incredible feats cannot garner that type of following at the professional level?
I first contemplated this disconnect in 1994 when I represented the U.S. Men's team in the World Cup held in this country. Players like Alexi Lalas, Cobi Jones, Tony Meola, and Paul Caligiuri were homegrown, telegenic athletes with intriguing background stories. The Women's team that featured Mia Hamm and Brandi Chastain had attractive, champion athletes. And yet, it did not translate to MLS success. Players like Landon Donovan are everything Americans look for in role model athletes.
One theory is that Americans are familiar with games that have a chance for success or failure on every play. We like intense bursts of action with commercial breaks and lots of scoring. Soccer is a continuous play sport without much scoring. It does not have breaks to discuss what has happened or to go to the restroom. American audiences also like the contact and violence associated with football and hockey; basketball has heavy contact under the basket. We also love stars. The MLS brought the highest profile athlete in the world -- David Beckham -- to the second largest market in America, and it still did not catapult ratings.
Part of the problem is "chicken-and-egg." The fanaticism over European soccer makes it an incredibly profitable sport with the ability to attract players from around the world with rich contracts. If more revenue was available to the MLS, they could compete for the world's best. But stadia averaging 20,000 fans and tiny television ratings don't provide the necessary financial largesse. When I once had the temerity to suggest that American soccer could adjust with the rules to better fit American taste, I received the worst hate letters of my career.
I hope that the American team is able to go on an extended winning run in the World Cup. Local radio in Southern California is actually broadcasting each game, not just the U.S. team. The popularity of social media has played a large role in engaging fans and spreading awareness of the games. A rapidly growing demographic of Latinos in America with a passion for the sport is also helping lead the charge of soccer's expansion in the states. One can only imagine the impact a Latino superstar would have on the MLS if he was recruited to play for a city with a large Latino demographic such as Los Angeles.
The MLS has a visionary Commissioner in Don Garber and very successful and committed owners. The key to building the MLS is more television exposure, star building, quality in-stadium experience, and clever marketing. The popularity of this World Cup provides another chance for building U.S. professional soccer.
A version of this post originally appeared on Forbes.com.
FOLLOW HUFFPOST