It's true: women and girls are hot. Double-Xers are finally making it to the top of the development agenda following the publication of Sheryl WuDunn and Nick Kristof's book Half the Sky (now a global movement), Sheryl Sandberg's iconic TED talk on women at work, and the genius of The Girl Effect animated PSAs.
But most of the focus is on education for the "girl-child" (can't we just call them girls?) and not on the underlying problem: women have little perceived economic value in most parts of the world.
That's why they are selectively aborted -- so much so that 120 men are born for every 100 women in China -- and denied proper nutrition and health care in poor families across South Asia. Women in India are fifty percent more likely than boys to perish before they reach the age of five. Amartya Sen, winner of the 1998 Nobel Prize in Economics, summed up these combined horrors in a famous piece in 1990 titled simply "More than 100 Million Women are Missing."
The women that remain have it rough: collectively, we produce a whopping 66% of the world's economic output (primarily in basic agriculture and manufacturing), according to UNIFEM, the UN agency that monitors gender-based issues, and yet own fewer than 10% of the assets and income.
So women do work, and working women support families and young children, but their jobs pay very little and leave them vulnerable to exploitation and economic shocks.
This is one of the great tragedies of our time. We know what happens when a woman earns money. She is far more likely than a man to spend her earnings on the health and education of her children, and to invest in improving her family's standard of living. And yet we have no large-scale schemes to employ women en masse. Microfinance, we have learned, has its limits. Not every woman is an entrepreneur, and not every loan can get her out of poverty.
We are in dire need of additional avenues to the full-scale participation of women in the global workforce.
That's why I founded Samasource three years ago. I'd worked as an international development consultant at the World Bank and for various NGOs, and felt like the traditional approaches -- teaching women to weave baskets, showing them how to apply fertilizer to improve crop yields, granting them small loans to start micro businesses -- were a step in the right direction, but far from enough. Most critically, I felt that we were losing out on a huge opportunity to enfranchise women by using the Internet to tap their brainpower.
Samasource now connects over 1,600 women and youth who make less than $3 a day to what they need most: work. We partner with large Internet and data companies to break down large projects into what we call microwork: simple tasks like finding a phone number or labeling an image that require human intelligence and a bit of training. This model provides real skills to workers -- women in our centers in East Africa, South Asia, and the Caribbean learn how to use computers and the Internet, how to represent themselves professionally online, and how to report to work in a formal environment.
One of our workers in a village in rural India wrote to us last year and said, "Because of Samasource, I now see the world." She was referring, of course, to the Internet, that world of collective human knowledge to which 5 billion people in poor countries still lack access. In one of our work centers, an office dedicated to women in a Muslim district of Calcutta, a 19-year-old named Neha told me she was never allowed to ride a bicycle -- her family feared she'd stray too far from home. She had never held a job before. Now, six months after she started doing Samasource work, Neha dreams of becoming a pilot. Neha's boss told us that most of the women who come to work have never had a career aspiration before, because they've internalized the message that they're worthless in the formal economic sector. It's hard for us to fathom what it means for a woman like Neha to get paid to use her brain.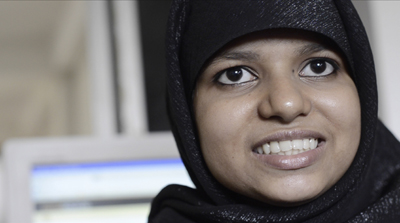 This model can scale. We've put 1,600 of the world's poor, capable and motivated people like Neha, on projects for companies like LinkedIn and Google. In three short years, Samasource has turned this process into a payout of more than $1.2 million US dollars to women and young people living in slums, villages, refugee camps, and other places deprived of formal work opportunities. Back when we started, people laughed me out of conference rooms when I told them about my idea. Now, they forward our newsletters to their friends and help us gain access to clients.
Those one million dollars go farther than one person's paycheck. The income creates a multiplier effect -- by training marginalized women in digital work, Samasource not only provides direct employment, but also increases household spending on health and education, increases a woman's wages substantially over her lifetime, and decreases the likelihood that she will be forced to leave her community, and the social protections it offers, to find work.
Jacqueline, another one of our women workers, joined a Samasource Delivery Center in Nairobi, Kenya eight months ago. She'd never had a formal job before, and made ends meet working in a local food stall. She had to drop out of her engineering degree program because she couldn't afford the tuition. Now, thanks to Samasource, Jacqueline digitizes books for a client halfway around the world (Bookshare.org, the largest repository of reading materials for blind readers in the world). "I like assisting disabled people," Jacqueline told us in her tin-roofed rented room on the outskirts of Nairobi. She finds the work inspiring. "Because if I remember I am doing this job for somebody somewhere who cannot see, I feel that I have that heart of doing it perfectly."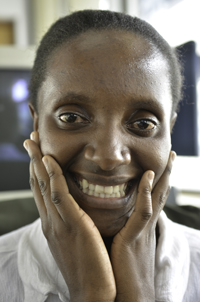 Jacqueline now pays her own rent, her mother's rent and her sister's school fees. She's saving to resume her engineering degree next year. Jacqueline, an unmarried woman in her twenties, is no longer considered a burden to her family (the tragic fate of so many young African and Asian women). She is the primary breadwinner.
Jacqueline's story is one of many that we have heard from over 600 women who've worked for Samasource. To celebrate our success and raise funds to recruit more women around the world, we're holding our 3rd Annual Give Work Gala focused on Work for Women on Friday, November 4th. Sheryl WuDunn, the Half the Sky author I cited earlier, will join the Onion's Director of Digital Baratunde Thurston in hosting the event; Les Nubians will perform live.
Funds raised at this year's Gala will go directly to training and hiring more women at Samasource Delivery Centers around the world. It costs $500 to train one woman and make her employable for life; we hope to raise enough money to do this for 1,000 women in Kenya and India within the next year.
Despite our best efforts, we know that we are a long way away from training and employing the billions of capable yet poor women who are hungry for an opportunity to use their brains and skills to earn a living. But for the moment, we will celebrate one small victory in this larger fight: the efforts of workers like Jacqueline whose talents have found a place to thrive.
SUBSCRIBE TO & FOLLOW TRUMP'S FIRST 100 DAYS
How will Donald Trump's first 100 days impact YOU? Subscribe, choose the community that you most identify with or want to learn more about and we'll send you the news that matters most once a week throughout Trump's first 100 days in office. Learn more