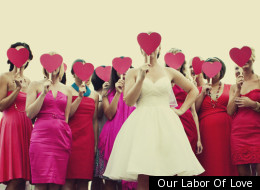 Soft pinks, bold reds, hearts and beautiful flowers are what pop into my head when I think of Valentine's Day! In honor of the holiday of love I created a Loverly bundle of all my Valentine's Day inspiration. Loverly is a place full of curated inspiration, bringing together photos and stories from some of the most popular and widely read Wedding blogs on the web. Brides to be (or just wedding enthusiasts!) can bundle their inspiration and choose to keep it private, share it with the world or select a group of people to share it with. It's the perfect place to search, save and share inspiration!
Click through the slideshow below to see my favorite non-traditional Valentine's Day wedding inspiration photos.
Bridesmaids embracing the mix and match dress trend with hues of coral and blush and topping off the look with fun flower headpieces!

Mini cupcakes with pink chocolate curls and a fondant white heart to top them off!

A bride shows off her short wedding dress while posing with her new husband dressed in a vintage white tuxedo jacket!

This red and pink stationery would be perfect for a February wedding!

These newlyweds get close on an adorable heart printed blanket on their wedding day!

A white dessert table full of cupcakes, homemade marshmallows, macaroons, cupcakes and dessert shots adds a pop of red with striped roses a red dessert details.

This cake is the perfect blend of classic and trendy with soft, romantic ruffles and a sequined heart!

These LOVE pillows are a great addition to any party, especially one thrown during the season of love!

Heart balloons are a fun addition to pictures and can often be bought made of biodegradable materials for their release!

These Christian Louboutin heels are the perfect pop of color beneath a classic white wedding dress!

Short dresses all around! A bride and her maids have some fun with heart-shaped fans.

These newlyweds show their love for one another with their homemade heart-shaped pillows.

Blush pointed-toe heels are the perfect shoes for a sweet bride.

An overgrown bridal bouquet with peonies, ranunculus, coffee berries and roses!

Raw peach, pink and coral ribbon makes the perfect frame for a couple sharing a sweet moment.
Follow along to see more of Leila's inspiration on Twitter
Follow Leila Lewis on Twitter: www.twitter.com/weddingPR