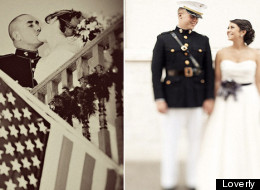 Memorial Day is one of my favorite holiday weekends of the year. It's the unofficial kickoff to summer, which means lots of BBQs, beach time, refreshing drinks and of course... wedding season! I've put together some of my favorite Americana wedding inspiration on Loverly -- from the classic military grooms, to the red/white/blue color palette to outdoor inspiration galore. May you be inspired!
Grooms in uniform are the perfect way to honor their military service on the Big Day!

This groom dressed up his military garb with a classic bowtie, decorative medals and a sleek watch.

What better place for a member of the Air Force to get married than in an airplane hangar? A classic uniform, short dress and milkshakes add a touch of flair.

A traditional sword salute is a great honor for a military groom and his bride.

Viva Americana! This military groom chose to wear a vintage uniform circa WWII.

How dapper is this military groom with piped sleeves and a bowtie?

Flashback to 1940... love that this groom donned Army greens, while bride wore red pumps and a vintage dress!

A distinguished groom proudly displays his medals and a big grin on his wedding day.

A Naval groom and his bride enjoy a private moment together during their first dance.

This groom not only rocked his dress uniform, but "topped' his look off with his dress cap.

This camo-wearing groom and sweet bride keep things simple for their summer elopement.

This dressy Marine Corps groom and his tulle wearing bride stylishly exit their wedding in a classic convertible.

This color-coordinating black and white couple shares a look of love on their special day.

A bride in boots and an Air Force groom elope in the German countryside.
Follow Leila Lewis on Twitter: www.twitter.com/weddingPR