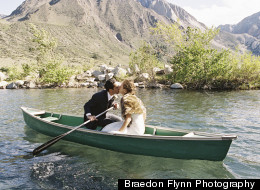 Trend watchers everywhere giddily await the annual announcement of Pantone's Color of the Year. After all, Pantone's decision will influence trends in weddings, home decor, fashion and many other industries.
Pantone announced the 2013 color on Thursday... emerald green! In honor of the jewel tone, I've rounded up some of the best emerald green wedding ideas on Loverly. Will you incorporate this hue into your 2013 nuptials?
Emerald Green Wedding Inspiration
For the nontraditional bride, an emerald (color, not cut!) engagement ring may be the perfect choice!

Dress up a wood table with an emerald patterned runner! Tie it in with a matching napkin and emerald accents in the glassware.

These emerald heels are the perfect pop of color under a bride's white dress.

Your wedding paper is the perfect place to embrace color! Different shades of emerald perfectly accept each other in this stationery suite.

Emerald greenery, flowers, goblets and glass artichokes fill this lush tablescape.

This bride wasn't feeling the traditional white for her wedding dress, and instead embraced a color that was more her -- emerald!

Emerald green dresses in different styles are a sure way to please your bridesmaids!

Emerald chevron stripes with teal accents on a cake? Yes please!

This couple stole a moment for themselves on their emerald green canoe -- fun prop alert!

The best place to find emerald hues? Nature! This simple ceremony set up let nature do the talking.
Follow Leila Lewis on Twitter: www.twitter.com/@weddingPR