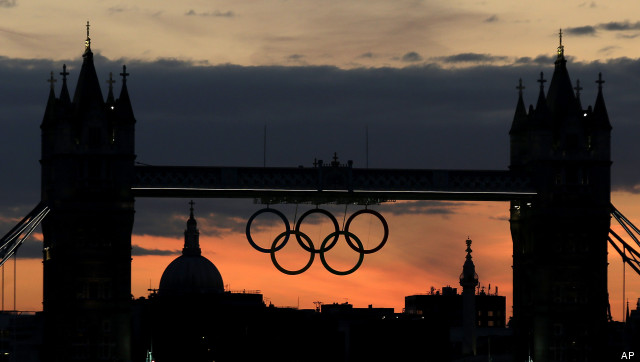 Happy Thursday everyone, here's my Top 5 for July 19, 2012 from Len Berman at www.ThatsSports.com.

1. Quick Hits
The British Open is underway at Royal Lytham and St. Annes in England. Tiger Woods was under par from the start with a birdie on the first hole, and four birdies in his first seven. You can check the current leaderboard here.
Veteran Grant Hill has signed with the L.A. Clippers.
Pitt will take the Syracuse escape route, paying $7.5 million to bolt the Big East next year for the ACC. By the way, the next time your alma mater asks for money, ask them if your donation is going toward paying ransom for league jumping?
The Olympics begin a week from tomorrow in London. To get you in the Olympic spirit, here's a cool picture of the Olympic rings being projected onto the White Cliffs of Dover.
2. Enough!

I know Jeremy Lin went to Harvard and I didn't, but I think he should be smart enough to just shut up. There was no crime in what he did, he opted for the most cash. Just about everyone does it, no need to apologize. But he made it worse when he told si.com that he "preferred New York" and that his "main goal was to go to a team that had plans for me and wanted me." Oh really? If he really wanted New York then he wouldn't have schemed with his agent to poison the Knicks. And the Knicks didn't have plans for him? They told the world he was the starting point guard. What planet is Lin living on? I guess I should know, but I only went to Syracuse.

3. Cashing In

There's no joy in Mudville. Mr. Bagel has struck out. Mr. Bagel was one of several small businesses that sued over the closing of their street in London because of the Olympics. Their campaign ended when they ran out of money. It's a common theme at the Olympics. Local small businesses envision dollar signs with the Olympics in town, and far too often they wind up with red ink. I remember 1996 in Atlanta, you could get reservations at any fine restaurant you wanted. The theory was, Olympic fans paid a bundle for travel, hotel and tickets so when it came to lunch or dinner they would gladly brown-bag it. Now about Mr. Bagel doing business is a tea and crumpets town....

4. Yankee Pride

You've probably seen the commercial, "Everything looks good in pinstripes." Even bank robbers? It's been well documented how many criminals are captured wearing Yankee caps. This is not to suggest that Yankees fans are bad dudes, only that the Yankee logo is the most popular sports emblem in the world. You'll recall that one of Khadafi's captors was wearing a Yankees cap. Anyway, the FBI in Arizona wants your help is nabbing this guy who robbed three banks in Mesa. They've taken it one step further. Because of his hat and youthful appearance the FBI is calling him the "Baseball Babe." And when he invariably gets caught "the Bambino" can tell police, "I consider myself the dumbest crook on the face of the earth."

5. Final Straw

That's it, I'm not going to train for the triathlon. I was just coming to grips with the swimming, biking and running, but then I heard about Leah Prudhomme who was training in a lake in Minnesota. While swimming she was bitten 25 times by an otter and had to undergo rabies shots. Despite it all, she still planned to compete in the triathlon a week later in the same lake. OK, the swimming, biking, running and rabies I can handle. But the dedication to compete? That's where I draw the line.

Happy Birthday: Tennis "bad boy" Ilie Nastase. 66.
Bonus Birthday: Jackie's widow, the great Rachel Robinson. 90.
Today in Sports: This kid might be good. In his major league debut, Giants rookie pitcher Juan Marichal 1-hits the Phillies at Candlestick Park. 1960.
Bonus Event: A moving moment in Atlanta, as Muhammad Ali lights the cauldron. Let the Summer Olympics begin. 1996.
To sign up for Len's free daily Top 5 email click here.
SUBSCRIBE TO & FOLLOW THE MORNING EMAIL
The Morning Email helps you start your workday with everything you need to know: breaking news, entertainment and a dash of fun. Learn more