Buck Stahl had no idea he was about to create an iconic symbol for the California dream when he asked architect Pierre Koenig in 1957 to build his home on a sparsely developed precipice in the Hollywood Hills.
Sitting high above the Sunset Strip, the home -- as famously photographed by Julius Schulman -- has indeed come to represent the good life. The image conjures up a dream-like existence in Southern California: strikingly modern, elegant, informal and lived mainly outdoors in natural surroundings.
Stahl paid about $34,000 for what has widely come to be known as Case Study House No. 22. The project, part of an academic exercise to promote affordable housing through the use of modern materials such as steel and glass, cost far more than the $18,000 or so that was paid for the average home In Los Angeles at the time.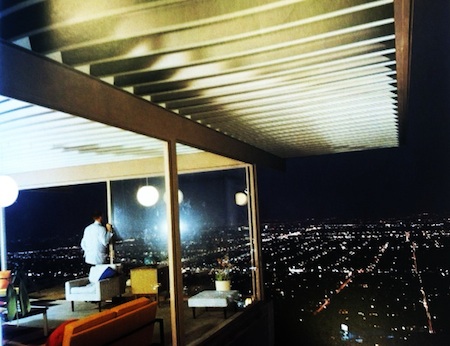 Even so, the dream seemed very much attainable to average folks.
The end of World War II brought a new prosperity to America, and the developing suburbs of Los Angeles became the location for huge, sprawling tracts of new, modern homes. Jobs were booming and women were going to work for the first time in large numbers -- prompting a steep rise in family income.
Today, much of that dream is clouded by Wall Street's meltdown and its aftermath of high unemployment and a depressingly bad economy. Those new communities that symbolized optimism in the 50s today show signs of age and neglect, made worse by a wave of foreclosures.
The economic downturn -- ironically touched off by Wall Street's attempt to profit from making mortgages available to almost everyone -- has placed even basic home ownership out of the grasp of many, let alone the carefree dream served up by the Case Study program.
But in the wealthier enclaves of Los Angeles, the dream persists.
Homeowners, particularly those who draw their incomes from the still healthy entertainment business, continue to remodel and build these modern trophy homes -- even as the prices have stalled and quick profits have evaporated.
Last week I attended a party at one of these. The two-story modernist temple in the Tony Doheny neighborhood of the Hollywood Hills is only about a mile from the famed Case Study house. It was actually designed with Stahl's house in mind. It has soaring walls of glass, travertine floors, sleek modern lines and jetliner views of Los Angeles below.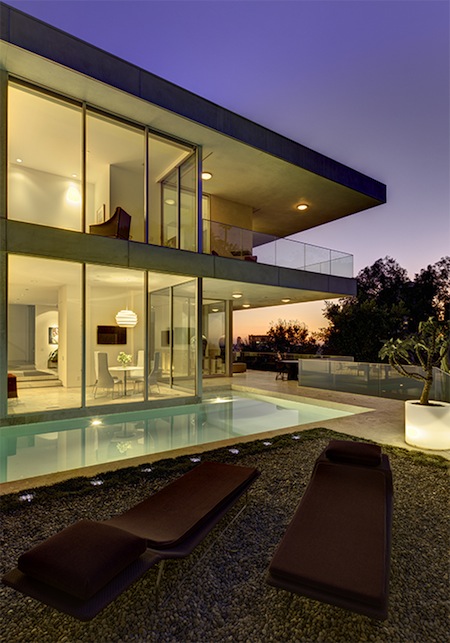 Luxury real estate broker Victor Kaminoff staged the event as part fundraiser for the House Research institute for Hearing. Because this is Hollywood, it also was used as a venue for taping a segment of HGTV's "Selling L.A."
The asking price is just under $6 million, well above what many savvy buyers would consider its market value. Still, Kaminoff, who has an extensive network of overseas contacts, believes it's likely to attract a foreign buyer even at this premium price.
"California is still a tremendous lure, even if we aren't sure about that anymore," he told me. "Even though the Euro and Pound are not as strong as they once were, the perception of having a house in L.A. is fantastic because of the culture of Hollywood, the star system and the great weather."
"The whole concept," he added, "is moving into that lifestyle."
But the house's history also reflects the economic scars that have been carved into the dream.
The home was commissioned from architect C.J. Bonura about four years ago by a wealthy individual who wanted to build an updated version of the Stahl house "as creative therapy." But midway through construction, the economy took a nosedive and the home was left unfinished.
Alec McMordie, a young, successful sports handicapper, picked it up for $3.8 million and has lived in it since.
This was McMordie's first home and he still sees it as his dream come true. But he told me that if he can sell it as the manifestation of the California lifestyle at this premium price, he'll take the money and look for a new dream elsewhere.
Of course, the economic woes have spread globally and only time will tell whether the allure of this dream is enough to overcome the downturn's fallout.
After the open house, I decided to drop in on an exhibit at the Los Angeles County Museum of Art titled "California Design, 1930-1965: Living In A Modern Way." It brought to life this period of optimism with its look at California's role in shaping the American culture.
The exhibit included such outmoded, but fondly remembered, items as a woman's lounging pajamas, a fully-equipped Airstream trailer with its distinctive shiny aluminum body, a radically streamlined fiberglass Studebaker Avanti and a true-to-life reconstruction of modernist master Charles Eames' Pacific Palisades living room.
Along one wall hung the striking photograph of Case Study House 22.
Shulman took it on the warm evening of May 9, 1960, as two young models chatted informally in the glass-walled living room with the lights of Los Angeles laid out below like a shimmering ocean. There were to be many good years ahead.
As I stared at the picture, I couldn't help but wonder whether, at least for now, this is the closest most of us will come to living the California dream.