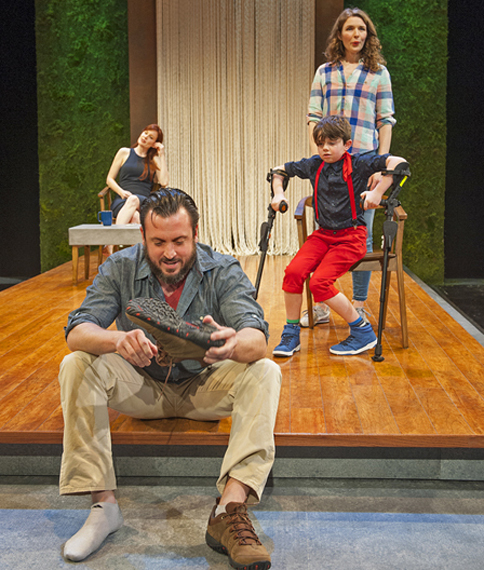 A dysfunctional family gathering: Joe Estlack as dad Freddie, Jack Wittmayer as son Erik, Marilee Talkington (rear), as Freddie's wife, Joie, and Mariah Castle as his sister, Andi.
Mark Jackson is recognized as one of the Bay Area's most adventurous and successful playwrights, but the pursuit of fresh challenges always carries an element of risk. Climbers sometimes slip. With Little Erik, his adaptation of Henrik Ibsen's rarely produced domestic drama Little Eyolf, Jackson slips badly.
A mere 80 minutes in length in its world premiere at Aurora Theatre in Berkeley, the adaptation strips away Ibsen's ponderous and repetitious dialogue and replaces it with 21st century language but leaves only skeletal characters, flimsy motivations and little persuasive human interaction.
Perhaps to substitute for such conventional dramatic components, Jackson -- who also directed -- injected mystical elements that sometimes land with blockbuster power, thanks to the expert use of sound, lighting and music. But even that aspect goes sour in the play's conclusion, a trembling turn of events that may rate as the granddaddy of 2,500 years of deus ex machinas. The twist closes a flawed drama on a note so absurd that it has to draw giggles or laughs.
Set in an idyllic mountain retreat somewhere north of San Francisco, the play revolves principally around a married couple whose once-passionate relationship has turned ice cold. For some years their only bond, it seems, has been their crippled young son, Erik.
The depth of their parental linkage is shallow at best, however. Mother Joie (Marilee Talkington) admits to disdain for bearing and rearing children, preferring instead to devote her energies to a high-tech career that supports the family in grand style. Father Freddie (Joe Estlack) develops a deep, even obsessive, interest in Erik only after disappearing for six months in remote mountains in a futile struggle to write a novel about human responsibility.
After the child drowns in the nearby river, their expression of grief takes the form of total self-absorption, with little concern for each other and little contact between them.
The performances are probably as effective as their scant dialogue and the roles' rigid temperaments allow, but neither gives us any reason to care about them as individuals or as a couple.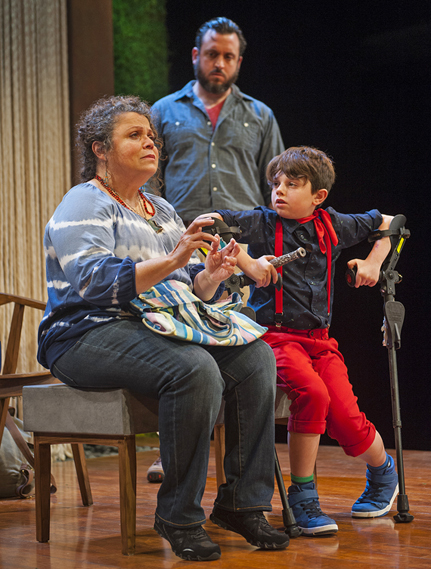 A mesmerizing tale-teller: The Rat Wife (Wilma Bonet) engrosses Erik (Wittmayer) and Freddie (Estlack).
What contact they have after the accident is prompted by the urgings of Freddie's half-sister, Andi (Mariah Castle), and her maybe-boyfriend, Bernie (Greg Ayers), the young architect who designed the retreat. Andi is by far the play's most likable and seemingly well-adjusted adult; Bernie is a silly twerp.
Let me digress a moment. Those masculine-sounding, rhyming names: Joie, Freddie, Andi, Bernie. What's going on here? They were consciously chosen by a polished dramatist. Is he subverting the seriousness of his play? Beats me.
The exceptions to that naming pattern are Erik, played with wonderful charm and unbelievably oversized crutches by Jack Wittmayer, and a strange visitor known as the Rat Wife, effectively portrayed by Wilma Bonet, with strong support from spooky special effects at every appearance.
A variant on the Pied Piper of Hamelin and similar legends, the Rat Wife knocks on doors of prosperous folk and offers to rid their homes of rodents by luring them to death in nearby waters. Given her occupation, she's obviously poor, injecting a note of class diversity; she's also an immigrant with a Latino accent, adding an ethnic twist. Jackson apparently was determined to cover many bases with very few words.
Despite the problems, strong performances and fine staging held my interest and make me hope Little Erik is a work in progress. With more flesh on its Ibsenesque skeleton, plus a credible conclusion, it might add to Jackson's already esteemed reputation. As it stands, it rates high only as a source of after-theater conversation.
Little Erik runs through Feb. 28 at Aurora Theatre, 2081 Addison St., Berkeley. Tickets are $32-$50, from 510-843-4822 or auroratheatre.org
FOLLOW HUFFPOST