PHOTOS USED WITH PERMISSION.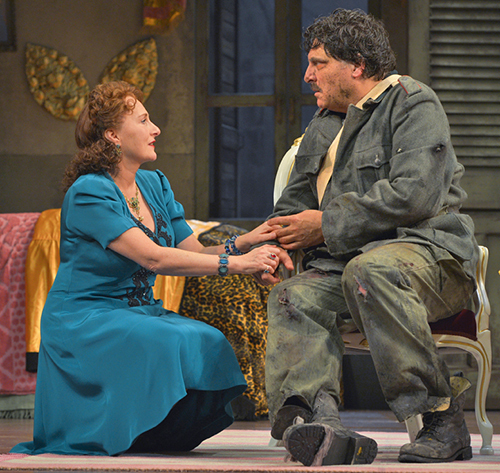 Seana McKenna as Amalia, Marco Barricelli as Gennaro: A poignant reunion.
Photo by Kevin Berne
Eduardo De Filippo lived through the devastation, horror and privation of World War II in Naples, where bombs fell with more intensity than on any other city in Italy. He emerged a changed man.
Already renowned as the country's leading comic playwright, he turned from the pursuit of easy laughs to works that held a mirror to the complexities and truths of Italian life. Napoli! was the first of them, a hit from its debut in 1945, and a choice display of the effective fusion of farce to drama and social commentary.
It's still a hit, capturing the essence of a time, a place, a family and a community in a wonderful production at ACT. It also provides a vehicle for funny, heartfelt and often ambiguous performances by all its principals, as well as for expertly shaded direction by Mark Rucker and for outstanding support by scenic and costume designers.
A rather wordy play in its original version (at least in the translation that I read), the text has been distilled into a succinct two hours while preserving the essence of De Filippo's narrative and characters. That essence explores a situation in which the struggle to survive -- and the urge to prosper -- blurs traditional lines of morality, behavior and relationships.
The action takes place in the cramped home of the Jovine family, where patriarch Gennaro hides from uncomfortable realities in a tiny cubicle while his wife, Amalia, operates an illicit business in black-market foodstuffs and their adolescent children, Maria and Amadeo, roam with little or no parental guidance.
Amalia's enterprise attracts a variety of friends, neighbors and other acquaintances, among them suppliers and buyers of such items as coffee and pasta, and reveals both the ferocity of competition among dealers and their shared fear of detection by Fascist informers and police.

Between act one, when Allied bombs are raining on the city, and act two, when American and British troops have liberated Naples, the Jovine home undergoes an immense transformation. Shabbiness gives way to garish opulence, demonstrating that black-marketeering can be a very lucrative occupation.
The passage between years brings other changes, too. Crucially, Gennaro has been absent most of the time and is presumed dead, a victim of the war. That assumption has led Amalia into romantic ties with her main purveyor of stolen goods, a smooth-talking hustler named Errico. And it has allowed the youngsters to drift in their own unfortunate directions: Amadeo into thievery, and Maria into an unhappy romance with a GI.
But Gennaro returns, bloody and filthy and seething with hatred of the war, eager to share every detail of his experience, upsetting the upbeat mood. He is the conscience that few if any want to confront, but ultimately none can avoid.
His return may shape something of a sermon, as does an incident that finds greed repaid with compassion and kindness, but De Filippo's text, the crisp adaptation by Linda Alper and Beatrice Basso, and especially the fine acting by the entire cast of 18 turn it into engaging comedy and drama.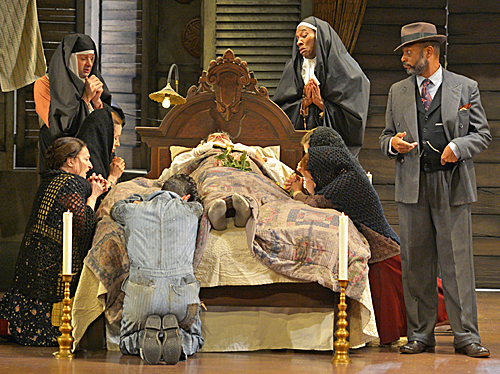 A police inspector, Gregory Wallace, looks with skepticism at corpse and mourners.
Photo by Kevin Berne
Marco Barricelli and Seana McKenna deliver exquisite performances as Gennaro and Amalia, very different personalities who are bound together by sincere love and ultimately by concern for their children.
Barricelli's Gennaro evolves from a reclusive and somewhat silly figure into a shrewd and compassionate patriarch, reshaped by harrowing experiences. He's also the central to the play's funniest scene, lying motionless and pretending to be dead while being taunted by a skeptical police inspector who has dropped in to check reports of black-market activities.
As Amalia, McKenna offers a strong personality whose relationship to the conniving Errico remains tantalizingly ambiguous, but whose affection for Gennaro seems genuine.
Among the other notable performers are Blair Busbee and Nick Gabriel as rebellious offspring Maria and Amadeo, Dion Mucciacito as the slick Errico, Anthony Fusco as an accountant who repays Amalia's scorn with a priceless gift, Gregory Wallace as the cop whose skepticism turns to admiration and the always-funny Sharon Lockwood as a high-spirited neighbor.
Erik Flatmo contributed the terrific set, with its metamorphosis from crudeness to tasteless elegance, and Lydia Tanji did the costumes, which undergo a similar conversion.
Napoli! runs through March 9 in ACT's Geary Theater, 415 Geary St., San Francisco. Tickets cost $20-$120.