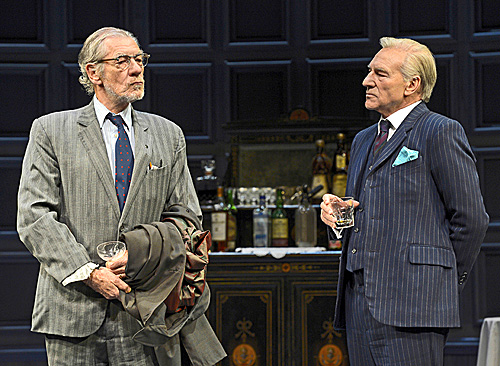 Ian McKellen, left, and Patrick Stewart as poets with conflicting memories.
Fine Scotch whisky flows freely in Harold Pinter's No Man's Land, always consumed straight, or as the British would say, "as it is." Even the sharpest of memories would turn fuzzy under such influence.
But it's doubtful that either of Pinter's elderly protagonists -- one poet who has achieved wealth and apparent fame and another, seedy type who seems to drift from pub to pub -- is blessed with acute powers of recall. Their lengthy meditations on events, personalities and places encountered in their past rarely ring true and sometimes conflict. But provable truth hardly matters here; this is Pinter and ambiguity is his trademark.
You take every moment as it is, and savor the joy of seeing and hearing his work given fresh life by brilliant performers at Berkeley Rep.
The prosperous poet, named Hirst, is played by Patrick Stewart; the down-and-outer, named Spooner, is Ian McKellen. While the production is no star turn, it clearly reveals why the pair have collected dozens of international awards over their lengthy careers. Every word, every gesture, every studied silence is right, turning uncertainties into riveting, spooky and frequently hilarious theater.
They receive stellar support from Tony winners, Billy Crudup and Shuler Hensley as Hirst's domestic attendants, younger men who inject elements of slyness, connivance and understated terror to the proceedings.
The production is due to travel to Broadway this fall, to alternate with Samuel Beckett's Waiting for Godot, with the same cast.
Although the drama invites questions galore, any attempt to provide definitive answers or interpretations is a fool's pursuit.
Something usually as simple as deducing a play's time frame is thrown into question by costuming: Hirst and Spooner wear suits of relatively contemporary cut, though one has the look of Savile Row, and the other of Goodwill or a dumpster. Crudup, in contrast, appears in bell-bottoms and wide belts suggestive of the '60s, and Hensley spends the second act in a double-breasted suit that looks rather like one I wore at high school graduation, in the '50s. Are director Sean Mathias and designer Stephen Brimson Lewis using clothing to make a statement about the play's timelessness? If they are, the gesture is gratuitous.
On a more substantive level, there are obvious puzzles about relationships. Did Hirst just meet Spooner during an evening of pub crawling, or were they chums and romantic rivals decades earlier, perhaps at Oxford. Overlapping and conflicting recollections give some credence to both possibilities.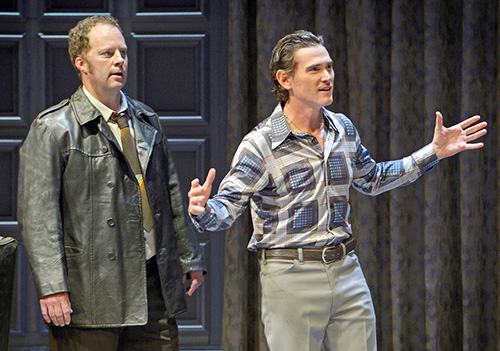 Shuler Hensley, left, and Billy Crudup as Hirst's servants: humble, menacing
And what about Hirst's servants? How do they relate to him and to each other? The options are open: Take your picks. Or simply skip the intellectualization and take the play "as it is."
McKellen has the more-animated role, dominating the early going with lengthy and literate ramblings that draw only cryptic responses from Hirst, and displaying a juggler's agility while manipulating a whisky bottle, two drinking glasses and his overcoat, teetering at the apparent edge of disaster and coming through without spilling a drop.
On top of the insights that shine through his verbal dexterity and stumbly gait, McKellen adds another dimension of transparency into Spooner's mind and personality through a range of facial expressions that evoke confusion, surprise, amusement and a host of other emotions. It's pure artistry.
Stewart's Hirst appears at first to be stolid and remote, interested only in his next glass of vodka, followed by his next glass of Scotch, but later opens up with passion and pathos, and a deep sense of loss as he meanders through flickering memories of times and acquaintances long-lost.
He opens the evening with a drink in his hand and closes it in exactly the same way. Nothing changes. Nothing will ever change.
As the servants, Crudup and Hensley shift between servility, antagonism and crude bullying in dealing with both their employer and his bedraggled guest, and with each other. Neither projects a distinct personality; both project the ubiquitous presence of danger. And hints of danger can at times create very funny moments on stage.
Together, the stellar cast and director Mathias have shaped a gem. Sunday's opening was just the start of the show's pre-Broadway shakedown but I can't imagine it getting any stronger.
Photos courtesy of Kevin Berne
No Man's Land runs through August 31 at Berkeley Repertory Theatre's Roda Theatre, 2015 Addison St., Berkeley. Tickets are $50-$135 (subject to change), from 510-647-2949 or www.berkeleyrep.org.