Ladies and Gentlemen: I have just completed my first straight-up, uninterrupted 20-minute run, including a warm-up and cool down, I did 4 out of 5k. I have until November 20th, to run the full 5.
I am in no way a natural runner. If there had been a Least Likely to Run a 5K yearbook category I would have been on the short list in my high school class. As one of the bigger girls, gym class was mostly a hell, and I especially dreaded the perennial mile right before summer vacation. Even on my college tour I ruled out Columbia University partially on its swim requirement for graduation. In short, I have never been what you would call an "athletic" person. This goes double for my family. So if you wanted me to run, you were going to have to chase me.
Or come up with a very good cause.
Which is exactly what my division at Wilhelmina Models did when we founded a non-profit for the empowerment of women: Curves for Change, and set into motion its inaugural charity event to raise funds for the Komera Project and Hearty Girls, Healthy Women. Hence the 5K, inspiring some apprehension on my part. Even though, at this stage of my life, I'm more active and fit than I've ever been before. Thanks to plus modeling.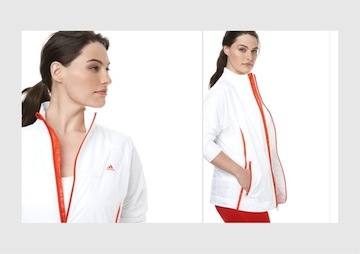 Growing required some emotional buffering between my self-esteem and my physicality, a sort of disconnect between me and my body. It didn't make me feel good about myself, so I ignored it. While I, like every human being, had an emotional relationship to food, I didn't particularly relate the food I ate, or my level of activity, to the body I had. The dots remained (perhaps intentionally) unconnected. I did things because I loved the feeling they gave me of wonder and freedom: riding horses and bikes, hiking, swimming--not because I enjoyed sweating.
When I became a model, after years of living in my head, taking care of my estranged body was now my job. I immediately took more interest in it: how it worked, what it wanted, what it looked like, and how it made me feel. I educated myself in basic nutrition and I started, for the first time in my life, to work out.
A friend introduced me to yoga, which I enjoyed as much intellectually as physically. Concentrating on learning the poses distracted from my body's effort in shifting from one to the next. Focusing on my breath offered space and relief from city life. Physically wrung out without ever having felt aggressive or uncomfortable in myself. This was a way of finally being in my body without being at war with it. Acceptance and release: the 'yogasm,' as they say.
But not all yoga is equal. As a recent Times article noted, the fastest growing number of sports injuries are yoga related. Teacher training is not highly regulated, and new teachers may not be highly experienced themselves. A substitute teacher encouraged me to go further into a pose than I would have on my own and a snap in my knee resulted in a crunching sound that is still, one year later, unresolved.
All this is to say that while running a 5K was not totally out of the question, it was questionable. Then a friend recommended a Podcast Couch to 5K by Robert Ullrey. For the non-runner, Ullreys structures every-other-day intervals building up to the 5K in 9 weeks. This, I thought to myself, I could try.
That was July. This is week 5, accounting for summer vacation, work-travel, and having repeated the first weeks twice to really let my knee get used to the idea. This is not Rocky. But it is going way better than I ever would have imagined.
In fact, I am in love with running.
Instead of finding it grueling and impossible, I am in awe at the miraculous biological machinery that is my body; evolved over millennia into this perfectly designed form. I am learning to trust its ability, strength, and coordination. To respect that it knows exactly what it's doing, was made to do it almost effortlessly, and has only been getting better at it with each generation. The jubilant evidence stretches from playgrounds to Olympics. Running, the simplest of acts maxing out our biological complexity--the paradox and the high.
The first 5 minutes are all effort, my head is going crazy, and I wonder why I'm doing this. By minute 8 the warmth is spreading up from the ground through my legs, the percussion of my heartbeat syncs with the deep-breathing bass of my lungs, and my head quietly lifts off my shoulders into the atmosphere. I imagine each of my infinite, tiny cells, revved up and surging with life. A lightness spreads from the middle of my abs and lower back, suspended between the roots of my legs and the clouds in my head. I could go forever.
For me running is better simple. I was fascinated with Born to Run by Christopher McDougall, an account of the Tarahumara Indians of Mexico and their incredible running. This book has started a movement of barefoot runners. Not for me, but it reconfirmed for me that if we let it, without hindering or complicating the process, our body knows exactly what to do and how to do it. If we actually work with our body, to aid and support it consciously, the joy and ease of moving about and experiencing our life cannot be overstated.
I have a lot more energy. My cravings for sugar or caffeine are almost extinguished. My skin looks great. I feel stronger and strangely, taller. But, you may wonder, have I dropped two sizes? I haven't, not yet. Maybe a half size. Maybe because I've begun running gradually. Maybe because my body, in an effort to maintain, has upped my appetite in general, and for protein and whole grains specifically. Maybe because that simply wasn't my intention. I'm definitely more toned in places. But there hasn't been any kind of drastic metamorphosis. Which is good for me, because otherwise I might be out of a job or two.
It's also good because serious steps toward health are better taken moderately, not just for our bodies but for our minds. Any rapid, major physical reshaping is accompanied by an equally sudden and drastic lifestyle shift. Often leaving us feeling deprived by diet restrictions or punished by workout routines. Even when we get the results we want in short order, there's little time to get comfortable in the new self, to establish some wiggle room. There's only the fear of gaining weight back and a need to adhere to the rules. Yet humans require a margin of error in a life both unpredictable and delicious. Most studies note that significant weight-loss on any program is often gained back.
The body is a highly adaptable organism; it will keep adjusting to changing circumstances. But its basic desire is for stability, so that even for the most disciplined getting ever better results means having to manipulate the body's intelligence continually. In the end, we're all caught in the frenzied tug-of-war between the fads of the diet and exercise world and our bodies. It doesn't make any sense to be constantly waging huge battles on a tightrope with our desires, our biology and our lifestyles, all the while feeling unhappy with where we are.
Like most models, and many women, my past is littered with personal trainers and nutritionists, each with a program promising to "fix" something about me, to make me a better version of myself--which I suspect looked a lot like someone else. Every experience has led me to believe in lifestyle choices that are balanced and committed to long-term health rather than quick results.
So unless I meet a dietary or exercise practice that feels right for the long haul, it's not for me. Others may need more variation in routine but remain committed to a level of activity. Either way it has to feel enjoyable, sustainable, and flexible so that I can relish both the practice and the results more than temporarily.
It's not about numbers, it's not about the finish line, it's about creating the feeling you want in the body you have right now: strong, powerful, buoyant, and invigorated. The body you want will follow.
SUBSCRIBE TO & FOLLOW LIFESTYLE
HuffPost Lifestyle is a daily newsletter that will make you happier and healthier — one email at a time. Learn more