Entrepreneurship is a growing global craze, no doubt about it. Case in point: More than 2,000 people from 130 countries met in Rio de Janeiro, Brazil, last week to share stories about the obstacles and opportunities of building startup communities in cities across the globe. These passionate drivers of entrepreneurship growth gathered for four days of learning and networking at the Kauffman Foundation's fifth annual Global Entrepreneurship Congress.
The weekend before the GEC, Startup Weekend organizers convened in dawn-to-dusk high-energy working sessions. The Startup Weekend SoSummit was a grassroots, roll-your-sleeves-up event focused on supporting its community organizers -- those hosts of weekends that allow participants the opportunity to experience building a technology solution and business model in 54 hours. Startup Weekend curators shared stories of their successes and failures (and they use the latter word with pride), learned from experienced entrepreneurs and investors and brainstormed community building opportunities across the various regions of the world. The 9:30 a.m. "dance off" wake-up session on Sunday was indicative of the constant positive energy exhibited by every member of this gathering.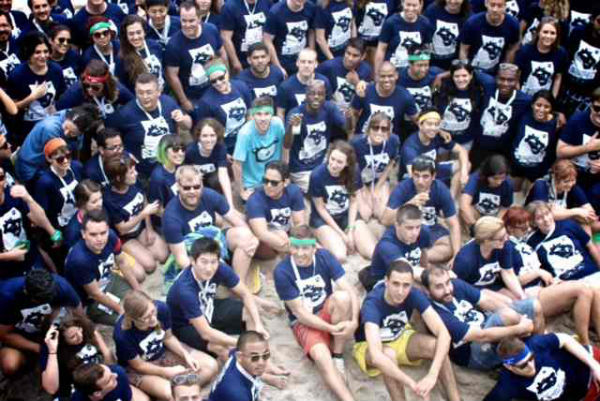 Startup Weekend organizers held their own summit before attending the GEC in Rio. Photo: Victoria Schramm
The Startup Weekenders then joined the thousands of attendees at the Global Entrepreneurship Congress, where you might have met a Governor, an industry leader representing a global company and well-known not-for-profit organizations supporting the startup and growth of new firms. These participants from countries around the world focused on one topic -- global economic growth through the lens of startups.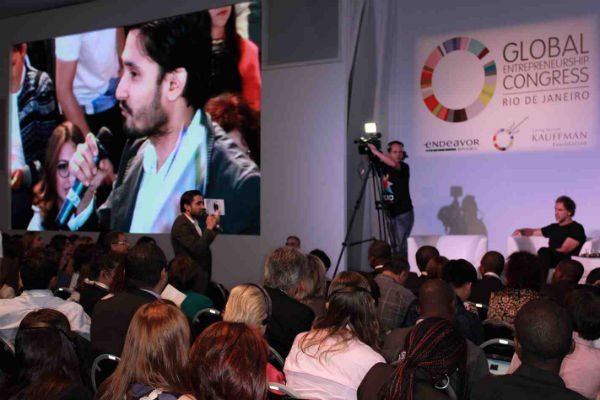 More than 2,000 entrepreneurship supporters from 130 countries attended the GEC. Photo: Kauffman Foundation
Dell hosted the first afternoon panel, which focused on women's entrepreneurship. I spoke on behalf of the Kauffman Foundation's work in the United States and the positive progress we are beginning to see in parts of the USA. I also took the opportunity to pitch Sheryl Sandberg's book and the notion of "Lean In." On subsequent days, even larger crowds assembled to attend plenary sessions focused on policy barriers and opportunities, new financial models to support startups, education models, women entrepreneurship issues and a topic closely linked to the discussions at Startup Weekend's summit -- building startup communities, which featured the book of the same name.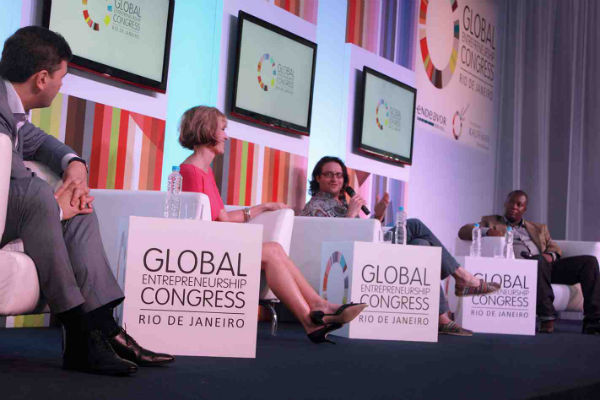 Author Lesa Mitchell on a panel discussing building entrepreneurship communities at the GEC. Photo: Kauffman Foundation
Other panels included inspirational young entrepreneurs like Miki Kuusi, who at 23 years old leads Startup Sauna, a co-working space found on Aalto University's campus in Espoo, Finland, where many of Sauna's events and programs take place; and venture capitalist Mbwana Alliy from Kenya, who is working with iHub and the Savannah Fund to build high-growth startups in his country. Hungry for programs that support startups, participants filled seats for presentations about education resources such as Kauffman FastTrac and the Ice House Entrepreneurship Program. Break times between sessions consisted of mobs of people meeting up to share stories, develop new friendships and discuss potential collaborations. Participants also had the opportunity to speak with the leaders of both Startup Iceland and Startup Rio, organizations that join the ranks of successful entrepreneurship movements in other countries, such as Startup Chile. Iceland launched last year, and Rio launches next week.
Next year, we will all meet in Moscow for #GEC 2014. When we do, we will hear about more startup city and country initiatives across the globe, and share new stories and hopefully new progress. You don't have to wait that long to join the craze. Start planning now for Global Entrepreneurship Week this November 18-24, and do your part to grow the economy.
SUBSCRIBE TO & FOLLOW THE MORNING EMAIL
Start your workday the right way with the news that matters most. Learn more