I love the fact that England is atwitter about Michelle's hugging faux pas. Apparently, during a photo op, our First Lady unintentionally breached protocol when she reached around the royal back and gave a classic all-American US Weekly pose for the photogs.
And now the Brits are aghast. "Those colonists," you can almost hear them muttering. "No sense of formality or manners."
Well, yeah. And frankly that's exactly what makes us such good partners and such good shake-off-the-mothballs friends for the Europeans. Despite the fact that half the countries at the G-20 summit are convinced capitalism is dead (and p.s. that it's all our fault!), there are plenty of Brits who, deciding that their own culture suffocates ambition and innovation, skedaddle across the Atlantic to places like New York to make it big. In the media business alone I'm thinking of boldface names like Tina Brown, Harry Evans, Anna Wintour. But there are big swingin' Brits all over America.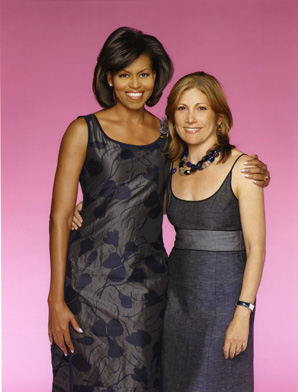 The reason these folks make it in America is not just that we tend to mistake even a lower-class accent for something upper-class (our ears have not been trained to detect the difference), but because there are no barriers here to ambition.
What Americans have to offer is a genuineness and authenticity -- and an everyone-is-treated-equal sensibility that is exemplified in that hug.
And Michelle is totally authentic. When More shot her for our October 2008 cover last summer, I recall being struck by her absolute down-to-earthness. We chatted for an hour while she had her makeup and hair done -- about the upcoming election, about our kids, about what we both hoped for America. In between cover shots I asked her if she'd mind doing a quick photo for my editor's letter. Since she was game, I slid quickly into the picture (sans hair and makeup). Realizing she was a full head taller than me -- which left my head tucked neatly into her armpit -- the photographer brought out a box for me to stand on. Then had to pause to change cameras. While we stood there waiting, I suddenly felt this arm around my shoulder and it gave me a little squeeze. Looking around, I realized it was Michelle. I don't think she could help it; it's what our writer remarked in the opening lines of the October piece, that "Michelle is a hugger." And I believe it's that authenticity and lack of pretense that draws each one of us to her. (A woman in my book club last night admitted that, "Michelle is my new girl crush"!)
So: Sorry, Lizzie. One of the most enjoyable aspects of the Obamas is that they still want to attend basketball games and have a beer with the crowds; they still eat out at the restaurants they personally prefer. And like that famous Englishman Henry Higgins, Our Fair Lady treats everyone the same -- a duchess like a flowergirl and a flowergirl like a duchess. That's the beauty of everything American, in personal life as well as in business. Memo to our friends the Brits: You can't have it both ways.
(Photo credit: Matthew Rolston)