I may be a busy mom juggling work, soccer schedules, grocery store runs and never-ending piles of laundry, but I do my best to keep up on important world events. You know, like watching those Taylor Swift/goat YouTube mash-ups with my kids (it's funny cuz it's true). Taking part in the whole March Madness ritual (a.ka. an excuse to drink wine and snarf pizza with friends). Or catching up on the cultural nuances of our time (how else would I know about Cory Monteith's rehab stay if not for US Weekly?).
And, today, a little celeb-surfing led me to discover some truly notable news: It appears Suri Cruise has cut her own bangs.
Collect yourselves; let it sink in. OK, ready? So, People magazine's Moms & Babies celebrity baby blog reports the 7-year-old daughter of Katie Holmes and Tom Cruise appears to have snipped herself some fringe. Which can only mean, "Celebrity kids: They really are just like us!"
I know lots of moms would consider their wee ones taking scissors to their hair a serious nightmare, but I must confess my daughter's own foray into hair dressing was the best thing she could have done for her tresses.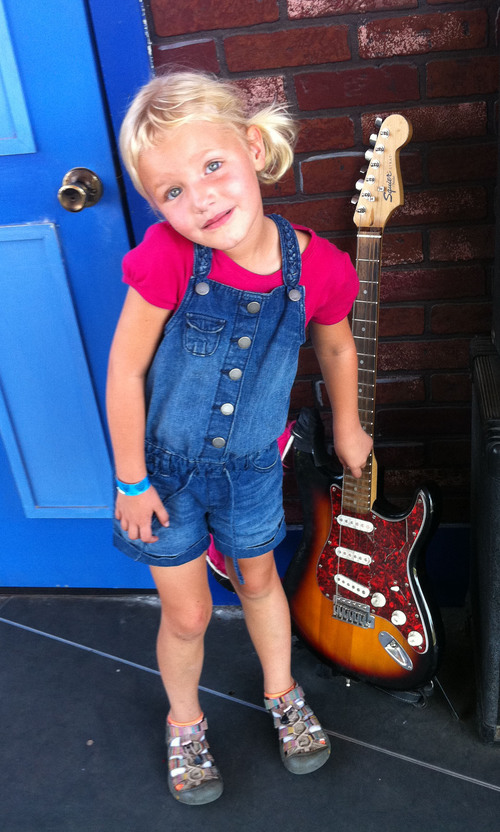 Last summer, when Anna was 5, she decided the cute little braid I'd added to the front of her face needed to come out. "Oh. I just didn't want it anymore," she said matter-of-factly when I asked her why she'd cut her hair.
"Well, where did you find the scissors?" I asked.
"Oh. I just got them from your office," she replied. No biggie.
Turns out, clipping that braid left her with the world's most adorable mini bangs and -- bonus! -- solved the problem we had always had keeping her hair out of her face.
But even if your kid goes all Edward Scissorhands on that mop, there's no need to get mad.
"All kids cut their bangs at some point," Matthew Morris, artistic director of Kérastase, tells me when I called to see how often self-haircuts happen for young 'uns. "It's almost like a rite of passage. I did it. Of course, I had a bowl cut at the time, so I ended up looking like I belonged in Dumb and Dumber. It was not cute."
The big problem with kids cutting their own bangs is they're most likely using dull safety scissors, but that's probably also for the best, Morris concedes.
The good news is that if the cutting is done in the actual bang area, you can do something super-cute on a girl -- like '20s-style micro-bangs with a little bob. On a boy -- not so much. If it's really bad, you just have to shave his head or do something really short all over. If the cutting happens somewhere else -- like on top of the head -- that's a whole other situation.
So, did I luck out on my daughter's handiwork? You bet. But even if she'd really butchered things, I don't think I would have minded. My favorite photo of my younger brother is from around first grade, when he chopped his own hair the morning of school picture day. Classic. It makes me smile -- just like I do when I look at photos of Anna right after she got scissor happy.
And, I'm guessing, Katie Holmes feels the same way.
Lesley Kennedy writes about family, fashion and other trends for the Online Shopping Report on ShopAtHome.com.