Editor's Note: Lesley Blume's piece below originally ran on the occasion of the Obamas' first White House state dinner honoring Indian Prime Minister Dr. Manmohan Singh, for which Marcus Samuelsson was the guest chef. Rick Bayless guest-cheffed their second state dinner for Mexican President Felipe Calderon. (View Samuelsson's state dinner menu here and Bayless's menu here.)
In anticipation of tonight's third state dinner honoring Chinese President Hu Jintao, we thought we'd have a look again.
* * *
Tonight President Obama and Mrs. Obama will host their first state dinner at the White House, honoring Indian Prime Minister Manmohan Singh. Few events are more glamorous than these; they make Vanity Fair's famous annual Oscar party seems like kindergarten in comparison. A thousand egos must perish on the vine when state dinner invitations go out and don't land on certain doorsteps.
After all, as author Peter Schifando says in his book Entertaining at the White House with Nancy Reagan, "a published list of guests is taken as a barometer of who is in favor and who is out."
Social politics (not to mention political politics) aside, state dinners also offer a barometer of another sort: they showcase the state of American culture - and this time around, the world is eager to see Obama-lot revive the glamour of Camelot's grand fetes. After all, state dinners and other similar events allowed the Kennedys to show the world a new side of our country: one premised on youth, chicness, and a uniquely American cultural sophistication.
"State dinners [are] not just an opportunity to show off American hospitality," says one-time First Chef Walter Scheib in his book White House Chef: Eleven Years, Two Presidents, One Kitchen. "They are a chance to parade American food and wine before the world."
For more than 200 years, American presidents and their wives have used state dinners to display the best that America has to offer. In this special edition of my Lets' Bring Back column (which celebrates forgotten events, objects, personalities, and pastimes from bygone eras), I've looked into how some First Couples have touted American cuisine - and by extension, American identity - in the past.
It's fascinating to see how presentation and palates have evolved over the years, and how historical context and presidential personality all influence this facet of American showmanship. Yet one thing has always been consistent: the desire to make a distinct impression.
Below, the Kennedys tout the virtues of aspic, the Franklin Roosevelts scandalize the polite world with an all-American entrée, and George Washington gives new meaning to the phrase "no frills."
State Dinner Menus of Eras Past
On May 29, 1789, President George Washington hosted America's first state dinner, at which ministers from France and Spain were present. A description of this modest event from one of the guests: "It was the least showy dinner that I ever sa[w] at the President's. As there was no clergyman present, Washington himself said grace on taking his seat. He dined on a boiled leg of mutton, as it was his custom to eat of only one dish. After the dessert a single glass of wine was offered to each of the guests, when the President rose, the guests following his example, and rapired to the drawing-room, each departing at his option, without ceremony." This was perhaps an appropriately solemn affair, considering that the leaders of this newly-founded, war-ravaged country were probably still terrified about shaping its future. Another source states that "the Washingtons served good wine, but ordinarily a silver mug of beer stood beside the President's plate, except at state dinners." (Excerpt from Washington After the Revolution, William Spohn Baker [J.B. Lippincott Company: Philadelphia], 1898)

His early state dinners were hardly the stuff of culinary dreams. One source states that President Grant brought with him into the White House a "quartermaster from his army days" to serve as the resident chef. The White House tables of all levels of formality were treated with military democracy: as mess halls. Roasted turkey was apparently served for most informal dinners, and the chef "varied the menu for a state dinner by having a bigger turkey." Things improved significantly once Mrs. Grant took control of things and brought in a chef named Valentino Melah. This maestro turned many later state dinners into 20+ course affairs, featuring: • French vegetable "oul" (a soup) • French croquet of meat • Fillets of beef with potatoes and mushrooms • "Luscious" legs of partidge • Rice puddings and quinces • Some concoction called "Roman punch"

They did so by feeding her a hot dog during an historic official visit in 1939. Many were scandalized, of course, but hey - it was during the Depression, after all.

Practically everything that the Kennedys did when they first swept into the White House symbolized "out with the old, in with the new." This meant not only banishing some dreary Eisenhower-era rattan furniture that had been cluttering up the executive mansion; it also meant showing the country - and the world - that there was a new sheriff in town when it came to entertaining and style. President and Mrs. Kennedy held their first state dinner May 3, 1961, in honor of Tunisian President Bourguiba. Mrs. Kennedy meticulously researched for the event with the State Department Protocol Office and scoured reports of previous state dinners to ensure that this was an impeccable, tone-setting event; President Kennedy also partook in the wine tastings. While the glamorous new First Lady was likely the star attraction of the evening, an elaborate American military panoramic was staged for the guests on the South Lawn, with nearly 500 performers. Determined to show that Americans could be erudite, Mrs. Kennedy infused White House culture with French references, as you can see from certain flourishes in the important evening's (very 1960s) menu: • Medallions of Cold Salmon • Roast Lamb with Vegetables • Salad and Brie Cheese • Molded Strawberry and Vanilla Ice Cream • Petits Fours

There was nothing reticent about the 80s, and the Reagans reflected that in their entertaining. If their predecessors, the Carters, stood for homeyness, the Reagans were all about fanciness. Sequins and hairsprayed bouffants were hastily ushered back to 1600 Pennsylvania Avenue on February 26, 1981, when President and Mrs. Reagan honored British Prime Minister Margaret Thatcher ("the other woman in my life," joked the president) with their first lavish White House state dinner. Vanity Fair later said that this event revived "the connection between the political and the social [in Washington] -- elements many felt had been lacking since the days of Jacqueline Kennedy." There was a dress rehearsal for the event; Mrs. Reagan planned every detail of the seating (the guest list was narrowed to around 90 people to give the event an exclusive feeling) and the 1980s "nouvelle cuisine" menu, which included: • Pompano with champagne sauce • Rack of lamb • Grand Marnier soufflé (an especially 80s touch) • Mixed vegetables, tiny potatoes, and mushrooms

On June 13, 1994, President and Mrs. Clinton held an unusually large state dinner - for 180 guests - in honor of Emperor Akihito of Japan, occupant of what some call the "most formal throne on earth." In the first white-tie dinner since the Reagan administration, the First Couple put up a huge white tent dripping with chandeliers in the Rose Garden. At one point in the evening, President Clinton walked in the garden with Japanese Empress Michiko and sang her the words from "Autumn Leaves." Since the 1990s oversaw the national "fat-free" revolution, the state dinner menu showcased "light and contemporary, regional American" fare, according to then-White House chef Walter Scheib (this was, of course, rather ironic given President Clinton's oft-spoofed predilection for fast food). The courses were largely devoid of butter and cream: • Seared breast of quail with white corn custard, grilled vegetables, and tomato-cumin sauce • Arctic char and lobster sausage with wild mushroom risotto • Field greens with goat cheese and basil baked in phyllo, topped with port wine dressing • Cherry sherbet with almond ice cream in a spun sugar cherry topped with a spun sugar cherry blossom

Hee haw: the Texans were back. On September 5, 2001, President and Mrs. George W. Bush held their first state dinner, honoring Mexican President Vicente Fox - and the menu practically shouted: "No Eastern seaboard pretension here." President Bush heartily welcomed President Fox to the "Casa Blanca" and the evening ended with a whopping fireworks display. The dinner menu nodded both to Mexico's cuisine and President Bush's tex-mex sensibilities: • Maryland crab & pozole chorizo with summer vegetables • Pepita-crusted bison • Poblano whipped potatos • Salad of gold and red tomatoes • Mango and coconut ice cream dome
* * *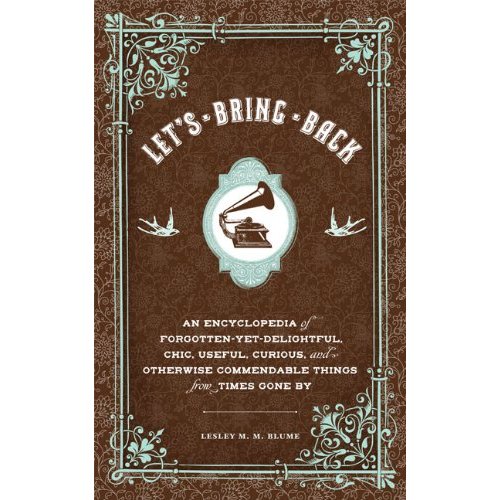 BUY THE BOOK: Click here to purchase Let's Bring Back.
Follow Let's Bring Back on Twitter: @LetsBringBack
For publicity inquiries, please contact April Whitney at Chronicle Books: April_Whitney@chroniclebooks.com
Follow Lesley M. M. Blume on Twitter: www.twitter.com/lesleymmblume