British designer Alexander McQueen was reported dead today. He apparently took his own life. Details are still surfacing -- as are the many emotions that come along with hearing about the unnecessary demise of a tortured genius.
McQueen has been - hands down - my favorite designer for years. I've adored the outlandish elements of his designs - which often ran the gamut from mischievous to iconoclastic. He recently sent models down his runway with garish, bulging red wax lips plastered across their mouths (a commentary on vulgar contemporary plastic surgery habits?); then, last year, he gave us the beast-like armadillo shoe, which scandalized sensible natures across the globe ("How does one walk in those hideous things?," gasped the offended).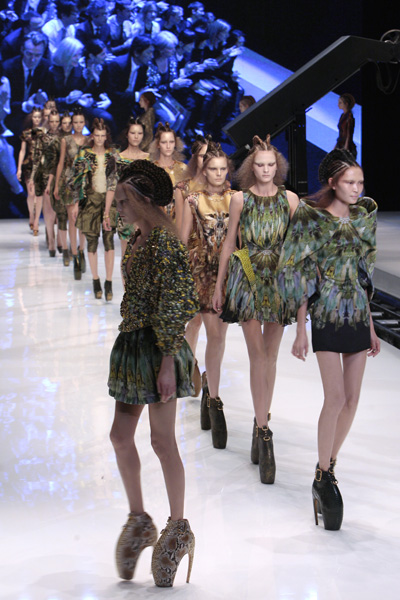 McQueen's death makes me wonder if there simply isn't a place in contemporary culture for such theatrical creativity anymore -- especially in an era in which fashion houses increasingly need to rely on corporate ownership to survive and thrive. McQueen's eponymous design house - founded in the 1990s - was sold to Gucci Group in 2000. Once part of an enterprise like this, the bottom line becomes more important than the line of the dress - and commerce usually trumps cleverness and ingenuity. It's all well and good if Lady Gaga trots around wearing your statement shoes - but unless the masses are following suit, you're toast.
The Wall Street Journal was just as quick to report the news of McQueen's death as any gossip publication. What business analysts immediately wonder upon hearing the news: how will his death affect profits? Might they actually improve with a replacement designer? The paper was quick to point out that "his dramatic designs, such as reptilian dresses and hoof-like shoes, were met with critical acclaim, yet he struggled to get commercial success."
In other words: maybe not such a great investment for Gucci Group after all.
McQueen's mentor and best friend, the lavishly eccentric fashion editor Isabella Blow, also reportedly suffered within the modern landscape of the fashion industry. Like McQueen, she was hilariously insouciant; she once wore lace-covered antlers to lunch with a Conde Nast executive. And like McQueen, she took her own life, in 2007, after finding herself peripheralized in the Brave New World of corporate fashion. In Ms. Blow's obituaries, industry insiders whispered that there simply hadn't been a place for her anymore.
We may never know the personal reasons behind McQueen's tragic suicide - and maybe it had nothing to do with these issues at all. But one reads constantly about how designers today struggle to keep their noses above water, an obligation that now includes - often above all - making money for stockholders on a whirlwind schedule. That pressure-cooker has been and will continue to be the undoing of many promising talents.
As McQueen moves from magazine editorials to history books, he will be sorely missed. Fashion Week has just begun here in New York, and one steels oneself to see collections by so-called wunderkinds that resemble glorified fare from Urban Outfitters.
We will have to search hard to find instances of the joyous eccentricity embodied by the late Mr. McQueen.
SUBSCRIBE TO & FOLLOW LIFESTYLE
HuffPost Lifestyle is a daily newsletter that will make you happier and healthier — one email at a time. Learn more