Like many people, Starbucks is my home office. The walls of my favorite 'Bux are often decorated with brightly colored artwork for sale, with tags that read Arts of Life. I knew Arts of Life was a nonprofit group that helps adults with developmental disabilities to explore the world of art, but I'd never met one of the actual artists ... until last week. Allow me to introduce Dave Ray Krueger, 46, artist and musician (posing in the photo below with a fellow artist's work).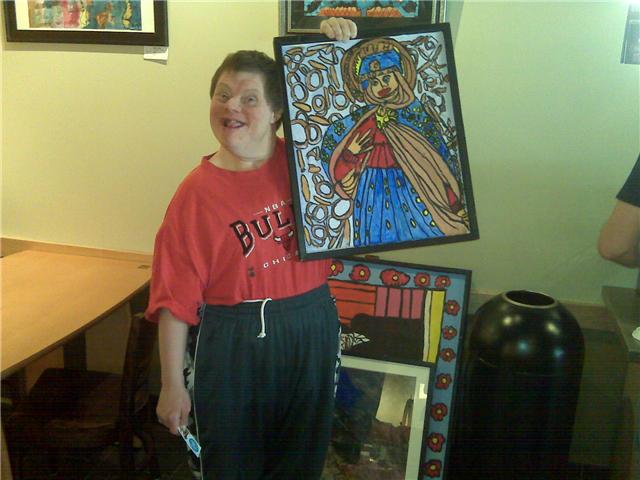 How did you get involved in art?
My mom used to teach me how to paint when I was a baby. We started with pictures, coloring inside the pictures. My mother used to paint and teach me to do sculptures.
So you've been involved in art your whole life?
Yes! My brother, Gary, was an artist, too.
What was it like the first time you saw your artwork hanging in Starbucks?
I liked it. I think it was fascinating. I was devastated. (Me: "In a good way?" Dave: "Yes.") I was surprised my paintings went up. I was so excited to see my painting the first time. I want to learn how do magazines, newspapers, TV. I make my own comic books, too.
Have you sold any of your paintings?
Yes! I sold two of my comics and two of my paintings - Tornado Shocker and Rocketman Saves Christmas.
What do you like to draw?
Anything that comes to my head. I like big windows, different shapes and sizes. Easter Eggs in a basket with a bunny rabbit.
What inspires you?
I'm inspired by God. God gave me the wisdom to do painting. My mother's an angel know and I want to be like my mom, an angel.
What do people say when they see your work?
They are surprised with what I've accomplished. Everybody says I do good work with my painting. I get credit for each comic and each painting. I'm making a lot of money now.
Have you made any friends through Arts of Life?
I've got two amigos - Mike and Steve.
What's your next project?
I'm going to paint something on Memorial Day. Maybe go out, have a barbecue. And paint that. A painting about anything in Chicago. Maybe a Water Tower or Sears Roebuck.
And you're in charge of media relations for Arts of Life, correct?
I talk to reporters, yes I do. Just like anybody. They've even made me a tour guide.
Do you have a website?
Yes. It's http://www.artsoflife.org/artists/david-krueger/ I'm in a band, too - the Arts of Life band. (His newest song is a still-untitled number about Obama and ending the violence in Pakistan.)
Arts of Life's Summer Exhibition is June 20 at 2010 W. Carroll in Chicago from 6-9pm. The Arts of Life band will play. Be sure to check out their web site to view all artists' work.