Several weeks ago, Cumberland Island National Seashore's Chief Ranger announced that park administrators had given final approval for motorized vehicle tours in the park, some months after an environmental impact study indicated that motor vehicle tours would cause little damage.
Russ Bynam of the Associated Press explains: "that means the tours can start rolling as soon as Cumberland Island gets funding for extra staff and to buy tour vehicles -- likely trolley trailers towed by Jeeps capable of handling the island's rugged and narrow dirt roads."
While on the surface this might sound like a fairly benign event to some readers, it's a profoundly big change for visitors who go to the island. It could ultimately demean the spirit of the national park in my opinion, and take away what makes the island special.
If you've never heard of Cumberland Island, it's a beautiful place located in southern Georgia. Considered to be the most undeveloped barrier island on the east coast of the United States, it is rich in wildlife, well-known for wild horses, and also sports a layered history that among other things has left a crumbling, overgrown Vanderbilt Mansion. About 25% of the Island is designated as a wilderness area, and the only way to get onto the island is by boat. The National Park Service allows a limit of 300 visitors per day to the 18 mile long island. Despite having such a high level of protection, some private residents still live on the island because they or their relatives owned land prior to the creation of the National Seashore. Several dirt roads are present on the island for extremely limited use of vehicles-- but that will now change.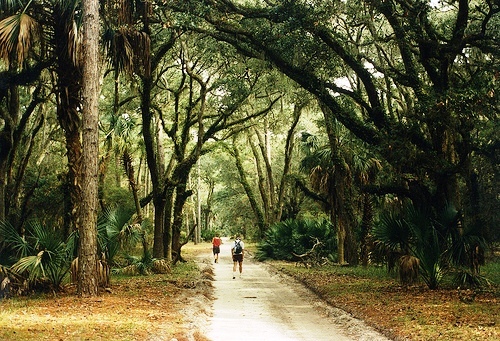 In 2004, U.S. Representative Jack Kingston (Republican-GA) pushed through legislation to mandate motorized tours to the northern parts of Cumberland Island under the rationale of "opening up" the island for everyone to see historical sites like the "Settlement," a freed slave community from the late 19th century, and also a church where John F. Kennedy Jr. was married in 1996. Kingston complained that it was too challenging for people to walk the long distance to these sites. The Atlanta Journal Constitution quoted him as explaining:
"The way it was, only an 18-year-old backpacker could walk the 13 miles up the trail to see some of these historical sites. This island is not paid for by some of the taxpayers for some of the people. I don't think John Q. Taxpayer should have to walk 13 miles to see Plum Orchard."
Just out of curiosity, anyone know an 18-year-old who would be interested in seeing where John F. Kennedy Jr. was married? I don't.
Despite Kingston's success at pushing for legislation to allow motor tours on Cumberland Island, there was one problem. The main road on Cumberland Island traveled within the park's wilderness area-- an area where motor vehicles are legally banned. To "fix" this problem, the road was removed from the wilderness area under which it had previously been designated.
Many people protest this move and ask that the wilderness protection remain intact. Motor tours should not be allowed on Cumberland Island they say. These protests have so far not been effective. Meanwhile, Representative Kingston and his supporters have dismissed the protests as those of "elitist environmentalists."
So just who are these elitist environmentalists? In the public scoping process for the island's new transportation plan, 40% of the 2,227 comments received from individuals and organizations were against the motor vehicle tours. Only 14% of the comments voiced approval for the tour idea. 41% agreed to motor vehicle tours conditionally, and 5% were undecided. Just what were these conditions that were tied to some commentors' approval? The park's final report from the public scoping process does not offer much elaboration, but one detail is glaring. From the official document:
"Commentors were both for and opposed to the use of buses, SUVs or other gasoline powered vehicles. However, commentors opposed to the use of gasoline powered vehicles outweighed those in favor by 13: 1. Support for electric vehicles was given almost as often as people expressed their opposition to gasoline powered vehicles."
So, we are getting jeeps, huh? Gasoline powered vehicles were therefore a mode of transportation only favored by an elite group in the public scoping process. Why has the one condition (using electric vehicles) that seemed clearly articulated by the masses at a ratio of 13 to 1 been disregarded?
I haven't taken time to study the Environmental Impact Study that occurred on Cumberland Island, but I am somewhat skeptical of its certitude for one good reason. Gordon Jackson of Jacksonville.com provides us with a troubling tale:
"The island has been without a full-time superintendent since July 2007 because former superintendent Jerre Brumbelow was reassigned to an administrative position in Atlanta while the Park Service investigated an unauthorized construction project on the island. Brumbelow was later dismissed for allowing the construction to proceed without telling his superiors."
Wow! So it sounds like the park was in good hands when these decisions and studies were being made (If you can't tell, I'm being sarcastic).
While it might be accurate that there would not be an ecologically significant impact on Cumberland Island because of motor tours, there will most definitely be a significant impact on the experience. As a person who has spent much spent of my career working as a ranger and researcher in national parks, I can attest that this will be so. Now visitors will need to contend with noisy jeeps, large groups making more noise, and the sight of tours going back and forth along the park's main road constantly. There will be an effect. If the motor tours are effective in attracting more visitors to Cumberland Island, who is to say that there won't be pressure to increase the 300 person daily limit? If the number of people visiting the island each day were to increase, this change would be a definitive environmental impact directly related to the motor tours. I don't think it's a stretch to imagine this happening.
So tell me, why don't we start motor vehicle tours to other places in our national parks that require some hiking? Walking takes too much time, right? Representative Kingston, looks like you have some work left to do. The best part, you don't have to worry about spoiling your 0% rating from the League of Conservation Voters.
As a final note, I should mention that I've personally enjoyed the privilege of camping overnight on Cumberland Island. I have pleasant memories of strolling its beaches with a friend and recall studying the horseshoe crab shells that had washed ashore. The lush mossy forests left me content and seeing the wild horses was delightful. Most of all, I still remember thinking about the utter primitiveness of armadillos, odd creatures that jump straight into the air and then run only a short distance away when scared. They really are fascinating.
Let's hope that the wild experience that I and many others have had on Cumberland Island remains intact. The tranquility and natural beauty that can be observed by walking on the island does not need to be enhanced by motor tours so that a handful of people can see the rather insignificant spot where John F. Kennedy Jr. was married.
There's still time -- and always will be. Please contact your Representatives and Senators and tell them that you don't want for motor vehicle tours to be allowed on Cumberland Island. Nothing is set in stone.
SUBSCRIBE TO & FOLLOW THE MORNING EMAIL
The Morning Email helps you start your workday with everything you need to know: breaking news, entertainment and a dash of fun. Learn more