Newspapers today are talking about the 5.8 earthquake that shook up the northeast and the big apple yesterday; however are news almost 5-6 hours after the fact just too late to tell? In a world of social media and instant gratification, people have grown to expect instant communication. Platforms like Facebook, Twitter, Foursquare and others, have transformed the way people interact; therefore presenting a unique opportunity for businesses and brands to jump into the party.
Who would've thought that 140 characters could go so long? If done well in Twitter, 140 characters can include breaking news, a shorten URL, a #tag trending topic to track and the names of top influencers to share the news with instantly. So the question today is: as the earthquake and other life events happen, should businesses jump into the conversation? Let the numbers do the talking: Twitter reports close to 200 million registered users and over 50 million tweets per day. Also, keep in mind that Latinos and African Americans are the most active Twitter users. Latinos hold the number two spot with 19% using Twitter led by 25% of African-Americans. Only 9% of mainstream (non-minority) internet traffic use Twitter. Latinos are changing the world of twitter and Latino focused conversations like #LATISM have become a popular #tag to unite the conversation of Latinos in Social Media.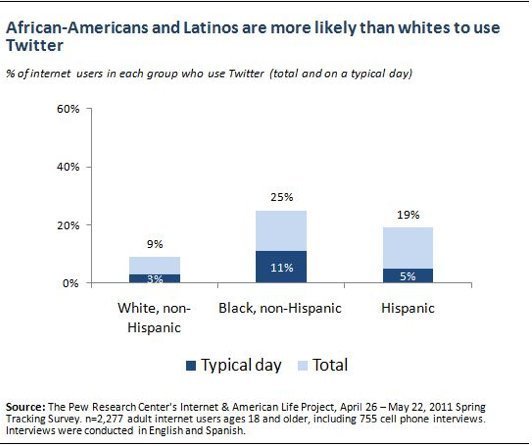 According to a New York newspaper, rattled East Coasters rushed to file dispatches on Twitter, with tweets hitting 5,500 per second - more than after the death of Osama bin Laden in May and similar to the Japan earthquake and tsunami in March. I wonder how many brands used the #earthquake hash-tag as part of their messaging yesterday. Also remember that many smaller events have turned into national news thanks to the power of Twitter, like the famous Bronx Zoo Cobra with over 227,713 followers.
So, why not jump into the conversation? While businesses and brands are flipping sophisticated insights reports and crafting the next "big idea", maybe relevancy can simply be reached by jumping into the everyday conversations that move people. Of course, there is a science to it; everything must be grounded on relevancy, brand alignment and authenticity to be successful.
So, as the northeast shakes up, I figured there was room to at least spark the conversation on the "opportunity" to jump in. Sometimes as businesses we spend too much time talking about ourselves or promoting our message, when sometimes listening and riding a universal "buzz" may be more powerful than creating our own. I'd like to call it opportunistic-social-marketing.
So what to do now? Maybe it is a good time to ask of your digital and/or PR agency what their strategy is for leveraging life events in social media as part of your communications' strategy. Also, there is an opportunity to ensure your daily monitoring includes monitoring of top #tags and trending topics for opportunistic conversations. And finally, simply dare to say something next time! A very simple message that re-tweets the news feed or just shares sympathy goes a long way to connect with your audiences.
___
Follow Lili on Twitter @liligil