Although not a delusional madness like that of his glorious character Poprishchin, mincing around the stage like a "frightened insect on an agar plate", Geoffrey Rush is mad too, mad about good acting.
During this talk Rush, nominated for an Academy Award for his role in The King's Speech, had no glittering statue on the table, but instead a jar of Vegemite "to make him feel more at home". Vegemite - an overpowering, dark Aussie spread for toast, is used (for those in the know) as the dog shit smeared on Poprishchin's doggy love letters.
Dressed in jeans, a raspberry beret and flip-flops and speaking in a sexy Antipodean drawl he complimented his New York audiences for being "charged on a different level." Adding: "I love going online and reading their blogs." Well Geoffrey, if you're reading, thank you for your marvelous insight - about the Classics, clowning and the colossal size of your .. talent.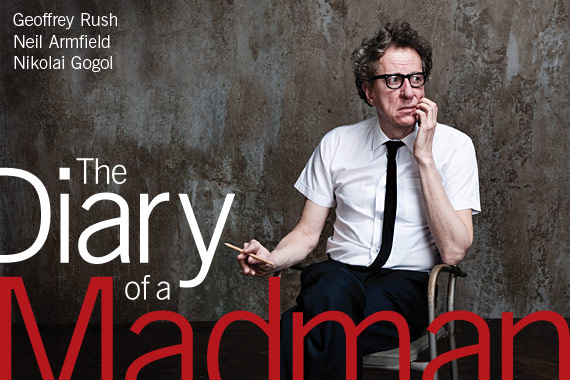 courtesy of BAM
Growing up in the 60s in Australia there was little to inspire an acting career. Australia (unlike it's silent picture heyday) had no film industry, and only a small theatre scene: "Both a curse and a blessing."
So at school Rush never dreamed that he'd end up an actor; "perhaps a radio announcer or a teacher". Of university where "the Trotskyists got into bed with the thespians" Rush tells this story: "Every student production had nudity and the audience rather expected it, so before the start of one of our shows I came out front and said 'Welcome. Look, - I know you're expecting someone to take their clothes off', whilst quickly stripping naked there and then. The head of Australia's best theatre company happened to be in the audience and thought I had a huge ... future, so he asked me to join."
As a young actor he heard a film producer comment, 'I've never seen white hot acting on the Australian stage'. Rush thought - 'Just give us some time'. He went on to train at the world's top mime school - The Le Coq Institute in Paris - and learnt "human locomotion, stylistic comedia, the psychology beneath it, mask work and clown." Rush has now taken over the title of consummate clown on Broadway from heavenly Mark Rylance in La Bete.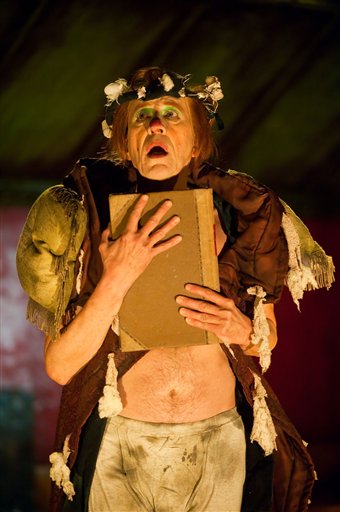 courtesy of BAM
He first played in Diary of A Madman at The Belvoir Theatre in Surrey Hills, Sydney twenty two years ago. The Belvoir is close to his heart, bought and owned by a collective of artist friends, he has acted and directed there for several decades. Armfield, Artistic Director since 1994, also directed Rush in his Tony Award winning performance in Exit The King at BAM. Rush explains: "During the first run of Diary there were lots of one-man shows on in Sydney which were 'a dark brown night in the theatre', some guy being a prick in a depressing costume."
Rush and Armfield wanted to break the cliche. They looked at a visiting company from Georgia doing Twelfth Night " without the Englishness but with the truth", Armfield asking: "How do you convey what it is to be up and drunk when the sun comes up, to feel the shift of psychological reality within?" His answer? Through physicality. Through bleeding out humanity. They looked to the Classics for "characters pushed to extremes". Rush observes that Armfield's productions are so often "roared at with approval" as he succeeds in taking actors and audience into confrontational and demanding territory.
Rush explains he constantly seeks out the "grubby corners of the Classical Rep, the plays between the stove and the fridge - where you find the waxy grease, even a pubic hair."
Previous plays at Belvoir included The Alchemist: "which shows conning people is timeless", an adaptation of The Marriage of Figaro: "an inversion, servant becomes master" and Aristophanes' Frogs - " I wanted to know what jokes were like 24,000 years ago - I found they were exactly the same as Curb Your Enthusiasm."
When asked how he summons the energy for this current tour-de-force, he replies: "Americans at the stage door ask - do you do pilates or hot yoga to stay in shape? I say - No, I do this show. The Physical language for this part has to be as articulate as vocabulary."
Rush believes virtuosity in the theatre is rare - he says he has seen only five truly astounding performances in his life. Private life and 'celebrity' are not important - just maintaining a career - and playing all parts in rep, big and small.
Modest & funny about his great film success, he comments "My strength is never to be at the centre of the circle."
"Shine - if you think about it - is just about a Jewish guy from Perth who married an older woman. People say - you were great in The Shining, or you were great in The Piano.
It can be exhausting, flying over for the Golden Globes etc, but I don't get buried in negative thoughts, every night is fresh - every night I really wish to be here on stage."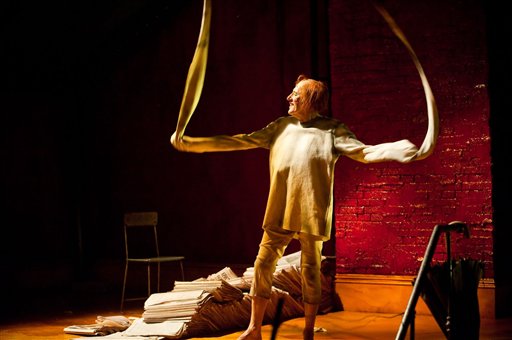 courtesy of BAM
The talks end with a reflection on madness. Rush proposes perhaps Gogol anticipated the social isolation that so many people experience today. Poprishchin suffers the modern malady of obsessing with the details of fame. His ambitions are ridiculous, dreaming of being the King of Spain as he lives locked in the Russian class system as a low ranking clerk. Rush compares it to the contemporary mantra: "Just let me go on that reality Tv show and I'll be famous."
He concludes: "These deluded suburban circumstances, people claiming, 'I'm a major alternative performance artist rockstar - in my own mind.'" What is madness after all?
SUBSCRIBE TO & FOLLOW CULTURE SHIFT
Every Friday, HuffPost's Culture Shift newsletter helps you figure out which books you should read, art you should check out, movies you should watch and music should listen to. Learn more