Hailed by many as one of the most important International theatrical events of recent years -- there is still time to catch The Great Game: Afghanistan here in New York. An experience not to be missed. Below, meet two of its talented British ensemble.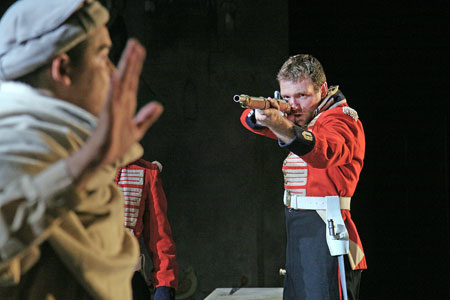 Through the eyes of twelve leading British and American playwrights and the voices of those actively involved in the war and on U.S. and NATO policy in Afghanistan, The Tricycle Theatre Company's The Great Game: Afghanistan explores, in three separate thrilling and provocative parts, the culture and history of Afghanistan since Western involvement in 1842 to the present day.
Oskar Eustis, Artistic Director of The Public Theatre, comments:
"We normally have resistance to bringing over British theater to New York, but we were so blown away by the ambition and the achievement of (Tricycle Artistic Director) Nicholas Kent's The Great Game that we have invited this amazing theatrical event to make a home with us... Funny, chilling, theatrical and wildly informative, we promise you will leave this theatrical hurricane wiser than you came in. This is must-see theater for every American who cares about what we are doing in the world."
A talented ensemble of fourteen actors perform all roles, as they approach the culmination of this incredibly ambitious project, two residencies at The Tricycle in London and a fifteen week American tour, British actors Tom McKay (Frost/Nixon, Donmar Warehouse/West End; Henry V, Mother Clap's Molly House, National Theatre; Macbeth, Lord of The Flies, RSC) and Daniel Rabin (Chicken Soup With Barley, Tricycle; The Fever Chart, Trafalgar Studios/Theatre Royal York; Enemy Of The People, Arcola) play a wide spectrum of characters from a British bugle player at The Gates of Jalalabad in 1842 to Amanullah Khan, King of Afghanistan 1919-1929. Here they discuss their experiences:
How has this project differed from others you have worked on?
Tom: The amount of research required at the outset was certainly much greater than most. One of the objectives of the cycle is to educate and inform people about Afghanistan's political and cultural past (and present); the reason for this was that Nick Kent felt it had become ignored as it fell into the shadow of Iraq and that people knew very little about it. I was certainly guilty of this so had to do a huge amount of research during and prior to rehearsals.
Dan: Size really. I've never really worked on something so big before, at the end of one rehearsal for one play, you'd be running around the Tricycle trying to find the rehearsal room for the next. But it was incredible the support and humour that would be in the room. Even the work load, which was for a three and a half week rehearsal period pretty huge, there were a lot of laughs. When you work on a subject that at times can be so depressing as a group you counterbalance it with humour.
What does this project mean to you? What do you most enjoy about your involvement?
Tom: While we are under no illusions that a single piece of work can change the world, I think the sense that, in however small a way, we are doing something to inform and enlighten people about the complexities of Afghanistan and our involvement there is very rewarding. Certainly, the more I know the more confused I get and our job is very much to raise questions as opposed to answer them, but when you do a Q&A after a show and people are genuinely fired up and engaged by what they've seen, then I think we have done our job. There's no doubt that that feels in some way more significant than doing a straight forward drama which might not have the potency and immediacy of a subject like Afghanistan.
Dan: It's great to be involved in something that is greater than the sum of its parts. There is not one play that consistently stands out as the audience favourite, different people go for different plays, in the same way there is no actor that has significantly more to do than the others, so that means that every ones involvement and investment is the same, when one person is playing the lead in one play the other is moving furniture about the set and visa versa. My favourite thing about this is being involved in a proper ensemble cast, which is quite rare.
How have audiences in different venues responded differently? Especially UK vs US?
Dan: From London to the States the main difference is reactions to the parts where their country was involved. Part three, which starts with 9/11 and follows into operation Enduring Freedom, seems to have much more relevance here than at home, and therefore the reaction and plays have more potency.
Tom: There is a tangible difference in response for all sorts of reasons in each venue, ranging from the size of the audience, the place you're in and even the night of the week you're playing. For example, a trilogy audience tends to be much more engaged and up for the challenge than a single part audience; a DC audience tended to be much more politically-minded than most and would respond much more to the politically motivated material, whereas a Berkeley audience might respond much more towards the impassioned left-leaning pieces. The New York audiences tend to be much more similar to a London audience, which is unsurprising given the volume of theatre in both cities.
Were there challenges in making material of this nature dramatic and emotionally alive?
Tom: The real challenge in this respect was for the writers; when your remit is to deliver a cycle of plays which cover the political history and cultural complexity of a country like Afghanistan, it would be easy for any sense of drama to be lost in a wave of information and exposition, but they made our jobs very easy by delivering 12 rich, character-driven stories which are stylistically very diverse; this makes it much easier to play as actors, in spite of the difficulty of the subject matter.
Dan: Some plays were easier to 'create' for the stage than others. Some have an awful lot of information in them that needs to be given to the audience and others are there to make the audience connect emotionally. The latter are easier to work on because as an actor an emotional through line is where you would naturally start the work. The harder plays to work on as an actor are the former, where you have to search for an emotional through line that isn't obvious. If you're playing a real life character in this situation, for instance as I do in Honey, where I play Ahmed Shah Massoud, then that's when you rely heavily on research.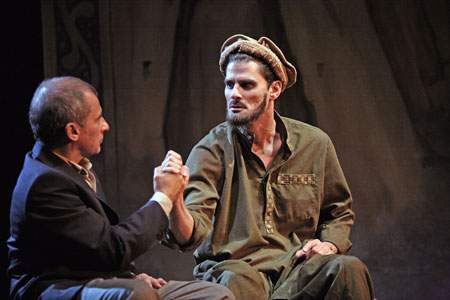 How do you approach playing real historical characters?
Dan: Research. Some characters are easier than others because there is more documentation of their lives. I bought a lot of books because I wanted to start with the history of the country and then to research characters once I had an idea of where they were from and the position from which they would be coming. Once I'd done that I started on each character individually. Reading books that Nick Kent suggested to me and also YouTube is great tool because you can see footage of the real people, hear their voices and watch them move.
Have you enjoyed being in an ensemble?
Tom: On a pastoral level, the thing that has kept this job so much fun has been the ensemble. On a project where you basically need all bases covered by having as broad a spectrum of actor possible in terms of age, ethnicity and gender, you could end up with 14 people who have nothing in common and don't gel.  In this case, the fact that we are all very different has been one of it's biggest virtues and during casting, Nick, Indhu Rubasingham (Co-Director) and Rachel Grunwald (Assistant Director) managed to achieve that weird alchemy where, for whatever reason, the cast all get along brilliantly and have SUCH a laugh together. Which is very important when you are all crammed into a small dressing room for a whole weekend!! The other thing is that by definition there is no hierarchy because one minute you are carrying someone's chair, before playing a lead, before helping someone with a quick change, so there is no room for anyone being precious or demanding!
Does it get tiring? 
Dan: Not as tiring as one would think. The actual doing of it, ie when we're on stage is not, what I find exhausting is the build up and down to each play. Also, we're at the end of a long job, it's that that is tiring, we've been on the road with this for 3 and a half months, it's a long time to be living out of a bag, I think most of the exhaustion that is felt is from that. We're all a lot more tired now than at the beginning of this tour.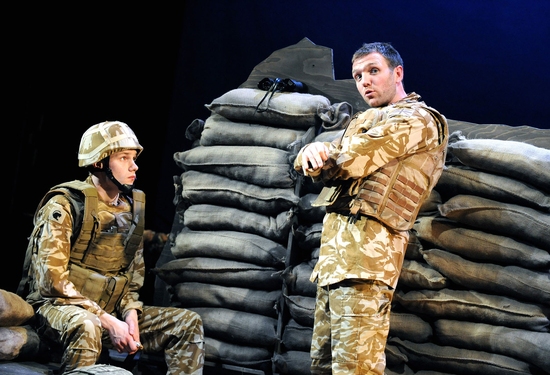 If you were to work on another project of this scale, which country/history/issue would you like it to address?
Dan: Israel/Palestine. India/Pakistan. It's interesting, I have a line in one of the plays where I play an ex president of Afghanistan who is being interviewed: 'Every blood conflict in the world today has its origins in the imaginations of British surveyors'. The British empire would be an interesting topic.
Tom: I think I'd have to leave that to the expert, Nick Kent -- he has an amazing ability to identify topics that are immediate and in need of urgent attention, but often ignored. That's what he's been doing at the Tricycle for years, and I know he has a few very exciting ideas up his sleeve, so watch this space.
The Great Game: Afganistan runs at The Skirball Centre, produced by The Public Theatre, until Sunday, December 19th, 2010.
SUBSCRIBE TO & FOLLOW CULTURE SHIFT
Every Friday, HuffPost's Culture Shift newsletter helps you figure out which books you should read, art you should check out, movies you should watch and music should listen to. Learn more