Typically, when discussing their social media use, big brands typically focus on their primary social media channel: Facebook, Twitter, and Instagram; any product or sub-pages are an afterthought. However, for Mandarin Oriental Hotel Group (MOHG), a chain of upscale properties located in global cultural capitals, the focus is balanced between brand and property. With hotels located in diverse cultural contexts all over the globe, the brand smartly balances control with the main brand pages and individual properties. As each property is uniquely tailored to the individual market and its guests needs, the social strategy for Mandarin Oriental must be crafted in an equally thoughtful manner.
I spoke with Mac Joseph, Senior Manager of Social Media Marketing, about its unique strategy. Joseph's insights revealed the incredible orchestration of regional content generation and shared responsibility between corporate and hotel locations. An execution of this type clearly requires much planning.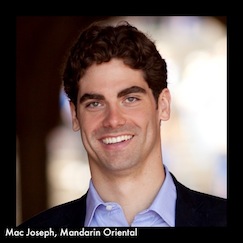 Regional Expertise. Empowering the regional locations to share insights and regional content has been a core strategy. Joseph shared, "There is very little centralized control, leading to a freedom of local expression that has been integral to Mandarin Oriental Hotel Group's strategy from the very beginning. As a brand, it is of course important that we maintain consistency among certain areas of social media participation, such as naming structures and account designs, so that each piece is clearly a part of the whole. As a corporate body, we also provide best practice guidance and recommendations so that each property has access to the same tools and technologies for effective account management. Beyond that, the unique flavour of each property page serves to emphasize that we are a collection of unique properties reflecting our shared heritage expressed through local lenses." Also, as a savvy social media marketer would mandate, the traditional Western social channels are augmented with regionally-accepted social networks like Weibo. Deep understanding of local markets and regional empowerment has proven successful in the execution of Mandarin Oriental's strategy.
Planning and Execution. Joseph indicated that carefully selected channel strategies paired with a consistent voice across social channels have been core goals of the marketing team. According to Joseph, " We have never really looked at our social media voice as an adaptation of tones used elsewhere, such as in press releases, email marketing or on mandarinoriental.com. Effective social media marketing begins with a genuine understanding of the media. For example, prior to launching MOHG's social media strategy in January 2010, we spent 7 months analyzing the specific platforms (Facebook, Twitter, etc.), trying to understand the true motivation behind user adoption. What are they hoping to get from Facebook? Does Twitter offer something entirely unique? How do brands inside and out of the travel vertical communicate with their audiences? Where are they succeeding? Through the answers to these and a seemingly endless number of other questions, we were able to identify an approach, including a voice, that is appropriate for each channel and uniquely Mandarin Oriental. "
Agile Social Response. The social media team has found that the dedication of the firms' employees has made a natural cascade for nimbly responding to customer questions. Joseph elaborated, "Our two-tier structure to the global Facebook and Twitter accounts helps to organically funnel local questions or issues to the appropriate property most equipped to address the question or issue. When location-specific questions arise with the brand pages, we are always quick to connect with our colleagues in that destination who are best equipped to offer guidance."
Thus, a guest checking into a Mandarin Oriental Hotel or visiting one of its regional social media accounts will find an experience tailored to his or her specific regional market. Rich information and a deeply embedded understanding of the local culture and the hotspots of the region are the norm for MOHG. Navigating local cultures has long been a challenge for international marketers, but Mandarin Oriental's commitment to embracing regional cultures and providing service levels in social channels equal to those found in the hotels themselves has clearly paid off.
This post is part of my ongoing investigation into the Connected Consumer. If you would like to share how you use mobile and social technology as part of my Ph.D. program research, join the study online.