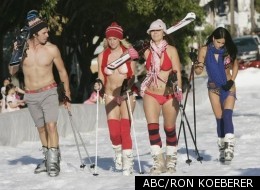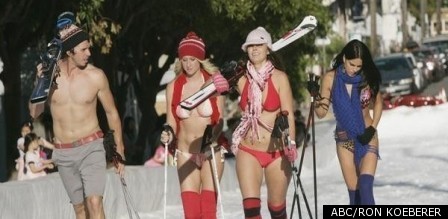 Note: The following contains spoilers if you have not seen Season 16, Episode 3 of ABC's "The Bachelor."
I began rolling my eyes roughly three minutes into last night's episode of "The Bachelor," fearful that the show was losing steam early into the season. It's week three and Ben already has Emily, who is studying to secure her PhD in germaphobia, scaling the steep incline of the Golden Gate Bridge. Not a single viewer watching was surprised to learn that Emily had a fear of heights and the process of overcoming this fear with Ben is a direct metaphor for their nonexistent relationship. Both blabbed on about "getting through this" and "overcoming challenges together will make us a stronger unit" and Emily even went above and beyond this tired scenario by saying that "bridges bring two things together."
I took a sip of my beverage of choice and wondered if the producers scripted that line so this date wouldn't sound exactly like Jake and Vienna's bungee jumping adventure however many seasons ago.
Fortunately, ABC threw me a massive curve ball with the remaining 90 minutes of the show, proving that they will stop at nothing to keep this game in extra innings.

TOP FIVE SAVES IN SAN FRANCISCO
1.Snow Skiing In Streets
Ben has always wanted to snow ski in San Francisco. Who hasn't? It's a good thing the fine folks over at ABC made the intern do his bidding. After some blatant Honda product placement, a gaggle of ladies freaked out at the sight of a snowy street, mercifully lined with rows of protective hay bales and innocent bystanders. FUN! And who wouldn't want to speed down the manufactured slope in nothing but a string bikini? Sign me up! Hands down, the most entertaining part of the date was when Kacie B. accidentally, but gracefully, managed to bend over and ski backwards down the hill while holding on to her own ankles. With the bounty of boobs and butts whizzing by, onlookers were likely convinced they were watching a scene from the upcoming adult film "Debbie Does Downhill." You can imagine one mom's disappointment when she learned that this exhibition would be available on primetime television in January. Wholesome education for the whole family!
2. Like Ashley, Nana's Granddaughter Also Manages To Reject Ben
Nana's Granddaughter received the second one-on-one date along with a fake key to the city disguised as a piece of Neil Lane jewelry. Nana's Granddaughter was not feeling the love for our Bachelor and decided to be true to her heart by leaving before the date. First Impression Lindzi managed to not be offended by her JV status and even thought Ben was super cool for arranging a private concert in City Hall for just the two of them. We can only assume the place was so dark because several people were scrambling to yank the "WELCOME BEN AND NANA'S GRANDDAUGHTER" sign from the balcony. At last! The super special musical guest! Was it Ben's piano muse David Gray? Was it "American Idol" season eight winner Kris Allen? Was someone ever going to tell us who that dude was singing? Ben finally let the cat out of the bag and announced that Matt Nathanson was the somewhat obscure, yet trendy artist. A quick Google search will remind you that he sings that "Come On Get Higher" song which remains in your head until this very moment. Meanwhile, Nana's Granddaughter sold a certain piece of "Bachelor" history on eBay for $40 to the highest bidder. That should buy a few batteries for Nana's hearing aids. Silver linings are cool.
3. Bring Back A Former Contestant
The best part about the former contestant, was that this was a girl from another season. Shawntel, the funeral director from Hotter Than Crap Brad's escapade, was totally in love with Ben, called Harrison and demanded to be a participant in the rose ceremony. Always eager for a good laugh, Harrison obliged by taking his stick and poking the beehive ever-so-slightly. Shawntel was not welcome into the fold and ABC's swear sensor worked overtime. Nicki was drunk, hiccuping between cries. Jugs McGee heaved her bosom in angst. Elyse the Personal Trainer was going to punch someone if a bag was not soon provided. Courtney the Model threatened to walk and on a scale from one to 10. And Jaclyn was going to throw up, although she never actually gave us a number in order to gauge her likelihood of hurling. Clearly, the wheels have all fallen off this crazy train. It was glorious.
4. Have the Lawyer Faint
Erika Esquire began to feel a touch woozy at the rose ceremony. I'm guessing that she didn't follow the age old rule that you never stand at a rose ceremony, wedding or pageant with locked knees. Or it could have been that it was approximately 4 a.m. and she was on a steady diet of appetite suppressants chased with bourbon for the past nine hours. Jamie the Nurse was available to offer all sorts of medical advice. Too bad she couldn't crouch down beside the attorney and offer her full support due to her tight cocktail dress. Shawntel called dibs on the body if things went south, but Erika ended up being fine. Nothing a few saltines and some time with her head between her knees couldn't fix.
5. Don't Hand Out the Final Rose
Ben milked the last rose for all it was worth. He told the remaining three girls that they were aces before sending them all home bud-less. Jaclyn stormed into the bathroom. On a scale of one to 10, she hyperventilated. Esquire Erika was checked for a pulse before an intravenous line was inserted. Ben walked Shawntel out to her car to say goodbye. The two agreed to be alliances on the next "Bachelor Pad" before fist bumping and blowing it up.
You pulled me back in ABC. It was a stellar final hour. Here's hoping next week's episode does not disappoint! To read the entire recap, visit www.iHateGreenBeans.com.
"The Bachelor" airs Mondays at 8 p.m. EST on ABC.
For more on what to watch this week, check out the slideshow below:
What To Watch: TV Picks For January 16 - 22
"Alcatraz" (8 p.m. EST, Fox) two-hour series premiere Produced by J.J. Abrams, this moody mystery series combines procedural elements with a hint of supernatural suspense. Detective Rebecca Madsen (Sarah Jones) and Alcatraz historian Doctor Diego Soto (Jorge Garcia) team up with a secret agency that is dedicated to finding and catching inmates from the infamous prison who went missing 50 years ago and have begun reappearing today.

"Betty White's Off Their Rockers" (9:30 p.m. EST, NBC) series premiere Have you ever imagined a show like "Punk'd," but instead of Ashton Kutcher and Dax Shepard jumping out to humiliate a celebrity, Betty White and a band of "sassy septuagenarians" prank youngsters instead? No? Well, White and NBC made a show about it regardless, taking the hidden camera concept to another level as senior citizens target unsuspecting bystanders for stunts and sketches.

"Lost Girl" (10 p.m. EST, SyFy) series premiere A young woman (Anna Silk) discovers that she has dangerous supernatural abilities, and must choose between a life of light or darkness as she tries to unlock the mysteries of her past. (Read The Huffington Post's TV critic Mo Ryan's thoughts on the sexy supernatural drama here.)

"Remodeled" (9 p.m. EST, The CW) series premiere The CW's newest reality show centers around modeling industry veteran Paul Fisher as he tries to bring together hundreds of small agencies around the world in a new venture called The Network. He has two missions: to make sure agents in small towns no longer get screwed, and to empower models to take control of their careers and lead healthier lives.

"Justified" (10 p.m. EST, FX) season premiere Timothy Olyphant's critically-acclaimed drama returns for a third season. The arrival of a dangerous new player in Lexington puts Raylan on a collision course with a sadistic Dixie Mafia hitman.

"Southland" (10 p.m. EST, TNT) season premiere Sadly for those that don't own a DVR, TNT is premiering the long-awaited fourth season of the gritty police drama right opposite "Justified," and both are equally worthy of your attention. Officer John Cooper returns to duty after recovering from back surgery and meets his new partner, Officer Jessica Tang (special guest star Lucy Liu), a tough and disciplined cop with her own set of baggage from working the streets. Elsewhere, Lydia, whose new partner is Ruben Robinson (guest star Dorian Missick), can't seem to escape helping a former CI who won't stay in safety.

"White Collar" (10 p.m. EST, USA) And, as if 10 p.m. wasn't busy enough, "White Collar" returns from its midseason hiatus with one hell of a mystery: Where is Elizabeth Burke? Neal and Peter must race to rescue her from Keller, who is demanding the U-boat treasure in exchange for her release.

"American Idol" (8 p.m. EST, Fox) two-hour season premiere The ratings juggernaut returns for another year with a fresh crop of hopefuls lined up to audition and the eclectic panel of Jennifer Lopez, Steven Tyler and Randy Jackson poised to narrow them down -- hopefully without deafening us all.

"Happy Endings" (9:30 p.m. EST, ABC) Jane convinces Penny to stop changing herself for every guy she dates, and instead to change the guy to suit her needs. Penny's first experiment is Jeff (guest star Ryan Hansen), a slacker who is 30 going on 20. Meanwhile, when Brad overhears Jane bragging to Penny about how she completely made him over after they met, he rebels, and starts walking, talking and dressing like his college-era self. And Alex and Max stage an "in-t-vention" to stop Dave from his obsession with v-neck t-shirts.

"Royal Pains" (10 p.m. EST, USA) Kassabian is left in critical condition after a prescription error, which Hank believes is Dr. Van Dyke's fault. Elsewhere, the HankMed team goes to a divorce party so Hank can keep an eye on the ill party planner.

"The Big Bang Theory" (8 p.m. EST, CBS) In the 100th episode of the hit sitcom, the possibility of Leonard and Penny getting back together could prove disastrous, after Leonard offers Penny a spur-of-the-moment invitation to a romantic dinner for two.

"Parks and Recreation" (8:30 p.m. EST, NBC) Faced with a tough new opponent, Leslie and Ben disagree on the content of her first campaign ad. Ron is very uncomfortable when Chris tries to befriend him, while Andy and April make a trip to the doctor.

"Archer" (10 p.m. EST, FX) The ISIS gang is back with a bang after a painfully long midseason hiatus; Archer is shocked to learn that his mother is dating Archer's idol/hero/man-crush, Burt Reynolds.

"Shark Tank" (8 p.m. EST, ABC) season premiere The Sharks are back for a third season, continuing their search to invest in the best products and businesses that America has to offer. Season 3 sees the Sharks offering over $6.2 million of their own money in investment deals to bankroll a creative array of innovative entrepreneurs.

"Fringe" (9 p.m. EST, Fox) Peter's visit to the other side intensifies as the alternate Fringe division faces off against a formidable new foe (though he's someone we know all too well) in a harrowing race against time. But what does this universe's David Robert Jones want?

"On Freddie Roach" (9:30 p.m. EST, HBO) series premiere From executive producer Peter Berg ("Friday Night Lights"), this cinéma-vérité documentary series focuses on Freddie Roach. The world famous boxing trainer owns and operates the famed Wildcard Boxing Club in Hollywood, where he has produced a host of world champions. The cameras follow Roach as he works with future stars, engages the continuous stream of celebrity visitors to his gym, finds time to sort through and balance his myriad of outside interests, and manages his new role with USA Boxing, all while fighting Parkinson's disease.

"An Idiot Abroad" (10 p.m. EST, Science) season premiere After his tour of the Seven Wonders of the World, Karl Pilkington could be considered an international jetsetter. But his recent global exposure has made him even more resistant to the call of the open road. Nevertheless, world class tormentors Ricky Gervais and Stephen Merchant prove that one man's anguish can be another man's amusement, as they send him around the world to fulfill his Bucket List. Now, Karl can only hope that his quest to accomplish the definitive list of "things to do before you die" doesn't kill him first.

"Once Upon a Time" (8 p.m. EST, ABC) Mary Margaret and David continue to grapple with their unrequited love, and Emma and Regina grow suspicious over a mysterious new stranger in town. Meanwhile, in the fairytale land that was, Snow White yearns to ease her breaking heart as Prince Charming's wedding to King Midas' daughter approaches.

"Prime Suspect" (9 p.m. EST, NBC) series finale Fans of the short-lived procedural will be pleased to see the final two episodes the show's first and only season in a double bill tonight (NBC still hasn't officially canceled it, but shutting down production was a fairly obvious signal). In the first hour, Duffy and Calderon have the unpleasant task of telling a grandmother that her young granddaughter was raped and murdered, while Jane and Augie are on the ritzy Upper East Side when a woman is found mysteriously shot during the night. In the second, Jane and the team find out a jailed hit man may be responsible for the latest drive by at local store, and Sweeney orders 24-hour a day security when a hit is ordered on one of their own.