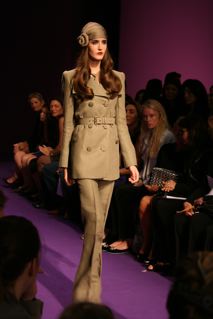 We've all seen the glamorous images -- reed thin models with beautiful, expressionless faces struttin' down the catwalk in to-die-for (mostly) outfits. So, what would it be like to actually attend one of those chi-chi events? I can now say it's very cool, indeed!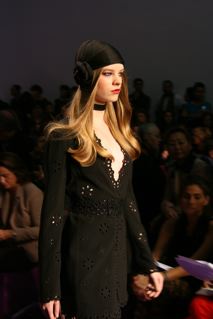 While visiting some friends in Paris, I'm attending some shows. Sunday I got a chance to see the Andrew Gn (pronounced "gin") show. The Singapore born designer is well known for his beautiful fabrics and exquisite handiwork, including embroidery and buttons. However, for his Spring 2011 collection, Gn focused eyelet cotton voile with lace insets, silk georgette and silk crepe in all sorts of colors. "Crepe fell out of fashion long ago, but to me it is a wonderful fabric, at once strong and soft. It defines the body without constraining it."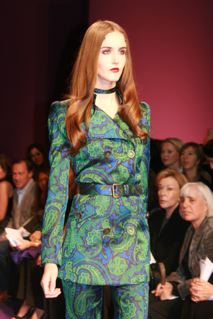 Unlike, say, the Dior show earlier in the week, which featured a lot of super sheer fabrics, this designer makes clothes that many women could actually wear. I particularly loved the outfit above, a bright green paisley brocade pantsuit. The colorful, fun fabric was also used for a tunic with puff sleeves and matching pants.
Gn, who is based in Paris, says he got inspiration for his spring collection after discovering an antique eyelet christening dress in London.
"It is absolutely sumptuous and recalls the Gibson Girl blouse of the same period. Some motifs are blown up into huge cut-outs resembling paper doilies. For this collection, I also wanted great lightness so I constructed and engineered the clothes without fusing or even lining for greater ease and comfort."
The clothes, for the most part, were extremely pretty -- very colorful, feminine and fun. There was nothing outlandish -- i.e dog collars and outdoor umbrella-sized skirts -- like you see at some shows. Most of the items were full or maxi-length.
So, what are some of the things that might interest or even surprise you about an event like this? A few tidbits:
*These events can last 1 - 2 hours. When you first arrive, it's like a terrific, almost raucous cocktail party -- sans the beverages! People are running around saying quick hellos -- then dashing back to their seats. However, the actual show lasts a mere 10 minutes!
*Seating is extremely important, with it almost being considered an honor to sit in the front row. Tiny name-tags are taped to each seat and there's no switching allowed.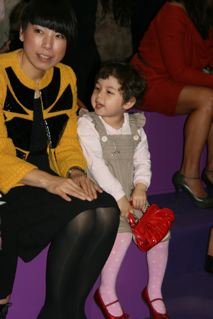 Speaking of the front row, I couldn't help but smile at the "pump" sized fashionista above, who attended the Gn show with her mother, sitting in the most prominent spot. She sat quite still and seemed fascinated by the whole extravaganza. I kept thinking about having one of my sons at that age with me. Quel horror!
*Most of the women selected to model have a similar look and I'm not only talking about makeup and hair. Nearly all the models had the exact same profile with a rather pronounced nose.
*All the models wore the pricey Christian Louboutin shoes with the designer actually getting a credit in the handout at the show. And, yes, even models have a hard time walking in 4 inch heels. I saw two of them stumble -- and make super quick recoveries.
*Most of the shows during Fashion Week start late -- sometimes as much as an hour and a half past the scheduled start time. Towards the middle of the week, the press apparently gets a bit tired of it. At 11:30am, when the Andrew Gn, show was scheduled to begin, the photographers began hollering, or perhaps we should say catcalling, for the show to start.
*Much to my relief, you are allowed to take pictures, and many people do.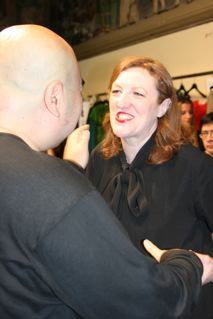 *After the end of the show, a select few, like Harper's Bazaar Editor Glenda Bailey above with Gn, are invited backstage to meet the designer. As the crowd flooded in many of the models were still partially undressed. Did they grab for a robe or rush to cover up? No. They didn't bat a mascara-ed eyelash. I guess somewhere along the way, when you are hired for your bod (and your nose), modesty becomes a moot point!

Stay tuned for more inside fashion bits from the sidelines of the Chanel catwalk Tuesday! For more photos of the Andrew Gn show, visit SheSez.
SUBSCRIBE TO & FOLLOW LIFESTYLE
HuffPost Lifestyle is a daily newsletter that will make you happier and healthier — one email at a time. Learn more