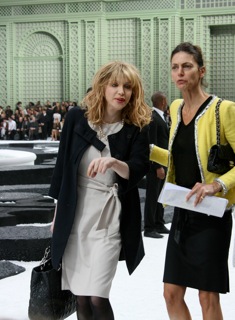 The celebrity quotient at Chanel's runway show in Paris this week was sky high. I saw more celebs there than at any other show. And, as in LA, they're easy to spot. How can you not notice someone like Courtney Love amidst a sea of classically dressed and coiffed Parisians? The blonde rocker came blazing across the Grand Palais with her entourage moments before the Chanel show was about to start. As flashbulbs popped, she turned and said "thank you" to each photographer, including me. Quite frankly, I was expecting her to say something that ended in "you," but didn't begin with the word "thank."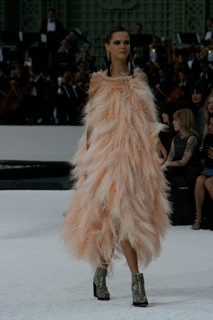 Love, by the way, was heavily made up in a rather pasty white foundation and gooey lipgloss, with her platinum hair in subtle ringlets. At one point, I happened to be standing next to her, as she waited to meet Karl Lagerfield, and I asked her which outfit was her favorite. "The peach ostrich dress. And, I'm going to get it, too!" Natch.
The dress she was referring to, pictured above, was by far the most flamboyant in the show. Call me crazy, but is anyone else out there thinking of the much ridiculed singer Bjork at the Oscars a decade or so ago?

On the other hand, TV star Rachel Bilson was nearly incognito. I noticed her snapping photos before the show started (photo below left) and asked her what she was doing. "I'm blogging for Vogue about the show."
With lips painted bright red, she was clad in a Chanel chiffon, floral print dress, an asymmetrical cropped leather jacket and footwear that was a cross between a boot and a shoe: black platforms with cutouts that went up over the ankle. I saw her once at Barney's here in L.A. and everyone was staring at her. Here at Chanel in Paris, no one cared.

In chatting with a professional photographer, we couldn't help but note that it was kind of surprising Bilson was acting as a "one man band" -- blogging, taking photos, trying to get names etc. -- just like me! Rachel was one of the few stars allowed into the VIP section to greet Lagerfield after the show. She waited in line just like everyone else.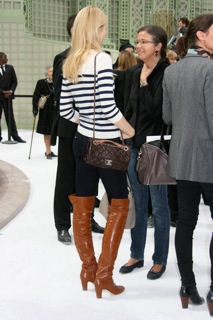 Claudia Schiffer, above, was also spotted waiting in line to pay homage to the Chanel chief. She sported a Chanel quilted purse, jeans, a blue and white stripped shirt and shiny, saddle-colored thigh-high boots. She, too, fancied the most flamboyant item on the runway. "My favorite by far was the ostrich dress! I loved it!" Too bad she's not dating magician David Copperfield anymore -- she's have somewhere to wear it!
The French actress Vanessa Paradis, who is married to actor Johnny Depp, was seated in the prestigious front row for the Chanel show. She was just a few seats down from the belle of the ball here, Vogue Editor-in-Chief Ana Wintour. Paradis was mobbed by the paparazzi. While in the US she is known as the wife of Depp, here she is a famous singer and actress in her own right. She and her girlfriend chuckled at the photos as they knocked and bumped each other trying to get a photo. She was very waify, pretty and had huge, heavily made up eyes and like Rachel Bilson, bright red lips (must be a Chanel color - no?). Paradis had on a cropped black Chanel jacket similar to the one Keira Knightly was wearing. Her blouse was a revealing off white satin frock -- that had little bows down the front. The actress, I'm told, is the face of the brand's Cocoon bag line. Note to self: when the economy turns around, check it out!
I'd love to share more, but I've gotta go. I'm just back from Paris and lots to do. The good news: the kids are alive and well and survived for week without me (under the guidance of my not-so-detail-oriented hubby). The bad news? There's nothing in the fridge and I have to go grocery shopping. I was a princess in Paris. And now? It's back to being a pumpkin!