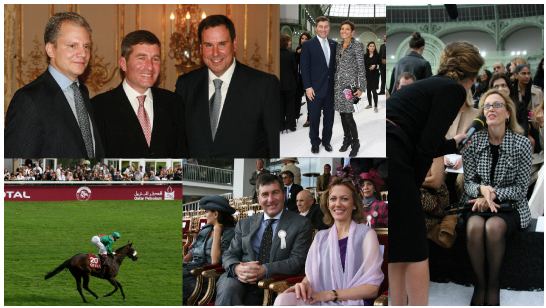 Clockwise: Charlie with Saks Fifth Avenue's Stephen Sadove and The New York Times' Arthur Sulzberger, Jr. at the Paris residence; Charlie with Chanel CEO Maureen Chiquet at the Grand Palais; a TV crew interviews Susan at the Chanel fashion show; Charlie and Susan at the Qatar l'Arc de Triomphe races; a horse after crossing the finish line.
When the phone rang one evening in early October at the U.S. Embassy in Paris, Santa Monica's Charlie Rivkin grabbed the phone. For Rivkin, an after hours business call was nothing new. As the former head of various entertainment companies back in Los Angeles, working around the clock came with the territory. However, half a world and several degrees of sensibility away, Rivkin was now dealing with a very different set of issues. Concerned by some recent Al Qaeda activity, the State Department was issuing a traveler's alert for Americans in Europe with special concern for France. It fell to Rivkin, President Obama's appointment as U.S. Ambassador to France, to mark the administration's official line on the situation and deal with the aftermath.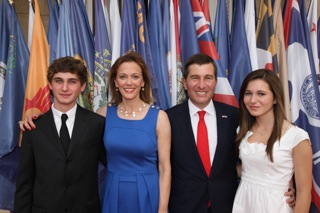 The family at the U.S. Embassy in Paris, photo courtesy: Rivkin Family
Just 14 months before, Rivkin, his wife Susan Tolson and children Eli (17) and Lily (15) had been living a busy, but not altogether atypical, West Side life. Rivkin was the CEO of the children's programmer Wild Brain. Tolson was a successful investment banker at The Capital Group and the kids were students at the Brentwood School. Rivkin was a also a politico who served as the California Finance Co-Chair for Barack Obama, helping the president sweep the state in 2008.
Obama rode to office on a message of change, and change is exactly what the Rivkins got when they moved from their charming Santa Monica clapboard home to the 72,000 square foot embassy on the upscale rue du Faubourg St-Honore. And the house was just the beginning. Life for the family suddenly ceased being a private affair. No longer navigating the 405 alone, Rivkin is now driven around in an armored SUV (American made, of course!), accompanied by a 6 person French security detail. He can walk the streets, but he's always surrounded by the "bubble." Tolson may travel alone, but as with the ambassador, at nearly every destination, photographers await to snap her photo.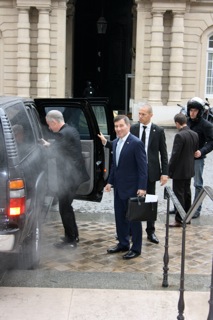 Charlie with his ever present security detail

Rosie, the family dog, runs across the back lawn at the U.S. Embassy in Paris, photo courtesy: Rivkin Family
The family may call the Embassy home, but it is by no means private. Aside from the family's quarters on the 3rd floor, the property is in most regards a public facility. Maintained by a staff of 14, it's the location of events for hundreds, sometimes thousands, of people on a daily basis. "Our daughter refers to our home as an apartment above a museum. I think it's aptly put," says Rivkin.
Even before supporting Obama, Rivkin was involved in politics. He has served as a delegate to the Southern California Convention and as a member of presidential hopeful John Kerry's National Finance Committee. "My day job was as an entertainment executive but I think my night job was always involved with politics. So, I guess this is a case of where the night job over took the day job."
When the newly elected Obama proposed the idea of Ambassador, it wasn't the first time the thought had crossed the executive's mind. Rivkin's father served as the U.S. Ambassador to Luxembourg during the Kennedy administration and to Senegal and Gambia during the Johnson administration. The latter post was cut short when Rivkin's father died of a heart attack at 48 years old. Rivkin was only five at the time.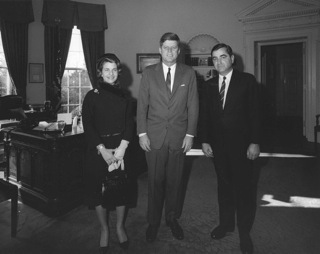 JFK with Ambassador and Mrs. William Rivkin in 1962, photo courtesy: Rivkin Family
"Even though I never really knew my father, while I was growing up, I thought to myself how amazing it would be to have a chance to serve my country like my father had. "
"Welcome Linda!" the Ambassador exclaimed as he greeted me at the mansion's imposing front doors on a warm, fall day. "It's so much fun having you here! That's what makes this experience really special -- when we can share it with good friends."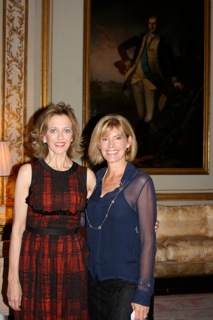 Susan and me at the U.S. Embassy
We'd been friends for some 15 years -- first meeting at a holiday party in Beverly Hills. Turned out, however, that Tolson and my husband knew each other growing up. The four of us formed a fast, easy friendship that's included many memorable occasions throughout the years -- from ringing in holidays to celebrating kids' birthdays to countless dinners filled with great wine and conversation. When Tolson invited me to come visit this fall during fashion week, I was eager to learn about their new lives and curious about how they were adapting.
It was quickly apparent that the Rivkins, both 48, were adapting quite well. During my visit, I watched them effortlessly glide from event to event. Had I not known better, I'd have sworn they were natives. Tolson's friendly smile and couture-clad, lithe frame, and Rivkin's flawless French and easy going demeanor are well suited for the rigors of the Parisian power structure. Once past initial impressions, however, it's clear to dignitaries and embassy guests alike that these two are even more substance than style.
On a world stage, the post is undeniably glamorous. But Rivkin's official responsibilities belie the notion that the job is merely ceremonial.
"In peak season, I'm giving 3 to 4 speeches a day in French. It's thrilling, rewarding, meaningful, and life changing. Yes, it's fun -- but that's not the word that I'd use to describe the overall experience. I'd say it's deeply meaningful on a lot of levels. And, it's hard work."
His schedule for a single day during my visit was exhausting. First, Rivkin gave a speech and participated in a wreath laying in celebration of the U.S/French victory at Yorktown in 1781. Next, it was off to the French Senate for a speech on transatlantic relations. Finally, the Ambassador hosted a reception at the Embassy for the French media elite. All the while, Rivkin was consulting with the thousand Embassy employees, representing 51 different U.S. departments, and fielding calls from journalists interested in the French/U.S. bilateral relationship.
Tolson's schedule was nearly as hectic. During the week of my visit, she hit several of the major fashion shows, one of which she attended with Vogue editor Ana Wintour. She presided over several Embassy events, including a reception for the New York Times and Saks Fifth Avenue. Meantime, she was busy planning another -- this one for Robert Redford, who'd soon be in town receiving the French Legion of Honor. She was also working on a speech, in French, to deliver to the Arts in Embassy Vernissage, and planning a Harper's Bazaar fashion shoot. In what spare time she had, she helped Eli with his college admission applications.
Charlie readily admits Susan set the tone for the family's smooth transition.
"Susan has been incredible overseeing things here and I'm amazed. She's a successful investment manager and now she has to be a public figure. Being an investment manager is not public job. It requires research and intellectual capacity, but it's not about not giving speeches and having 15,000 people come through your house."
The couple met at Harvard while jointly pursuing MBA's and have been married for 20 years. I've often mused as I've watched them over the years that they seem perfectly matched -- equally smart, accomplished and social.
However simpatico they may be, Susan didn't automatically give the thumbs up to Paris. It meant not only quitting her high-powered job of 25 years, but also pulling Lily and Eli out of the Brentwood School with Eli about to start his junior year.
"I said I will do this as long as you try to make something out of the opportunity. I'm not moving my whole family and changing my career for us just to live in a beautiful house."
The kids are now both enrolled at the prestigious American School of Paris. Susan says,
"That was my biggest worry and it's been my biggest relief because they took to the city and the school very easy. Paris is a very easily navigable city with the public transportation - its almost liberating for teenagers. Unlike in LA where we drove our kids everywhere. They feel an independence here and it's nice."
Charlie adds,
"The kids' whole worldview has expanded. They don't know it or see it, but we see it. I've joked about it to Susan saying, I think after years of therapy, the kids will forgive us!"
Like the kids, Susan has also taken to Paris.
"I just love to get out and walk the city and experience the daily life. We have so many official engagements but we also go to the opera, to plays and restaurants. What is interesting about Europe is that they find a tremendous amount of value in the import of the job of ambassador. More so than the United States. The French people on almost every level -- whether it's a fashion show or art exhibit -- they roll out the red carpet."
Irrespective of whether or not Obama wins a second term, Rivkin's tour of duty will most likely conclude with the end of the president's first. What's next for Rivkin is an open question.
"There isn't really a template for what someone or a couple does after serving as Ambassador to France. So, we are going to have to, in fact, pioneer. Even though it's a short 3-1/2 yrs, literally every week is packed full of life changing events. I don't know where it will lead but its not something we give any thought to at all. Our job is to work as hard as we can to a build bilateral relationship with France. And we think if we do that -- good things will follow."
SUBSCRIBE TO & FOLLOW THE MORNING EMAIL
Start your workday the right way with the news that matters most. Learn more